Shrabani Basu firmly calls herself a journalist and the whiff of an interesting story found in the annals of history is enough for her to dedicate five years to intensive research till she has unearthed a gem of a story worth shouting to the world. Her two most popular books include Spy Princess: The Life of Noor Inayat Khan and Victoria & Abdul: The True Story of the Queen's Closest Confidant. The latter was filmed into a major motion picture starring Judi Dench and Ali Fazal that documented the real-life relationship between Queen Victoria of the United Kingdom and her Indian servant Abdul Karim, and even found its way to the Oscars. Basu, who actively campaigned for Noor, a spy in World War II of Indian descent, has now signed over television rights to the story that has inspired millions around the world.
Basu's journey took her from the lanes of Calcutta to Dhaka in Bangladesh and then to Delhi where she spent her formative years studying history at St Stephen's College and her love for the subject exists in the pages of her books of which Mystery of the Parsee Lawyer: Arthur Conan Doyle, George Edalji and the Case of the Foreigner in the English Village (Bloomsbury, Rs 699) is the latest. The book documents the harrowing tale of a Parsee man in a British village. George Edalji was in his early teens when he was accused of viciously murdering cattle mysteriously in the middle of the night. Jailed not long after, Edalji's pleading letters to mystery writer and creator of Sherlock Holmes, Arthur Conan Doyle, led the latter to investigate his only real-life case till date, that of George Edalji.
Delving deep into racism and questioning pervasive biases in early 20th century England, the historian has penned a succinct book that would excite every reader who likes to dip their toes into the pages of history. Chancing upon some letters exchanged between Sir Arthur Conan Doyle and the police chief in charge of the case at the time, at a British auction, led Basu to canonise this tale in the most sublime language. As the world justifiably stays abuzz with conversations on race, there couldn't have been a more appropriate time perhaps to deep dive into this book. Here's what the Calcutta-born author said to us one fine Friday evening, about history, Edalji, and the writing process of a historian. Excerpts.
What led you to George Edalji?
I knew about George for a really long time and what a fantastic story his was, to get your teeth into. It's the only case that Arthur Conan Doyle investigates wearing the hat of Sherlock Holmes and that happens to be that of an Indian. Obviously, that was fascinating to me. I always wanted to do this and then Julian Barnes wrote a book, Arthur and George, and I thought, "Oh he is a novelist but he has already written this so let me shelve this idea". But it was in 2015 that I discovered in a newspaper article, some letters that were coming up for auction. These letters were written by Arthur Conan Doyle to the police chief in this case and it felt like a sign. Here was George's story calling out to be told and that too with fresh new material. So I followed up those letters and it took five years to do the whole research. Being a journalist, I knew there was much left to be discovered. Well, it took five years, we finally have the book!
What is your research process like? Would you throw some light on how the process works in tandem with your writing?
The first bit is intensive research, it takes about three years. There is so much to read! I was visiting every library — in Portsmouth where these letters were kept, in Birmingham where George worked, Staffordshire archives, there was National Archives in London where one can find all the home office files. As a journalist, I always go to newspapers. I love finding out how the newspapers were covering a particular story at that point in time. I must have spent months just going through newspaper reports of the time. You want to see how the press is feeling. How else do you know what was going on so many years back? How were people seeing this peculiar case?
The next difficult bit is planning the structure of the story. How am I going to narrate this story? At what point do I enter the story and how do I spin it — it's all writing craft really. I have ended up changing a chapter here or thereafter coming across some bit of information later. There will always be many drafts till you are completely happy with what you have but the most difficult bit has to be the structuring that comes after the research. By then I have collected so much material that one can't enter my study — it's just piles and piles of paper! I have to filter all that to build a narrative, which is, perhaps, why my books take so long to write. (Laughs)
What are your personal relationship with every person that you have chosen to write about — Noor, Abdul, and now George?
I do call them my characters but they are real people who have lived through some tough times and I have gone into their lives and drawn them out. Nobody knew who Noor Inayat Khan was and Abdul Karim was so obscure. People still knew about Noor because she was awarded the George Cross but Abdul was completely wiped out. Even George Edalji, and they are all so different. Obviously, my favourite is Noor because she is the heroine. Because I had campaigned for Noor, she is someone who really got into my head and I felt that I had to take her story to another level. I wrote the book in 2006 and I still am talking about her. All my characters live with me.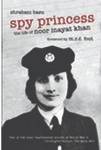 Sourced by the correspondent
Tell us about your extensive work with Noor Inayat Khan's legacy.
I think I have done everything that I had set out to do for her. She is the only Indian woman with a memorial in London in a public place and only Indian woman with a Blue Plaque. She's got a stamp in her name and I have ticked it off my wishlist you can say! (Laughs) Now she is in other people's hands to celebrate her and continue shining light on her name. I keep hearing of university blocks being named after her and roads being renamed after her. There was a campaign recently in the UK to put her name on the 50 pound note and that wasn't even me! I support it but it's just that her story has now become so well-known that other people are inspired by her. Now television rights have been sold for The Spy Princess and I am rather excited about it.
What are your thoughts on the relevance of the book at a time when the monarchy is being accused of being racist and there is a global conversation on racism stemming from another George's (Floyd) ghastly death?
When the world went into lockdown, I had finished my research and all the material was with me and I was in the process of doing redrafts and edits. Of course, everything was all around. First, the pandemic hit and the first people to get affected by the pandemic were the Asians. They were the first to die and they were dying in large numbers because they were first responders — doctors and nurses — and also because of the other divisions in the society, which meant they were doing the low-paid jobs. So many Asians working in supermarkets and driving buses or Ubers were dying. There were horrific stories and this was being felt by Asians and Blacks. And it was then that the Black Lives Matter movement exploded. Emotions were bottled up and the US also had the largest numbers of Black deaths. It happened in the US and immediately there was a reaction here.
Sitting back, you just felt enveloped in the movement that was unfolding. People who were well known in their public life were sharing deeply personal stories of racism. I felt awed that I was writing about something that happened 100 years ago and that it is still relevant. I knew it was always relevant but it was all exploding around me while I was writing the draft.
There are inherent prejudices that we have to fight. In the '70s and '80s, there was this 'Paki bashing' phenomenon. All of that is over but the underlying prejudice that makes a police officer pull up a Mercedes driven by a Black woman who later turned out to be a member of the parliament is governed by this prejudice. I am an eternal optimist, otherwise, you might as well give up living. So, for me, it was heartening to see that there were white people too at the protests, as many as Black people.
The footage of the statue being taken down in Bristol had the majority of white people and they too are fighting the system. The unfortunate thing is the large community of ghoulish people who troll and attack in loud voices but there will also be those few quiet voices who will do their bit in support. That's also what happened with George Edalji, some 10,000 people signed a petition when he was in prison and they were all white. This is a huge figure in those days.
Having studied history in India, what are your thoughts on the way it is being written in academic texts in India?
I haven't had a chance to look at academic texts in India but I do read reports of history being rewritten in certain places. I was taught by the best — Kanika Sarkar, Sumit Sarkar. I benefitted so much from all that. History was rewritten by white colonialists and if you are rewriting them again, where are we going? Are these stories going to disappear?
History has to be broader. I write history but my books have a popular appeal. I think we need to broaden this so more people get involved and start loving history. History is not a dry subject as most kids in school would say. We need to relook the way it is taught in classes. Britain is a nation obsessed with history and we get to see a lot of documentaries here. Maybe Indian television should create documentaries more and increase the vision instead of trying to rewrite it with a narrow approach.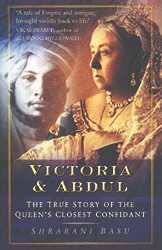 Sourced by the correspondent
How did you feel about the movie adaptation of your work Victoria And Abdul?
I have only had that one book made into a movie and it was huge. So, no complaints there! I had six Hollywood studios pitching to me and not the other way round. My agent and I were sitting and listening to them with amazement and going to have a drink afterward. (Laughs) I went with Universal Studios because they were the biggest and personally I loved the screenplay writer. For me, that was the most important bit. It was Lee Hall (of Billy Elliot fame) and he has written some lovely plays, which included people from a working-class background. I knew he would be sensitive about it.
The cherry on the cake was obviously Judi Dench. I was jumping up and down when she accepted and her acceptance was immediate. I was a consultant on the movie and I was very involved, from costumes to several meetings with Hall. From the way they dressed to what Agra streets looked like at that time –– it was all very exciting work. The visual is so important in a film that you get into the real detail. I went for the filming and just to see them coming down the stairs in their costume was so fantastic. Everything in my mind was duplicated to the last detail, exactly how I had imagined it to be — from the turbans to the buttons. The film got an Oscar nomination for the costumes and I am not surprised.
Do you have an ideal reader in mind?
I write because I love the story and I hope people will like it too. I do go to a lot of festivals and events and I get a lot of feedback. That, to me, is the best part. The book has touched so many different people and I do enjoy the process. I had a letter from somebody in Australia about Noor. She had cancer and was in so much pain and the book gave her courage. I hear so many such stories that really move me. It's very rewarding.