Chocolate bunnies & hot cross buns! It's Easter time
Food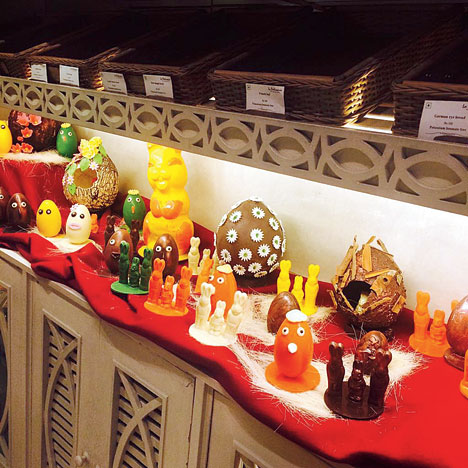 ---
Published 30.03.18, 12:00 AM
|
---
Easter Spread at Taj Bengal @ Cal 27
When: March 30, 12.30pm onwards
Menu highlights: Easter special brunch with dishes like Smoked Tomato Roasted Bell Pepper Soup, Devilled Eggs, Roasted Beetroot and Snow Peas with Goat Cheese and Walnuts, Creole Spiced Fish Fillet, Slow Roasted Tenderloin, Mushroom Courgette Cups, Roasted Turkey, Broccoli and Mushroom Brochette, Grilled Togarashi Marinated Prawn and Herb Marinated Chicken Breast. Sweet surprises like Hot Cross Buns, Orange Ginger Creme Brulee and Vanilla Pod Panna Cotta as well as Indian desserts like Gajar Halva, Kesri Rasmalai and Mango Sandesh complete the spread.
Pocket pinch: Rs 2,950-plus per person
@ La Patisserie
When: Till April 5
Menu highlights: Pick up Easter goodies like Rum Chocolate Cake, Simnel Cake, Orange Almond Cake, Easter Cupcakes along with oven-fresh breads like Nutty Easter Bread, Lemon Cherry Bread and Special Chocolate Bunnies.
Price: Rs 1,000 (500gm) for Rum Chocolate Cake, Simnel Cake and Orange Almond Cake, Rs 120 for Nutty Easter Bread and Lemon Cherry Bread, Rs 60 for Hot Cross Bun, Rs 175 for Chocolate Bunnies
@ Souk
When: April 1, 12.30pm onwards
Menu highlights: The Easter brunch offers dishes like Hummus Turki, Shankaleesh, Jergier Salad, Muhammara, Antalaya Uslu Piyazi, Dijaj Harissa, Rubian Chermoula and assorted breads like pita, zatar, chilli and whole wheat. Speciality main course dishes like Mushroom Fatayer, Falafel, Turkish Grilled Vegetables, Artichoke Batata Meshwi, Avari Tagine, Adas Polo, Kebab Koobideh, Shish Taouk, Lahm Bamia and Samak Moroccaine. Plus, desserts like Chocolate Easter Eggs, Baklava, Qatayef Makhli, and Berry Poudinga.
Pocket pinch: Rs 2,250-plus per person
What: Easter Goodies
Where: The Bakery, The Lalit Great Eastern, and the New Market outlet
When: April 1
Menu highlights: A collection of goodies from across the globe, ranging from traditional Hot Cross Buns to Eggnog Custard Tart, Easter Special Chocolate Eggs, Polish Mazurek Royale, Greek Koulourakia Cookies, Finnish Pulla, Australian Anzac Cookies, Battenberg Cake and Croatian Pinca.
Pocket pinch: Rs 50 onwards
What: Easter 2018
Where: Flurys, across all outlets
When: Till April 8
Menu highlights: A wide range of Easter cookies, Chocolate Easter bunny, Nougatine Egg, Simnel Cake, Hot Cross Buns, Lemon Fondant Chocolate Coated 1/2 Egg and Strawberry Fondant Chocolate Coated 1/2 egg. Also available are colourful Easter gift hampers perfect for your friends and loved ones.
Pocket pinch: Rs 50 to Rs 1,000
What: Easter Buffet Lunch
Where: Raichak On Ganges
When: April 1
Menu highlights: Soups, a cold station featuring five varieties of pickled, poached and cured egg with Dijon, grain and house mustard, Deconstructed Greek Salad, a live station of Goanese Easter Egg, and dishes like Charred River Fish with Saffron Veloute, Nalli Nihari, Paneer Kundan Kaliya, Dal Bati Churma, Awadhi Pardah Biryani, Hummingbird Cupcakes, Carrot Cake with Cream Cheese Frosting and Blueberry Rasmalai.
Pocket pinch: Rs 950-plus per person
What: Easter Sunday Brunch
Where: JW Kitchen, JW Marriott Kolkata
When: April 1, 12.30pm to 3.30pm
Menu highlights: Celebrate this Easter with delicacies such as Bourbon Glazed Ham with Fennel and Vegetables, Green Coated Lamb Roulade with Courgette Cannelloni and Ginger Ale, Olive and Sundried Tomato Crusted Potato Dauphinoise alongside a special live egg counter. If Asian food is your choice, then dig into the Asian station where dishes such as Penang Curry with Chicken and Stir Fried Greens with White Garlic Sauce, Subz Zaffrani Biryani, Lasooni Dal, Bharwan Dum Aloo plus more will be available. End your meal on a sweet note with desserts such as Easter Carrot Cake, Pineapple-Coconut Bunny Cake and Simnel Cake. Unlimited beer and sangria will be flowing throughout the brunch.
Pocket pinch: Rs 1,850 per person
What: Easter menu
Where: Kookie Jar, all outlets
When: Till April 1
Menu highlights: Hot Cross Buns, Iced Cookies and Cookie Lollipops in the shape of chicks, bunnies and carrots, Decorated Pure Chocolate Easter Eggs in various sizes, filled with assorted chocolates, cream caramel candies and marzipan, Chocolate Truffle Cakes with Chocolate Nest and Chocolate Eggs.
Pocket pinch: Rs 45 to Rs 1,200
What: Easter Menu
Where: Ozora, Acropolis mall
When: April 1, all day
Menu highlights: All-time favourites like Easter Potatoes, Barbecue Prawn, Baked Artichoke, Ham and Cranberry-stuffed Chicken Breast with Paprika Cream Sauce and Wine-Poached Pear with Vanilla Ice Cream.
Pocket pinch: Rs 1,500-plus (veg) and Rs 1,800-plus (non-veg) per person
What: Easter Special
Where: Eat Good Food, 19A Tarak Dutta Road, Ballygunge
When: April 1, 11am to 10.30pm
Menu highlights: Healthy starters, entrees and desserts such as Hot Cross Buns (made of organic wheat flour mixed with assorted nuts), Roast Lamb, Eggless and Sugar-free Carrot Cake (made of organic whole wheat flour and hung curd instead of eggs), Eggless and Sugar-free Black Forest (organic wheat flour and low-fat, sugar-free cream) and Eggless Dark Chocolate Brownies.
Pocket pinch: Rs 1,000 all-inclusive