The man who put the unputdownable Mr Sidhu down
Charanjit Singh Channi, the unlikely flag hoisted atop Punjab's hustings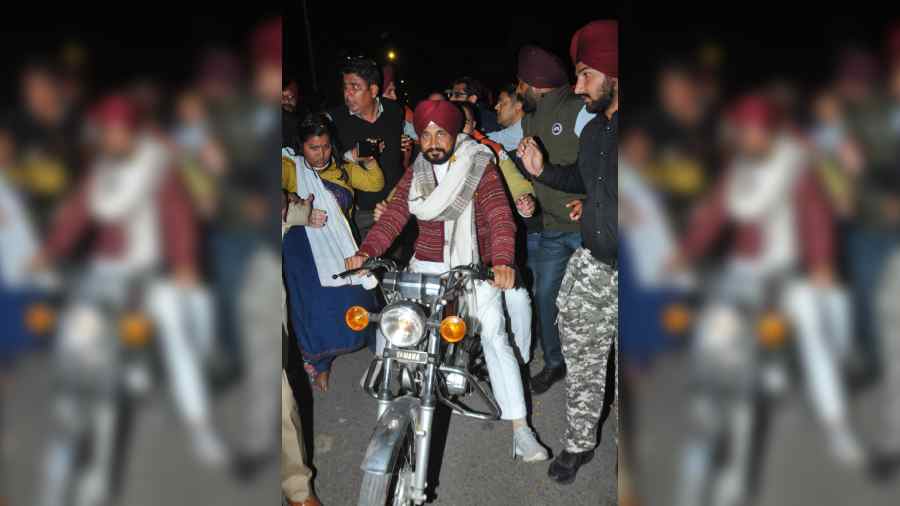 Punjab chief minister Charanjit Singh Channi rides a motorcycle during a road show in Jalandhar recently
PTI
---
Published 13.02.22, 12:06 AM
|
---
A year ago, few outside Punjab had heard of Charanjit Singh Channi — then the minister for technical education in the Captain Amarinder Singh government. Today, few in the Congress can imagine a fighting chance without the mild-mannered Dalit Sikh leader who marks a rather radical contrast to the macho brand of Jat Sikh politics long known to have dominated Punjab. Who would have imagined Channi, who arrived at the table as Navjot Singh Sidhu's joker card to stump the Captain, would fly off the table and set up his own game?
"In an agrarian economy, you disrespect intellectuals, those who study, because the money comes from agriculture," explains author and chronicler of Punjab, Amandeep Sandhu. "If Congress sneaks a win, it will be a big change for how people look at Jat and Dalit relations in the state. After Mayawati, caste equations changed in Uttar Pradesh. Today you value Sainis and Kambohs on par with Brahmins and Banias."
Channi's family epitomises the zeal for education, especially among Dalits. A political science and law graduate, he secured an MBA from Punjab Technical University and a master's degree in political science from Panjab University — both during his term as an MLA and later as leader of Opposition in the state Assembly. In 2017, as a minister, he enrolled for a PhD in Panjab University; its theme: Indian National Congress: Central Organisation, and Electoral Strategy since 2004.
Asked about his near-zealous love for education, Channi has often said that he simply likes studying subjects that he finds useful. His PhD guide Emanual Nahar — now the chairman of the state's minorities commission — has said that Channi's interest in doing a PhD on his party was to academically examine the setbacks it has faced over the past decade.
His elder brother Manmohan — said to be his inspiration — started out as an overseer and retired as a chief engineer in the state government with degrees in engineering and law. His younger brother Manohar recently resigned from the state's medical service to contest as an Independent from Bassi Pathana in these polls. Channi's wife Kamaljit is a doctor and his son Navjit is an engineer studying law.
The other, more critical, aspect of Channi being preferred as the chief ministerial face over state Congress chief and cricket celebrity Navjot Sidhu is that his candidature is a bid to challenge Punjab's age-old Jat hegemony and address the social reality of giving representation to the underprivileged.
"Jats are a strange caste because even if you have 100 acres or just one acre you consider yourself entitled... For the last half a century, Jats — five or six families in effect — have dominated Punjab's politics... To try to break that hegemony is a huge signal. The 32 per cent Dalits are not united. If they were, they would have been making every government," Sandhu says. "The second issue is the poor versus the rich; Punjab's poor have not only been deprived of their share, they have also remained largely invisible to the outside world."
According to Sandhu, Captain (Amarinder Singh) and the Badals are considered royalty because of descent and wealth, respectively. "Now a commoner in Channi has become the lead act of the Congress. That is classically the Aam Aadmi Party's area, but the Congress has dug a level lower saying that we are the poor," Sandhu says.
On January 5 this year, Prime Minister Narendra Modi's convoy was stalled on a flyover in Punjab's Ferozepur by agitating peasants. The PM was quoted sarcastically conveying his thanks to CM Channi that he could "return alive". Amidst the barbs over national security being compromised in the border state, Channi held his ground that there was no lapse and that the protest would have been cleared in minutes.
Channi is no pushover; he has arrived here coursing through the rough and tumble of politics — he was a student leader, then a municipal councillor in Kharar, a rebel Independent MLA, and later minister. Channi showed that he isn't easily shaken, nor could a man like Modi browbeat him — qualities that have high political currency in Punjab.
A former Congress leader told The Telegraph that Channi's ascent was ironic because he was given power precisely because his backers — Navjot Sidhu among them — believed he would not be able to wield it in a way that would impact their ambitions. Making him chief minister was on the lines of
the promotion of Indira Gandhi as PM in 1966 by senior Congress leaders who felt she was not a threat.
"The politics of the day will not allow the Congress to remove a Dalit CM. The party has a series of Assembly polls to face before the Lok Sabha elections. The only way a Dalit CM can be removed is on corruption charges or if he loses an election," a former Congress strategist admits.
Channi's nephew was recently arrested by the Enforcement Directorate allegedly for laundering money from illegal sand mining — a major political issue in the state. Surprisingly, it is not the taint of corruption but the apprehension that Jat Sikh voters may shun a Dalit CM that worries Congress planners. A peasant activist from the Malwa region of the state told this paper that in a polity which rewards the amassing of wealth and display of clout, corruption is hardly a priority for voters who are more concerned over their own economic prospects.
"Channi is the beneficiary of identity politics based on caste. The Congress is boldly experimenting with him for the first time to beat anti-incumbency. Dalits being 31.9 per cent in the 2011 Census is a major factor, the party is banking upon them… There may be some gains but not a landslide," argues Ashutosh Kumar, professor of political science at Panjab University.
Channi is contesting from Bhadaur — an AAP stronghold within the Sangrur parliamentary constituency held by Bhagwant Mann — in addition to his existing seat of Chamkaur Sahib. The move has been sold as a strategy to consolidate Congress voters in the most populous Malwa region.
AAP, for its part, has capitalised on anti-incumbency and focussed on its promises for subsidised power and better hospitals and schools — the aspirational Delhi model. The Congress has tried to match this with similar promises of doles.
Against the wind of change AAP is trying to churn in Punjab is Channi — a self-made politician from a community that has always got the rough end of the stick irrespective of who rules. There will be no tears shed for his loss in the fractured Congress of the state. However, his victory could put some badly required wind back into the party sails. Where that would leave the redoubtable Navjot Sidhu is moot.