Celebrity chef Anahita Dhondy's focus is on sustainability and zero-waste in the kitchen
Anahita Dhondy, chef-partner at SodaBottleOpenerWala, in Cyber Hub, Delhi, does not believe that the conversation should be about her being a "female chef in a male-dominated industry" any more. She's been there, done that, and now it's time to shift the focus to more important things like zero-waste policy, sustainability and drawing attention to Indian ingredients. And that's what we chatted about.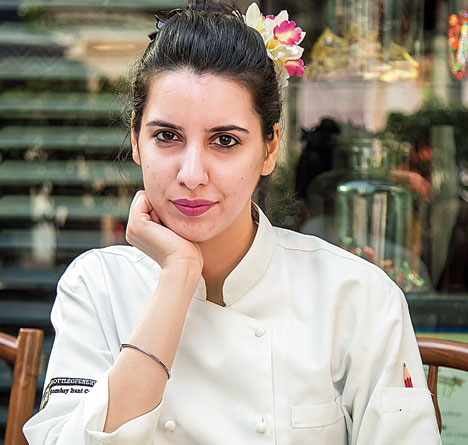 ---
---
Anahita Dhondy, chef-partner at SodaBottleOpenerWala, in Cyber Hub, Delhi, does not believe that the conversation should be about her being a "female chef in a male-dominated industry" any more. She's been there, done that, and now it's time to shift the focus to more important things like zero-waste policy, sustainability and drawing attention to Indian ingredients. And that's what we chatted about.
You have earned yourself the tag of being a 'celebrity' chef. You're also a fashionista and a traveller. How would you define yourself?

I am someone who takes on a lot and I guess that's why the many names. I have never really been inclined to only one thing from a very young age. When SodaBottleOpenerWala opened, I had joined as a chef-manager. I was in charge of the kitchen but slowly and steadily, I was involved in every little detail... I started dabbling in PR, marketing and ideating. When it comes to all these caps, I choose when I want to wear what.
What is your role as chef-partner and how do you balance the admin and kitchen work?
Being a chef-partner keeps you involved in the space where you have to not only keep creating in the kitchen but also to engage with the guest, create more events and exciting things that we layer into the brand. You're learning every day — you might be in the kitchen or with the guest or with the controls department, understanding a new license or how the rainy season is affecting your kitchen, stuff that you will not think about as a chef. I am in the kitchen when I need to be and the rest of the time, I do the admin work. The chef bit is prioritised more as that is my forte and profession. Everything else follows from there.
How did SodaBottleOpenerWala happen to you?
I had just returned from London where I was studying at Le Cordon Bleu. I loved London but I missed my mum's food, so I would end up cooking a lot at my apartment there. That's when I realised that I wanted to do something with Parsi and Indian food. That's also when I met chef Sabyasachi Gorai, who at the time was the head chef at Olive Bar & Kitchen in Mehrauli, and I met A.D. Singh (of Olive Bar & Kitchen). They had already thought of an Irani cafe concept and it was just about me being there at the right place and time and realising our thoughts were aligned on the subject. And the next day, I was on the job, preparing menus with two months to make them. It was 2013 and it's been five years.
Tell us about Parsi food...

Parsi food is actually a mix of a lot of Iranian flavours, techniques and ingredients and a bit of Gujarati and Marathi food, and even a strong influence of the British. Parsi cuisine has been evolving and is still evolving. People were very interested back in 2013 because it was a new concept, but now I see Parsi dishes on different cafe and hotel menus. I feel very proud that we have managed to make it so popular that people are actually making it in restaurants and hotels.

Does Parsi food, like many other cuisines, need to be contemporised for the younger generation?
Yes, you have to make it more accessible and to do that, you have to contemporise it a bit, but not to the level where the traditional flavours are lost. To give you an example, the Chicken Farcha, which is a very popular dish, is basically fried chicken — the entire leg of the chicken is coated with egg and fried, similar to a cutlet. But now we serve it in a little box with five pieces of boneless chicken that are dipped in egg and fried, with some chutneys and fries. Now, if I wouldn't have done that and had given a full chicken leg, it would have been inconvenient for the guest. In this way, they will be able to dip it in the chutney and have it. We have to modernise and customise it a little bit to make it accessible, easier and enjoyable for the guest.
What's your personal taste in food like?

I love Indian food, Parsi food being super comfort food. Also, living in Delhi, Punjabi food is very familiar to me as well — the homemade Sarson Ka Saag and dishes like that, which are local and seasonal. At home I love quick, easy recipes like Asian bowls, one-pot meals, salads, a nice roast chicken. The flavours that I love on my palate are Asian because I like the mix of all the sauces.
What are some of the food trends dominating the industry now?

Don't know if they will dominate or not, but I am trying to promote an ingredient every month. For example, jamun is in season, and you work with it. I have also taken it upon myself to promote millets left, right and centre. I feel the world's been taken over by quinoa but our own grains like bajra, amaranth and so many more are more sustainable.

I am looking to work with people who focus on sustainability and zero-waste. I am part of The Chef's Manifesto (a worldwide movement under the SDG2 Advocacy Hub) where 16 chefs from 13 countries launched their action plan at the EAT Stockholm Food Forum (in June) for a better food system for all. So for me, I need to make sure that more people realise that we should try and use the whole vegetable and leftovers and not use plastic.
What's your take on social media and platforms such as Instagram that help you curate an image for yourself?

What I do with social media is share knowledge, recipes, ideas, tell people that it's okay to like karela and they don't need to have perfect strawberries on their cake. Social media depends on how people want to use it and for me, it's about communicating ideas and helping out in whatever way I can, even if it's me eating at a nice place and telling people about it.
Your Instagram account has posts from your travels. Where was your last trip and what trick did you pick up from there?

The last trip I made was to Sweden and London for the Stockholm Food Forum. I met this chef from London who does not waste anything. If he has roots, he ferments them; if he has skin, he dehydrates them and makes them into salt; if he has peels left from vegetables, he cooks them and makes soup out of them. It was amazing to see the kind of passion and work that other people are doing.

I shared my knowledge of vegetarian Indian cooking because they want a plant-based diet but they don't know how to make it that yummy. I think there's no better place to learn vegetarian cooking than in India because of the sheer variety, technique and spices we have.
What do you think about the fact that most chefs are men?

Every industry only had men but small revolutions with people coming together and breaking that pattern have created an influx of women joining different industries. There's a huge amount of change that you can bring yourself. If you go ahead and do what you set out to and complete your task irrespective of your gender, you get respect. You have to come mentally prepared that when you enter the kitchen, you're a chef. You're not a girl or a boy. You're going to cut, chop, peel, boil, cook, it will be hot and you will be standing — if you don't have that mental strength, you will not be able to work. I think change is happening and more women are coming in but we need more. The irony is that at home, it's mostly women cooking.
You have a flower in your bun most of the time...
It's my personal style statement. I started putting a flower in my bun from the first place I worked at. There were a couple of times I would get pushed around in the kitchen and if I get bumped into, from the back, you can't really make out who it is. So I thought it would be nice to have something to indicate who I am in the kitchen.

The other story is that my paternal grandmother was a teacher and she wore flowers every day in her hair and she picked them up from the garden. My mother also used to do the same. So it was like a natural thing that came to me. I like lilies and wild daisies.