A new innings
Ever since Lalit Modi's tweet on Thursday tagging Sushmita as his "better half", there's been an overflow of information on the former Miss Universe and the men in her life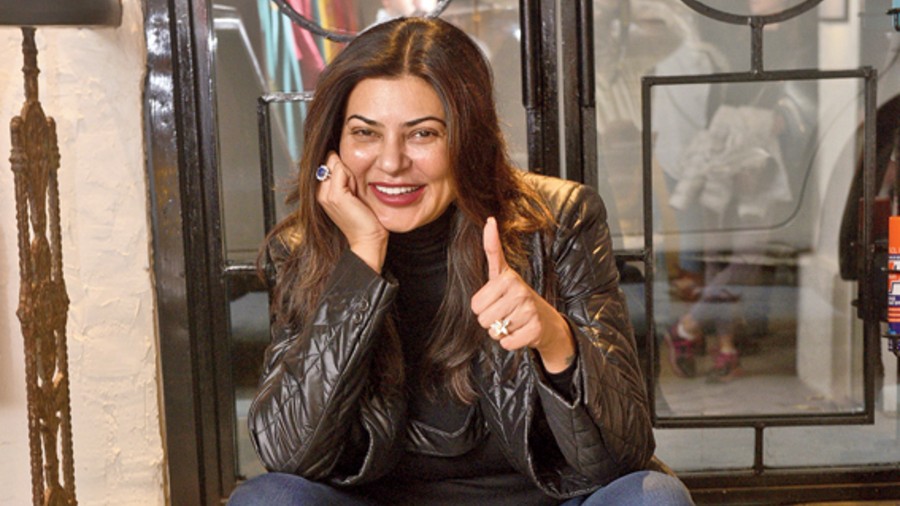 Sushmita said it was one of those non-serious relationships young girls had in their college days
File Picture
---
Published 17.07.22, 04:44 AM
|
---
The tag of the fugitive draws the adventurous. And Sushmita Sen has always been an unshrinking adrenaline seeker.
Ever since Lalit Modi's tweet on Thursday evening tagging Sushmita as his "better half", there's been an overflow of information on Miss Universe 1994 with lists put out on the men in her life, beginning with Vikram Bhatt. The lists forgot that there was a boyfriend in the Delhi girl's life before she won the crown. Like Aishwarya Rai and Priyanka Chopra, the Miss World winners who left behind their boyfriends Rajeev Mulchandani and Aseem Merchant, Sushmita too had an admirer in Delhi who became history after she stepped into the hall of fame.
When Savvy, the women's magazine that chronicled the ups and downs of celebrity relationships, put Sushmita on its cover, it was Vikram Bhatt days. He was in and out of the room during the interview and Sushmita told the journalist that the boyfriend in Delhi was one of those non-serious relationships young girls had in their college days.
Doing Dastak (1996), her first film, was heady. Back in Mumbai, we heard wild stories of the new Miss Universe living it up in Seychelles and Switzerland, where the film was shot. Vikram Bhatt, who wrote Dastak, was besotted enough to leave wife Aditi and little daughter Krishna to move in with Sushmita.
Like most men in this situation, Vikram had told me cracks in his marriage had existed before Sushmita's arrival. He later cleansed his conscience, much like his mentor Mahesh, by making Ankahee (2006), in which he sought to tell his story with his daughter as his specific target audience. Like Mahesh did to Parveen Babi in Arth (1982), Vikram cast Esha Deol as a psychotic, neurotic, clingy actress who destroyed a married man's home. Unlike Arth, which drew much notice, Ankahee failed at the box office but succeeded in damning the other woman as slightly unhinged, and opened a healthy channel of communication with Krishna. Vikram got his catharsis. Although he never returned to his marriage, Aditi and he went back to being close friends even as he went in and out of other relationships, Ameesha Patel being one of them. Until he wed art connoisseur Shwetambari Soni in 2020. Vikram also forged a close bond with his daughter, introduced her to filmmaking and produced a film she directed.
Randeep Hooda, who's also been featuring on various lists since Thursday, was another person who said to me he was relieved to have closed his Sushmita chapter. He was at that time happy to move on to Neetu Chandra, the only Hindi film actress from Bihar.
The closest Sushmita came to marriage was with Sanjay Narang. Sanjay and sister Rachna had set up the chain of Croissants Etc. across cities, Birdy's, the famous patisserie, and the popular eatery Just Around The Corner. They also opened Gordon House, a hotel where they wanted an exclusive club. I still remember livewire Sushmita turning the inauguration into a night of much delight as she partied heartily, mixed drinks and spread warmth. Prospective members looked forward to getting her hospitality along with the membership. But that engagement ring too didn't turn into an eternity band.
Savvy also documented the Minal-Lalit Modi marriage. Mesmerised by his mother's friend Minal at a young age, Modi had battled familial disapproval to marry the woman a dozen years older than him. Minal's death in 2018 broke his heart.
The concept of IPL had come from Zee's ICL, which flopped, and Modi marketed the idea brilliantly with BCCI. But cricket lovers remember him as the obnoxious chairman of IPL who poked his head into the camera when players were being interviewed and boorishly threw out people from his VIP box.
Given Sushmita's record, fugitive Modi's "better half" dreams may remain wishful thinking. But he's known to defy the conventional. It will be an interesting match until the last over is played.
Bharathi S. Pradhan is a senior journalist and author