Flashback: 19th century Calcutta in pictures
Exhibition at Victoria Memorial to show 96 prints from 19th and 20th centuries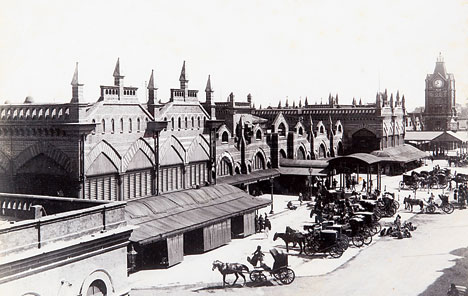 The New Market, Calcutta
Photographer: Bourne & Shepherd, Artists and Photographers
---
Published 26.07.18, 12:00 AM
|
---
Victoria Memorial Hall: A crowded pontoon bridge over river Hooghly, horse-drawn carriages in front of New Market, Firpos restaurant and Grand Hotel next to it, a view of the Maidan with the (then) Ochterlony Monument - glimpses of the Calcutta that was will be on view at Victoria Memorial Hall from Monday.
The exhibition titled Frozen in Time: Late 19th and Early 20th Century Photographs of Calcutta and its Neighbouring Areas will include digital reproductions of 96 gelatin silver photographic prints.
Twenty-seven of the prints were made by the largest commercial studio in colonial India, Bourne & Shepherd, while 69 of them were created by the second largest commercial studio Johnston and Hoffmann. The photographs were bought from the studios by the Victoria Memorial Hall at different points of time.
"We have been planning this exhibition since 2013-14 but only now could we identify all the photographs and curate the show," said the curator of Victoria Memorial Hall, Jayanta Sengupta.
Studios in the late 19th century referred to themselves as "artists and photographers" as aesthetics was a huge component of photography and a studio's commercial success would depend on its aesthetic representations.
"Photography as a practice began in Calcutta in 1840, just a few months after the technology was patented in England and France in 1839," said Ranu Roychoudhuri, a historian of photography and art and the curator of the exhibition.
Both sahibs and Indians took to photography and practised it as a trade and hobby. Soon commercial studios and camera clubs were established which exchanged photographers, ideas and styles and interacted with their European counterparts.
"But photography was largely the preserve of the elite, the hobby being a costly engagement," said Roychoudhuri, who teaches at IIT-Guwahati."Between these exclusive elite groups, they created a vast body of photographs of myriad genres and formats, ranging from carte-de-visite and cabinet card portraits to pictorial sceneries and cityscapes."
Frozen in Time shows pictures of iconic buildings, spaces and landmarks that characterise the city - "images of moments passed, of familiar spaces some of which still exist, often transformed, while others survive only in collective memory".
The views the photographs offer include the Hooghly riverbank, the band strand at the Eden Gardens before the canopy was erected, the Government House (present Raj Bhavan), Old Court House Street with horse-drawn carriages and tram tracks and St Paul's Cathedral with its central steeple intact.
Besides the British-dominated administrative, financial and recreational hubs and the colonial architecture of the city, there are also photographs of the Indian-dominated neighbourhoods of Burrabazar and Chitpore Road.
Two photographs stand out among them: one of the elephant plough at Phoolbarea (present-day Fulbari) tea estate in north Bengal and another of the spot where Lord Mayo was murdered in Port Blair.
The show will be inaugurated by Raghu Rai and remain open till September 1.