But not all gates lead you to heaven
Suddenly, Bengal has become dotted with gateways — elaborate, ugly and expensive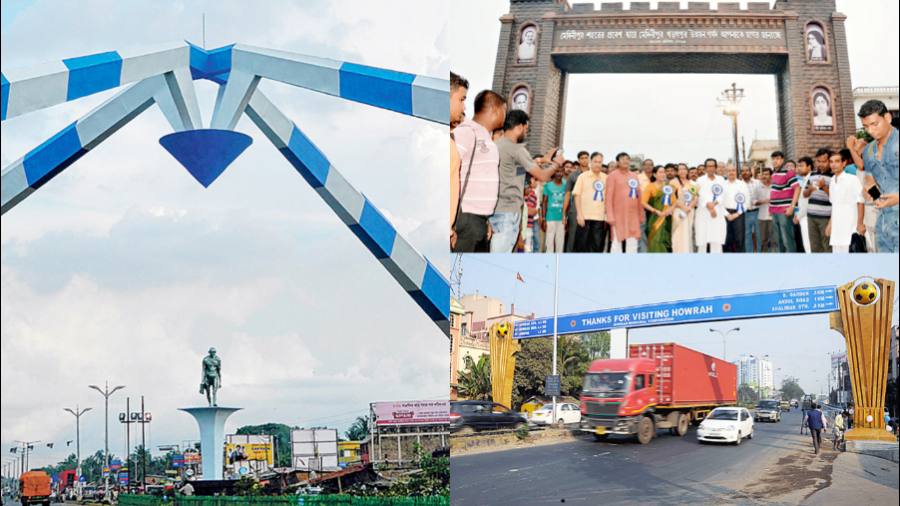 MONUMENTAL: (Top right) Gate to West Midnapore, a toron near Nabanna and Haldia Gate in East Midnapore.
---
Published 04.09.22, 03:36 AM
|
---
In the last decade, at least 20 torons have come up in West Bengal, mostly in the name of beautification. Calcutta alone has eight. Toron is the Bengali word for gateway. A basic toron can cost anything between Rs 2 crore and Rs 5 crore.
According to Ali Nadeem Rezavi, a professor at Aligarh Muslim University, "The concept of building gates comes from the medieval era. Alauddin Khilji had built the Alai Darwaza in 1311. It was to be the entrance to the Qutb Minar and the Quwwat-ul-Islam mosque. In the colonial period, the Gateway of India was built to welcome George V."
In Burdwan, Curzon Gate was built even earlier, in 1902, to celebrate the coronation of Maharaja Bijay Chand Mahatab. It was named Curzon Gate later when Lord Curzon paid a visit. Other examples abound — the Pathar Darwaja of Bishnupur Fort in Bankura district; the four gates that lead to the palace of Siraj-ud-Daulah in Murshidabad; Namak Haram Deorhi, so named for his fabled treachery, leading to the house of Mirzafar, also in Murshidabad; the gates leading to Fort William and so on. Recently, there was a proposal to build a gateway to Metiabruz in southwest Calcutta, to mark Little Lucknow, which was Wajid Ali Shah's home when he was exiled.
Back to the present.
The enormous Biswa Bangla Gate in Calcutta's New Town came up in 2019. It was designed in 2015 at the time of the launch of the beautification project for New Town. Then there are the Beleghata Gate, Nabanna Gate, Uttarpara Probesh Duar, Jalpaiguri Gate, Birbhum toron, Haldia Gate, West Midnapore toron, Digha Gate, Tarapith toron. The Biswa Bangla Gate cost Rs 25 crore, according to some estimates.
"What is the use of these gateways," asks Minakshi Mukherjee, who is the state secretary of the Democratic Youth Federation of India, the CPI(M)'s youth wing. She continues, "There is one in Birbhum that lies on the way to Anubrata Mondal's house in Bolpur's Nichupatty area. A government tender of Rs 8 crore was sanctioned for this. There is another one in Midnapore, a few kilometres away from Suvendu Adhikari's house. It was also built on a government tender of Rs 2 crore."
Mukherjee has reason to be vociferous — the Left, after all, does not have a history of using gateways to make a power point.
"But in 2005 (during Left rule) a very fancy gate came up on Kona Expressway. The ornate gate with horses and elephants was built by the Unitech group," says Joydeep Mukherjee, a Calcutta-based architect. He adds, "As an architect, I have always thought of gates as something that gives one a sense of reaching or destination. Gates, in modern times, have been used as a line of demarcation. And these recent additions appear to me to be really ornate gates sans any particular motive."
It is unlikely, though, that so many torons would come up without fulfilling some expectation somewhere but there are no answers, only theories blowing in the wind.
Anindita Chakrabarti, who teaches urban sociology at IIT Kanpur, says, "The gates in ancient times had quite a different connotation. Fortification was important; security mattered. Rajasthan and Gujarat have walled cities. In Rajasthan, even the smallest village was known to have a toron. But the same was not true for Calcutta. The gateway is an Islamic import. It came from Central Asia — in Iran and Iraq, there are gates leading to religious buildings."
Chakrabarti adds how the Kashmere Gate and Lahori Gate of Delhi's Red Fort were thus named because one led to the road that goes to Kashmir and another led to Lahore. She says, "They were made with the purpose of the movement of the battalions."
No matter what purpose they serve or where they draw inspiration from, gates in Bengal continue to mushroom. As you get off the bridge to Nabanna, there is a toron that has two ornate pillars and a football atop them. It appeared in 2021.
The Digha beautification project involved the construction of the Digha Welcome Gate. It was completed in 2014; about Rs 6.57 crores were spent. The Haldia Gate was built in 2017- 18. Another gate came up around the same time at the juncture of Kharagpur and Midnapore. It is decorated with photographs of Ishwar Chandra Vidyasagar,  Kazi Nazrul Islam and Shahid Khudiram. The one in Bishnupur has a huge "Om" carved in the middle.
"It is not a Calcutta-specific phenomenon if you ask me," says Rezavi exasperatedly. "Right here, in Aligarh, where I stay, every now and then a gate is constructed. The purpose could be to welcome someone or to commemorate something." He adds, "In the medieval era, they were a requirement. Gateways were constructed mostly in the western part of the country where the weather is hot and dry, and also in South India. The gates provided respite to people coming from the scorching heat. It was almost like entering heaven."