Wealth management for the wealthy by a man who has done it all
People work very hard to make money, then they work very hard to make money on their money, then they die!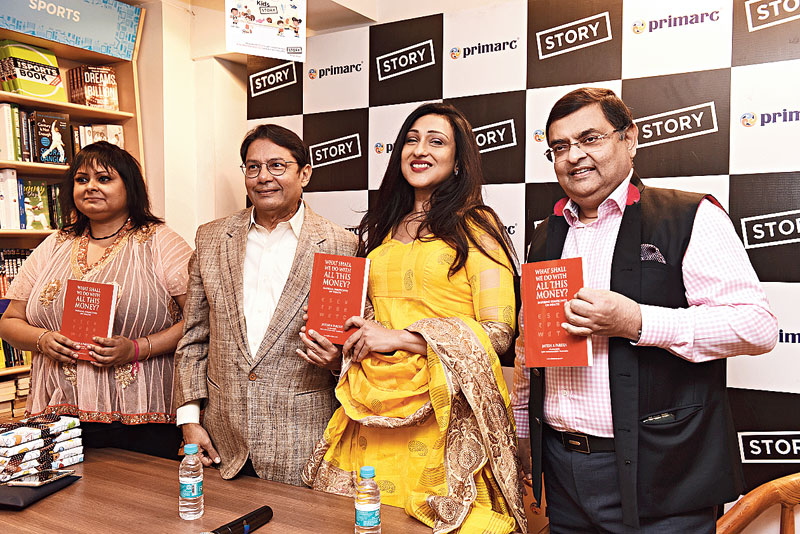 ---
Published 25.02.20, 02:36 PM
|
---
Jayesh Parekh wears many hats, of which co-founding Sony Entertainment Television channel is just one. He has now added another feather to his cap by authoring a book What Shall We Do With All This Money? that was launched in Calcutta on February 18 at Story on Elgin Road. The launch saw Utsav Parekh, co-owner of Atletico de Kolkata and chairman of SMIFS Capital Markets Ltd, drop in along with actress Rituparna Sengupta.
"It's a book which gives you interesting and inspiring perspective on wealth through a compilation of interviews of people from different parts of the world belonging to the Indian diaspora. There is a one liner that inspired me to write the book — people work very hard to make money, then they work very hard to make money on their money, then they die! I wanted to inspire affluent people to take their foot off the gas pedal and hold back a bit to smell the roses. It's not the accumulation of wealth that impresses me but it is the utilisation of wealth model that impresses me," said Jayesh Parekh.
What perhaps sets this book apart is the fact that it captures the thoughts of people from various walks of life, lending a wholesome tenor to the book that is essentially about wealth management for the wealthy.
"I know Jayesh for a long time and to us, he is like an elder brother. Today we are celebrating a very beautiful occasion of his book launch. He has always been very spirited and looking to do something new, something out of the box, something extraordinary. So I think he is kind of proving his point! Despite being such a hardcore professional, he still has some room left for himself and he is utilising it in a beautiful way — be it inspiring somebody's life or be it infusing hope in somebody's dream. I think he has done it all and he has been a constant support, so that's why writing a book was an inevitable step. I am happy for him and here today to support him," said Rituparna.