Tusshar Kapoor on his book The Bachelor Dad: My Journey to Fatherhood and More
The actor-turned-father-turned-author wears many hats but being a dad is his favourite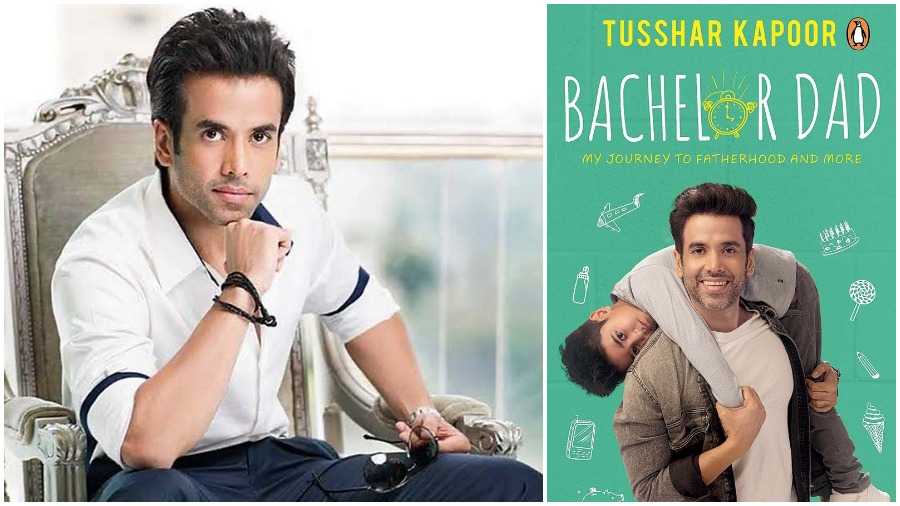 ---
Published 08.02.22, 12:04 AM
|
---
Actor and producer Tusshar Kapoor made news when he decided to opt for surrogacy and became a single father to his son Laksshya. The emotionally tough process has now been documented by him in the book The Bachelor Dad: My Journey to Fatherhood and More (Penguin India; Rs 299). We spoke to the author about his thoughts on writing a book and the surrogacy laws in India. Excerpts.
Tell us about the inception of this book? Was it always in the pipeline?
I wasn't always planning to write but I was always being suggested about the idea by friends and some close confidants and I thought that this is something very far-fetched. It was at the end of 2019 that I felt inspired to share my story, especially because it's so unique. I didn't mind sharing my experiences with public in general and a book would be the best way to do it. Almost mystically, I immediately got offered by my agent and he pitched it to Penguin. I was offered a ghost-writer but I decided to write it myself instead. Penguin agreed immediately and here we are!
Since the lockdown, what has developed as your favourite thing to do with your son?
Oh, we did a lot of art and craft in the first lockdown! But we have been stuck in waves after waves and we have no idea what phase awaits us. We have done various things over the course of the last two years. The first lockdown was a bunch of indoor activities like Bingo and Housie. The second round of semi-lockdown had us doing a lot of outdoor activities. We have had a lot of fun racing and playing hide-and-seek and football outside my building. It felt like we were travelling back to the 80s and my son was doing everything that I had grown up doing –– getting down and dirty and socialising with friends. So it was a good way of introducing him to all the stuff that his father did when he was young.
Have you had the conversation of 'fame' with your child? What was his reaction to seeing himself on the cover?
As far as fame is concerned, I haven't had a chat with him. But if there are media, people outside my house or if we go to a birthday party and there is paparazzi there, I don't hide him from the paps. I have kind of allowed him to feel however he feels. I have told him they're like friends of yours who just want to get pictures. He used to get a bit conscious but he's okay with that now. He's living a normal life like a normal child and I hope he grows up that way, which is better than feeling like you're being scrutinised or judged. Even worse he could feel that he is not getting enough limelight –– it could go both ways! I don't want him to be confused but I have explained to him that his father is an actor and that there might be people lining up for autographs or pictures.
As far as the book cover is concerned, he came to pose with me and did it quite diligently as well. He didn't want to smile for the pictures but later he followed all the instructions. I haven't shown him the book yet but he has seen the Insta post I made on it. He doesn't comprehend the gravity of the situation –– that this is a personalised novel that will be read by everybody. But he knows that he is on a book cover and isn't too impressed by it!
Did you set any rule in your head in a manner of self-policing when you decided to embark on this journey?
I honestly have a single mantra. We actors are always judged for everything we do –– doing too little work, doing too much work, being too friendly, not being flamboyant enough. We are almost not allowed to behave normally. Even that might get judgement! So my mantra is not to get swayed and just continue doing what feels right to me. I ask myself if I am doing the right thing, and then I feel all the noise just evaporate around me. I have tried to build a strong sense of self and not care about what anybody thinks. I think we all get a bit swayed once in a while but if you know how to centre yourself, you are being your best self.
You are a spiritual and religious person. Have you thought about sharing the same ethos with him?
I would love for him to be associated with Buddhism but he is too young. I take him for Cubs' meetings and I hope he gradually gets inclined towards it. So far, I haven't installed any sort of religion or philosophical ideas in him. I chant a lot and I would love it if he picks it up. I know he gets the vibrations and feels positivity. If I'm feeling a little more enlightened, I'm sure those around me will also feel the energy and vibe through my behaviour. But it's not something that I have lectured him into. I am just a passively religious person but I don't force him to go to the temple when I go once a week.
You have spoken extensively about arranged marriages but what about love?
I don't have a love life right now. I'm a 45-year-old single person. And you never know, I might just find the right life partner. But as of now, parenting is keeping me so busy. My work is keeping me so busy and working from home in these challenging circumstances is another ballgame altogether. So there's no time to really fret over being single. I feel complete with the kind of friendships that I have. I have someone at home to keep me occupied, in the sense that I have someone to love. Of course, we all need to be attached to someone but good if it happens, and na huya toh bhi good!
What are your thoughts on the evolving surrogacy laws in India?
The laws have tried to curb any form of exploitation of people that are involved in the process. So there has to be a lot of confidentiality and there is an entire book on it called The Laws of Surrogacy. I think if done responsibly, it's a great option. But we don't know what the law holds for us in the future and I can't advise anybody to go for it or not go for it, because it's something that's very personal, and it's something that everyone has to decide for themselves. I'm not really trying to give anybody any answers through this book. I hope that in the process of enjoying this book, people will feel inspired to believe that the answers do come eventually, no matter how late.
Has the writing bug caught you? Is there something else in the pipeline?
The writing bug has definitely caught me while I was writing this book because I enjoyed it so much. Writing anything is a very difficult process. But while I wrote this book, even though it was very consuming, I really enjoyed it. It was a therapeutic window. It was challenging. But now writing another book seems like a distant dream. I hope I get the wisdom or the enlightenment to do that in the next couple of years, but not in the near future.