Top 11 reads for your little ones
A list of books for your child to start the Bengali New Year with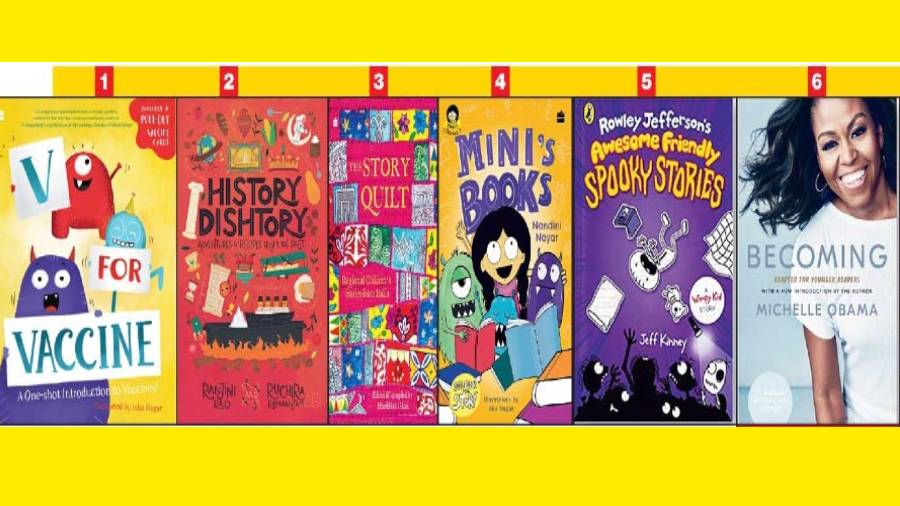 Sourced by the correspondent
---
Published 13.04.21, 02:44 AM
|
---
1 V for Vaccine: A one-shot introduction to Vaccines by HarperCollins India (Rs 99)
With a pandemic and the subsequent and strange rise of anti-vaxer communities around the world, there couldn't be a better time to introduce your little ones to the concept of viruses and vaccinations. Deepening their faith in science, this book is 32 pages of knowledge with the cutest illustrations by Isha Nagar. It even includes a pull-out vaccine card to fill for your toddler!
2 Dishtory: Adventures and Recipes from the Past by Ranjini Rao and Ruchira Ramanujam (Hachette India; Rs 450)
A supremely informational and interesting book by two best friends, Rao and Ramanujam, who have brought together recipes and history together for your slightly older child. Read out these chapters of history to them as they experience events like the first Thanksgiving, the sinking of the Titanic, World War I, or the Renaissance, through the eyes of twins Samar and Siya who are eight and three-four years old. Find a recipe from the era that you can cook with your little one at the end of every chapter.
Win-win we say!
3 The Story Quilt: Regional Children's Stories from India (HarperCollins India; Rs 225)
An important book compiled by editor Harshikaa Udasi and illustrated by Sherline Pimento K., The Story Quilt is exactly the right dosage of diversity that should be on every child's diet. Translated regional stories for children in languages like Gujarati, Kannada, Kashmiri, Konkani, the books is a wholesome collection, subtly reflecting light on our strength in diversity. Eight short stories about dreamers, ghosts, smart thieves and more, this book is entertaining as well as learning packaged beautifully together with colourful artworks inspired from each region as well.
4 Mini's Books by Nandini Nayar (HarperCollins India; Rs 150)
Mini series is back with its third tale of Mini, who is on her vacations gorging on Little Big Monster books when suddenly she has to play sleuth as her books go missing. Aimed at really young kids, this book is a lesson on the importance of books through a lovely friendship forged between Mini and the lady next door. Grab a copy and let your ward collect all their Mini series books soon after.
5 Rowley Jefferson's Awesome Friendly Spooky Stories by Jeff Kinney (Penguin Randomhouse India; Rs 499)
Jeff Kinney, author and creator of our favourite, mischievous and hilarious hero Greg Heffley has penned yet another adventure for Greg's best friend Rowley Jefferson. This time, it's the land of horror that he is off to and the stories are just as spooky as they are funny, Kinney style. Expect a dose of zombies, vampires and ghosts for your horror-loving child!
6 Becoming: Adapted for Young Readers by Michelle Obama (Puffin; Rs 699)
The former First Lady of the United States has now written a brand new introduction for kids for her wildly popular memoir that has been adapted for young readers. Her journey as Michelle Robinson, which began from sharing a room with her brother Craig and eventually led her to the hallowed walls of Harvard and Princeton Universities to the White House. Let your kid be inspired by the right stories at the right age with this book. 7 Prince with a Paintbrush: The Story of Raja Ravi Varma by Shobha Tharoor Srinivasan (Red Panda; Rs 250)
To be launched in April, this book brings alive the stellar artworks of famed painter Raja Ravi Varma, by tracing his personal story since childhood, to be enjoyed by young kids in India. The painter who started showing his dexterity at the young age of seven was later taken to the court of Maharaja of Travancore to receive training and hone his art skills. The rest, as they say, is history! With gorgeous illustrations to boot, this book is a dream come true for your art-aligned child.
8 Jamlo Walks by Samina Mishra, illustrated by Tarique Aziz (Puffins; Rs 250)
To be launched on April 19, Jamlo Walks marks one year of the pandemic that caused the subsequent lockdown. The book makes an effort to remember those thousands of migrant workers who had to walk home for hundreds of kilometers in sweltering heat to reach their homeland. The story talks about the pain and inequality that exists in our society as "Jamlo walks and walks in a world that needs to be kind and just and equal — a world where all lives are seen as important", writes the author. We couldn't agree more.
9 Have You Met The Parsis by Anastasia Damani (Puffin; Rs 199)
Written and designed by Calcutta girl Anastasia Damani, the book throws light on the cultures and people of a country as diverse as India. From tracing their history to digging into their customs and culture, this book teaches kids to be loving and accepting while also giving them a wholesome look at the world around them. The Have You Met series by the author and illustrator based out of Copenhagen, is all about spreading love and building a sense of community amongst her young readers.
10 Homework written and illustrated by Lavanya Karthik (Duckbill Penguin; Rs 175)
Meant for the youngest of readers, this is a story of a child who has been asked to choose, keep warm and observe an egg to take it to the point of its hatching. However, something doesn't work out in this plan and now there seems to be trouble. Read this tale out to your kids while showing them pictures and illustrations in the book.
11 Satyajit Ray in 100 Anecdotes by Arthy Singh and Mamta Nainy (Penguin RandomHouse; Rs 299)
It is never too early to introduce your child to the wonders of Satyajit Ray but if it is on the cards for you, we definitely suggest picking up his books. Illustrated beautifully, this book succinctly strings together Ray's entire life story through 100 anecdotes. From his illustrious and rebellious family to his own personal traits, there is something awfully personal about these trivia. A reading delight for kids and a collecting delight for adults, this book should be a must-addition on the genius's 100th birth year.