The mirror keeps cracking from side to side
From the 'exotic' Poirot to the fluttery Miss Marple to the mysterious Mr Quin, Agatha Christie's troupe, as any addict will agree, is hard to beat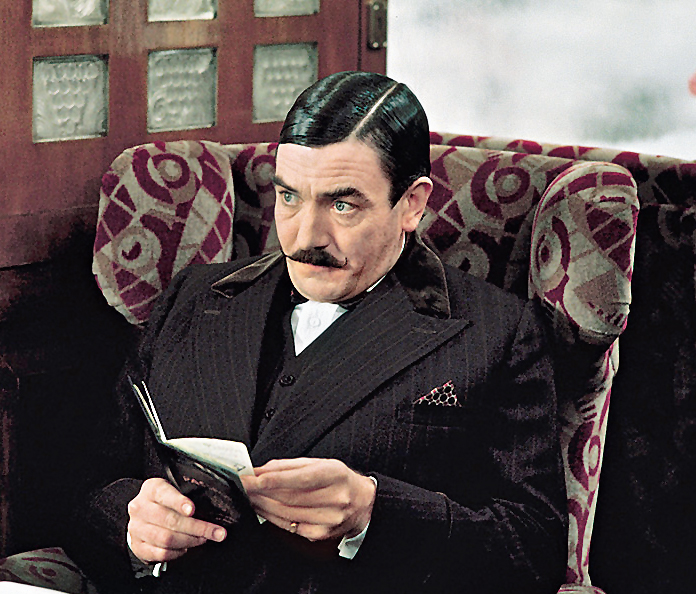 ---
---
Where did Hercule Poirot come from? It is said that Agatha Christie found the origins of her Belgian detective among the Belgian refugees and soldiers in Torquay where she worked as a volunteer in the First World War. But that is a pedestrian explanation. Like Pallas Athene springing fully armed from the head of Zeus, Poirot must have sprung, whole and delicious with his egg-shaped head and magnificent moustaches, his delicate stomach and his preference for the grey cells and tisane, from the brilliant, perhaps unsuspecting,
head of Christie in The Mysterious Affair at Styles, first published in 1920. So vividly was Poirot's personality imprinted on her readers that many actors who played the detective on screen, some with quite noticeable heads of hair — Peter Ustinov, for example — could convince audiences of their Poirot-ness simply by their fine acting. Albert Finney, who died in February this year, was another example of an unlikely Poirot who left no room for doubt that he was the genuine article in the 1974 film, Murder on the Orient Express.
Possibly the most beloved screen Poirot is David Suchet, indistinguishable to many from the Poirot of Christie's pages. Christie's other runaway success, Miss Marple, the little old lady with china blue eyes from St Mary Mead who always believes the worst of people and is always right seems to yield less easily to characterization when played on screen. It is to her and Poirot that Christie owes much of her worldwide fame. The Queen of Crime was born on September 15, 1890, yet her books are still the most published ones after Shakespeare's and the Bible. The crimes can be greedy, thoughtless, sinister, heartless or insane, yet Christie's world, astonishingly, is never quite dark. The stories are informed by a sense of balance, a reassuring reasonableness, as the logic of character meshes with the purity of logical inference. Justice in that world is not technical, but a humane requirement.
Although Christie was satisfied with the modest success of her non-detective novels written as Mary Westmacott, she was best at mystery. All her investigators are unusual: the unimpressive Mr Parker Pyne — his card asks, "Are you happy?" — finds for his clients exactly what they need; Tommy and Tuppence, the unremarkable couple with a startling past, have a keen nose for spies; Mr Harley Quin, who appears unexpectedly when something is about to happen, prompts the self-effacing little Mr Satterthwaite to solve the mystery, and vanishes silently as things end. From the 'exotic' Poirot to the fluttery Miss Marple to the mysterious Mr Quin, Christie's troupe, as any addict will agree, is hard to beat.