The long yellow road to the Emerald City
L. Frank Baum never acknowledged the The Wizard of Oz's political and social-allegorical readings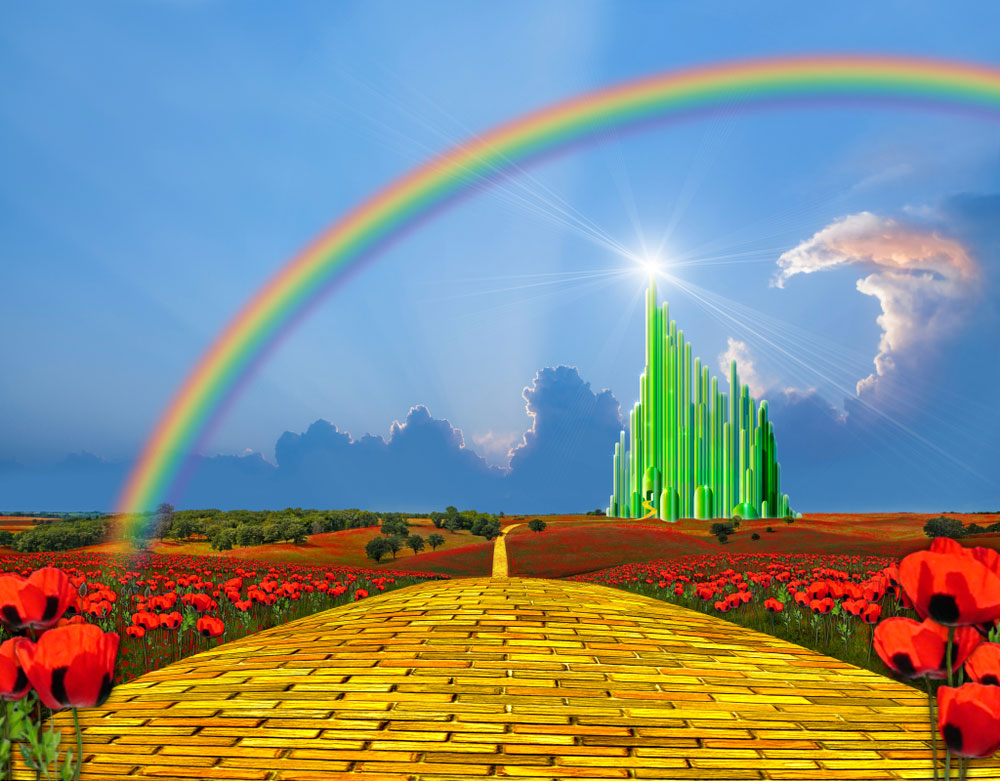 ---
---
A little girl with unusual companions sitting around a table cannot but conjure up visions of Alice at the Hatter's tea party with the Hatter, March Hare and the sleeping Dormouse all squeezed into one corner. W.W. Denslow seems to be trying to give the supper at a 'Quadling' home for Dorothy and her companions a slightly saner look, although the Cowardly Lion tasting porridge (calling up "Goldilocks and the Three Bears"?) makes the attempt absurd; the Scarecrow and the Tin Man, neither of whom can eat, do not encourage sanity either. Denslow's allusion to Tenniel's illustration of the Mad Tea Party in Lewis Carroll's Alice's Adventures in Wonderland is not surprising, for L. Frank Baum made no secret of his debt to Carroll, as to the Grimm Brothers and Hans Christian Andersen, for the mix of fairy tale, fantasy and nonsense in his first big hit story, The Wonderful Wizard of Oz.
The 1900 tale became a famous show on stage, Baum's first love, and led him to write 13 more Oz stories besides his other poems and tales, often written under pseudonyms. Sadly for Baum, the highly successful film, The Wizard of Oz, happened 20 years after his death on May 6, 1919. The Wonderful Wizard of Oz was meant to be a 'modern' and 'American' fairy tale — with a Great Humbug pretending to be a Great and Terrible Wizard, and without obvious moral lessons. Baum never acknowledged the story's political and social-allegorical readings, insisting that he had written it for children.
The strong women characters, for example, are traced to Baum's support of the suffragette cause, of which his wife and mother-in-law were champions. But Dorothy may have descended from the Goldilockses and Red Riding Hoods before her, not to mention Alice, and she stands out for her kindness, trust, courage and determination to return to her modest home in Kansas. Two good witches and two bad ones divide Oz among them, all of them powerful, with the weak pretend-Wizard ruling the Emerald City at the centre. The desert encircling Oz can only be crossed by cyclones, hot air balloons or magic. But even for this fantasy land, the region of dreams and secret quests, Baum had an almost 'modern' explanation. The Good Witch of the North has never heard of Kansas, possibly, she says, because it is 'civilized': "In the civilized countries I believe there are no witches left, nor wizards, nor sorceresses, nor magicians. But... the Land of Oz has never been civilized, for we are cut off from all the rest of the world. Therefore we still have witches and wizards..."
Yet Baum's last words were: "Now we can cross the Shifting Sands." Oz had never left him.