Krishnakamal Bhattacharya: Rebellions that still resonate
Krishnakamal studied at Sanskrit College, Calcutta, where he and his elder brother Ramkamal were taught by Vidyasagar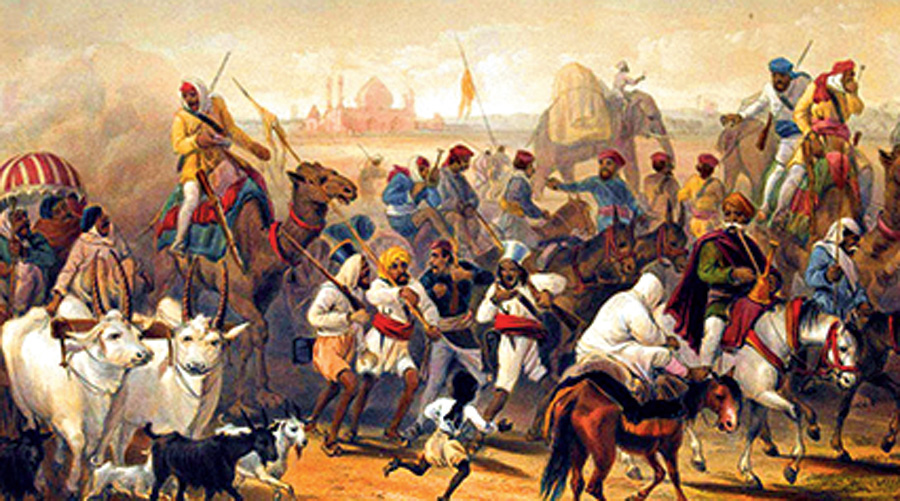 From 'The Campaign in India 1857-58', a series of 26 coloured lithographs by William Simpson, E Walker and others, 1857-1858.
Wikimedia Commons
---
Published 03.07.20, 03:27 AM
|
---
In Ishwarchandra Vidyasagar's bicentennial year, perhaps it is also important to remember some other extraordinary individuals around him. Krishnakamal Bhattacharya (1840-1932) was one of them: a favourite student of Vidyasagar, and a brilliant scholar, teacher, writer, translator, lawyer, wanderer, and a rebel. He taught Bengali at Presidency College and was prescient about the future of the language.
Krishnakamal studied at Sanskrit College, Calcutta, where he and his elder brother Ramkamal were taught by Vidyasagar. Encouraged by Ramkamal, Krishnakamal came under the influence of the works of Auguste Comte and positivism, a philosophy that had also inspired Brahmo thought. Krishnakamal remained an atheist for life.
He got admission to Presidency College in 1857. A year later he took off to travel in north India, ravaged by the 1857 uprising. He wandered through literatures and ideas, too. A contemporary of Bankimchandra Chattopadhyay, by that time he had already written Durakankher Britha Bhraman (Futile Wanderings of One Who Wants to Go Far, 1857), considered by some as the first romance in Bengali. After his return and graduation, he joined Presidency College as a teacher of Bengali in 1862. He was a great Sanskrit scholar, but he would deliberately introduce the modern to his class by teaching Michael Madhusudan Dutt's Meghnadbadh Kabya (1861).
In 1862, he wrote the polemical Vichitravirya, a call to free India from the British in the garb of a Mahabharata tale. With the poet Biharilal Chakraborty, his friend who had influenced Tagore, Krishnakamal brought out the periodical, Abodh Bandhu, for which he translated, Paul et Virginie, a romantic tale by Jacques-Henri Bernardin de Saint-Pierre, a disciple of Rousseau. Krishnakamal had learnt French on his own.
His personal life remained outside the social. He is said to have lived with a prostitute. Krishnakamal fell out with Vidyasagar, who had apparently objected to his "second marriage", the details of which remain unclear. But Krishnakamal had also used Comte to defend widow remarriage when ironically, a section of conservative Hindus had invoked Comte to argue for the chastity of widows. Krishnakamal had stressed that Comte's ideas held for both men and women.
In 1873, Krishnakamal left his teaching job and began a successful second career in law. He had a law degree and he is remembered most now for his works on Hindu law: The Law Relating to the Joint Hindu Family and the translation of the ancient laws of Parasara, The Institutes of Parasara.

His views on the Bengali language were prophetic. He had said that the obstruction to Bengali acquiring fullness in future lay in the political condition of India, and that no language of a subject nation was ever able to achieve special development.