A New York state of mind
What Paris was to Gertrude Stein, New York was to a young Joan Didion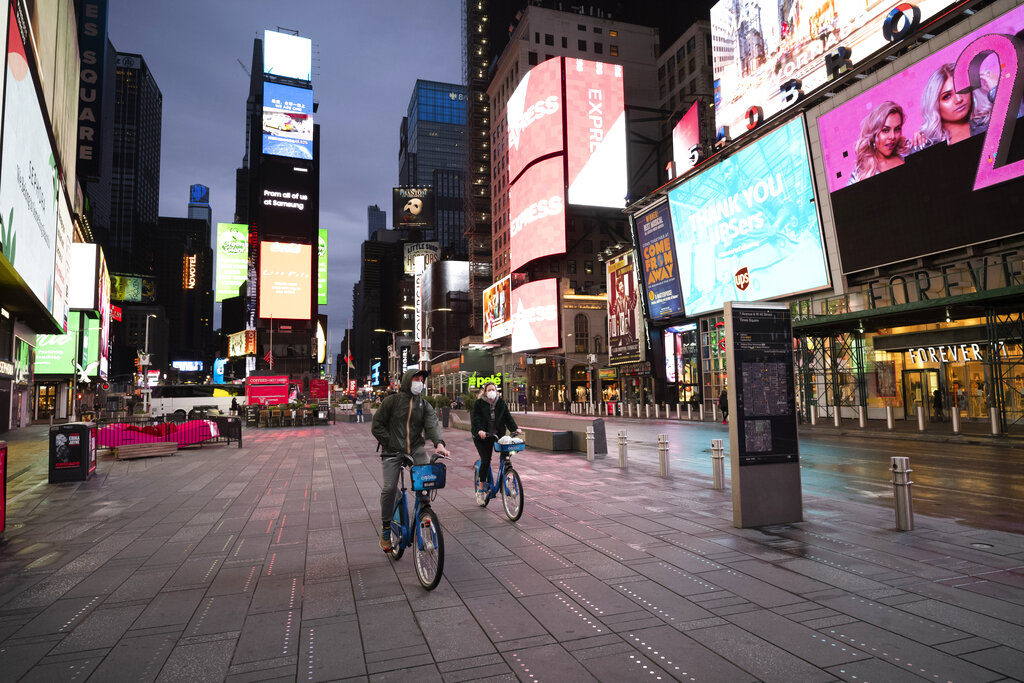 People ride bicycles in New York's Times Square, Wednesday night, April 29, 2020, during the coronavirus pandemic.
(AP Photo/Mark Lennihan)
---
Published 30.04.20, 08:33 PM
|
---
New York is colourful, extraordinary and often chaotic. It has meant a very many things to a very many people in the course of its 400-year-history. It is a beacon of multiculturalism, a haven for refugees, as well as the business and cultural capital of the world.
Little wonder then that New York City has cast a spell on writers and artists. What Paris was to Gertrude Stein, New York was to a young Joan Didion, who gushed "... I was in love with New York... the way you love the first person who ever touches you and you never love anyone quite that way again." F. Scott Fitzgerald, too, had marvelled at the mystery and beauty of the city from the Queensboro Bridge. But a grand love affair has its share of hurt. New York, the mercurial lover, has been known to hold some of its suitors at a cool distance. Nora Ephron may have found magic in the city's mundane rituals, but not Bob Dylan, who thought that the city was bereft of a humane soul.
But neither the devoted nor the disillusioned will recognize New York today. Like many other metropolises around the world, 'the city that never sleeps' is eerily quiet as it grapples with the coronavirus pandemic. And what of its iconic attractions? The Museum of Natural History, where Holden Caulfield had ranted about the irrelevance of Columbus, is temporarily closed. The River Café, the exclusive haunt of the Wall Street murderer, Patrick Bateman, in American Psycho, is now short of patrons; The White Horse Tavern, where the Welsh poet, Dylan Thomas, drank himself to death, too, is closed for business.
Would a shuttered New York be a light to a moth called Mark Twain? It is a possibility. In a letter in 1867, Twain wrote this of the city: "I have at last, after several months' experience, made up my mind that [New York] is a splendid desert — a domed and steepled solitude where the stranger is lonely..." Twain could have well been writing about modern New York in its forlorn hour.
For all those who have lived in the city as well as those who dream of it, New York's empty, lifeless streets would be an unimaginable sight. One only hopes that when the crisis passes, dreamers like Didion would flock to New York, once again, to reaffirm their affection for a city that mends as well as breaks hearts.