Sudha Murty's Upside-Down King spotlights myths
She focuses on the lesser-known myths and delves deeper into Indian mythology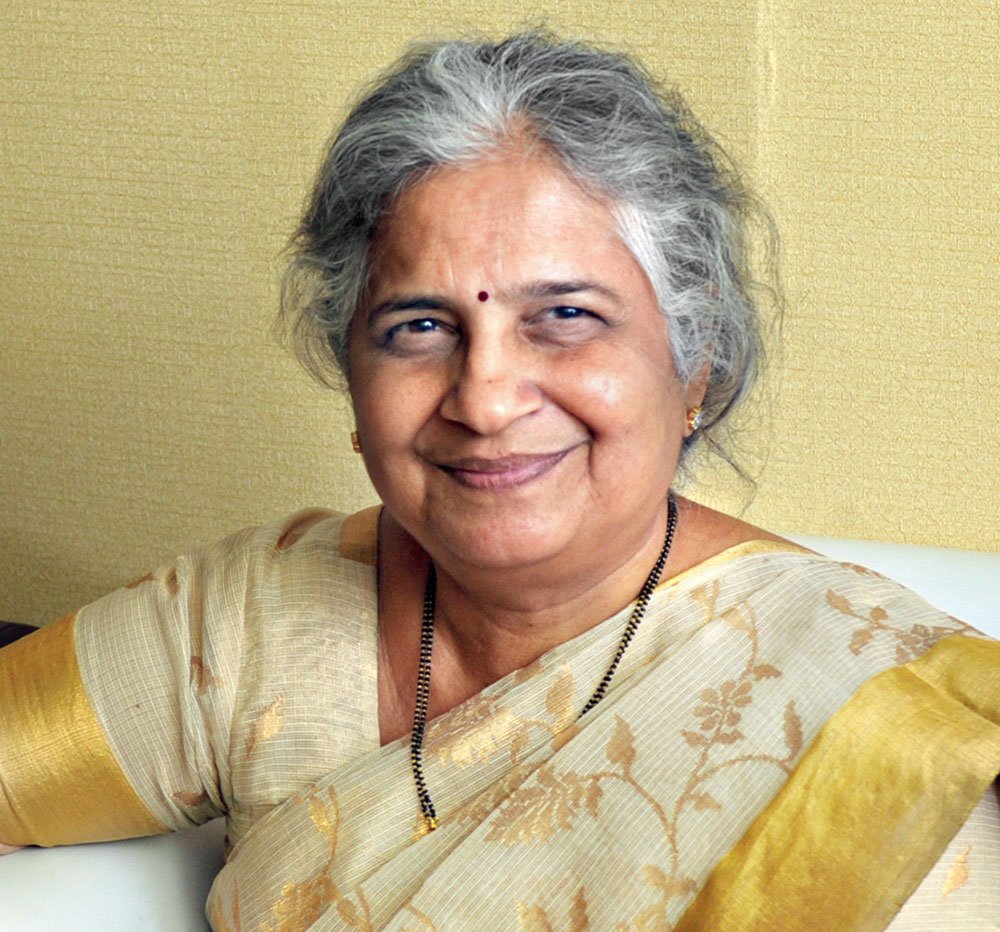 Sudha Murty's Upside-Down King: Unusual Tales about Rama and Krishna is the third in a series of books on Indian mythology
(Arnab Mondal)
---
Published 18.11.18, 12:36 PM
|
---
She wanted to make the epics interesting for her granddaughters, so she put some lesser-known tales together. The Upside-Down King: Unusual Tales about Rama and Krishna was thus born. According to author Sudha Murty, the chairperson of Infosys Foundation, her simple writing style is meant to appeal to kids and encourage them to delve deeper into Indian mythology. Murty tells us why mythologies are still relevant in today's tech world.
What inspired you to write this book?
This book is the third of a series. The first two — The Serpent's Revenge: Unusual Tales from the Mahabharata and The Man from the Egg: Unusual Tales about the Trinity (also published by Penguin Random House India) are not connected but also based on mythology. I have tried to highlight unusual and lesser-known stories that are often ignored. But these are the real gems and offer an insight into a wealth of characters.
Who are the target readers for this book?
This book is mainly for kids below 10 years and also for young mothers. This is the reason I have stuck to simple English. Young mothers can read out the tales to smaller kids. It is very important for children to know their mythology and heritage and also to get hooked to books from an early age. If parents read, children will read too.
Which is your favourite story from the book and why?
There are many favourites from this collection. I love the ones on Hanuman and also the one about "the upside-down king" or Satyavrata, who once ruled Ayodhya. Then there is this story that highlights why we celebrate Diwali. That should make for an interesting read. Most of us have celebrated Diwali since birth without knowing the story behind it. The festival celebrates Krishna's win over Narakasura. The people of Dwarka welcomed back the victorious Krishna by cleaning their house, disposing off junk and lighting lamps. And thus the tradition continues.
What made you choose these stories from the Indian epics?
There were thousands of stories to choose from. Stories from the Ramayana and Mahabharata vary from place to place and language to language. I chose the ones that I thought would appeal to the kids the most. I have also selected some stories that explain popular culture and practices.
How important is it for today's kids to know their epics?
Mythology is part of our culture. We should be proud of the rich legacy of stories and help children know their culture better. Not all stories are meant to teach us something. But they are enjoyable nevertheless. I have tried to simplify the stories for kids to understand better. They need to know why India was called Bharat. Who were Ram's ancestors? Who comprised the Solar Dynasty and who were part of the Lunar lineage? Why were these kings such great warriors? We learn from some stories, relish some others and the rest are just an integral part of our history. I hope my collection will encourage children to research for more such lesser-told stories from the epics. Kids should be encouraged to ask questions.
How many days of research did this book take?
I have been researching for a long time (over 20 years), trying to unearth all the unusual stories from the epics. But that was chiefly for my own enjoyment and knowledge base. Then my daughter wanted to tell mythological tales to my granddaughters, but found most exaggerated and over-descriptive. That's when she asked me to write simple versions of the same stories. Learning epics was part of my growing up. But I began reading different versions of them later. After years of research I am already three books down. I hope to write more. It's been an enjoyable journey so far.
What are you working on next?
My fourth book of the series. It is on women in mythology and almost ready. I have not written about Draupadi and Sita. Everybody knows about them. I am dealing with stories of women like Sukanya, Damayanti and Mandodari, who also had great determination and patience. Their stories need to be retold.
What was the most interesting part of your research?
The character studies proved interesting. Human nature has remained the same over generations. The Indian epics have dealt with so many different characterisations. The power tussles are often similar to present-day political strife.
How can writers hold on to young readers' attention?
I like to keep my books simple. If they are good, they will be read despite the attractions of the tech world. Parents should read to their kids to inculcate the love of books and stories in them. Too much exposure to television and mobile apps is spoiling the eyesight of young ones. The latter needs to understand why books are special even today. I like to add colourful sketches to go with my stories to attract young attention. I give my artists the freedom, but I am always there for consultation. The illustration on the book cover is also important as that will make a child want to turn the pages.
Any message for your target readers?
I would ask young mothers to read more to their kids. They are the ultimate role models for them. Parents should put in more effort towards a child's mental growth. Give your child a little less than they require. Create an artificial scarcity for kids to appreciate what they get.
To kids I would like to say that apps are good but books are even better. Treat books as medicines, not tasty at first but beneficial. Soon you will get hooked to them.