Shubha Mudgal's search for Miss Sargam
In Looking for Miss Sargam, Shubha Mudgal spins seven side-splitting yarns about India's giant music industry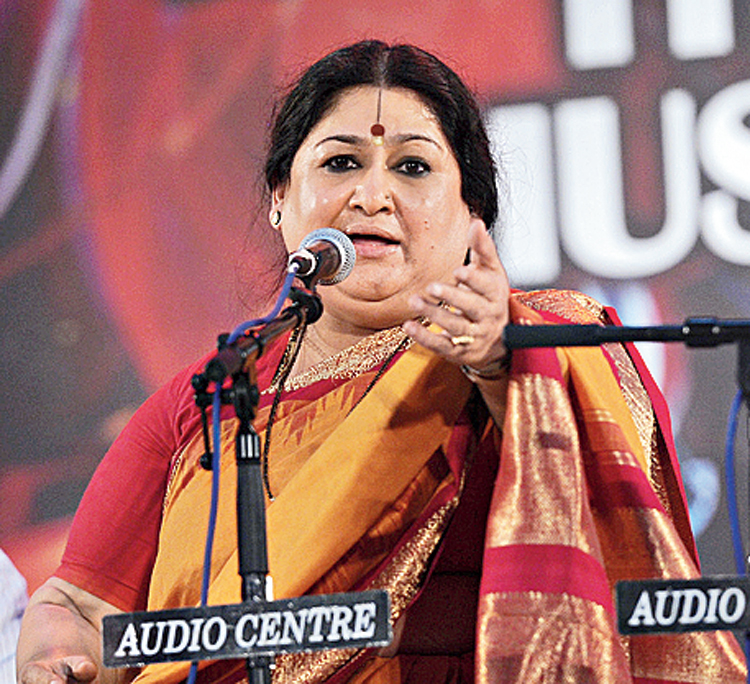 Shubha Mudgal's satire is a double-edged sword and she does not spare the music industry and our taste in music
(The Telegraph)
---
Published 18.10.19, 07:50 AM
|
---
Both Kumar Prasad Mukherjee and Sheila Dhar have left behind delightful insider stories about the eminences of the rarefied world of Hindustani classical music, their tantrums, petty rivalries, intrigues and indignities and, indeed, of the magnificence and splendour of their performances in the golden age of shastriya sangeet, when prima donnas like Kesarbai Kerkar dared to look down upon a mass medium like the radio. Both writers having been vocalists in their own right were well aware that these gandharvas had feet of clay.
Shubha Mudgal is a popular Hindustani classical singer who began performing in the 1980s and who has experimented with other forms of music, including pop and fusion. So it is not surprising that her knowledge would not be confined to the stratospheric realm of Hindustani classical, and, instead, would cover a wider range of the world of showbiz and its highs and lows. Readers — even sceptical ones like the present reviewer — would be pleasantly surprised when they discover that Mudgal has expertly processed this information to spin these seven sparkling, side-splitting yarns about the financial shenanigans, pettiness and pitfalls of India's giant music industry where mere talent is no guarantee of the meteoric rise of a musician's career graph.
However, it would not take readers very long to discover that the humour in these short pieces of fiction is on the surface only. Scratch the veneer, and you discover the sadness that permeates the lives of aspirational musicians and publicists, who, like Icarus of yore, try to fly too close to the sun, and plummet earthwards like a stone. Hubris can destroy the most talented individuals anywhere, anytime.
The first story, "Aman Bol", is a perfect example of how an almost pitch-perfect jugalbandi between an Indian and a Pakistani Sufi star descends into a caterwaul as they engage in a round of musical one-upmanship. Mudgal seems to take great delight in describing the comeuppance of a pushy marketing type, who wore a "... flashy, distracting palazzo-kurta set..." Mudgal keeps her eyes peeled for behavioural and speech quirks ("... Bai Gawd Sirr, aap to bilkul Mojaat lag rahe the...") peculiar to a region, and she gets accents and affectations just right. I could not help chuckling to myself as the all-too-familiar character of the Bengali mum emotionally blackmails her son into abandoning the sitar and embrace an Ivy League college in America instead.
Mudgal's satire is a double-edged sword and she does not spare the music industry and our taste in music as well. Why else would an all-girl band choose to call itself The Badass Bandariyas? Mudgal takes a critical look at the louche appearance of the poor harmonium player, which is in sharp contrast with the glamour and refinement of the great Ustad himself, but she does not hesitate to reveal the latter's true colours as well. The story begins as a comedy and ends as a tragedy that reflects on the cruel ironies of life. How else does one explain the longing of a talented, much-respected Hindustani classical vocalist to perform in America, a yearning that culminates in an ignominious visit that shatters her equanimity? Why would a mere harmonium accompanist seek a Padma award, a pursuit that leads to his downfall and death? The protagonists are talented but they overreach themselves and land themselves in trouble. But when one has Shri Vatsalyamai Mata, a godwoman, to protect one, one can get away with singing a Meera bhajan for a film on a deviant sexual practice, which, naturally, invites the ire of the dreaded Hindu Sanskriti Sewa Vahini. Shubha Mudgal turns Nietzsche's remark — "Without music life would be a mistake" — on its head.
Looking for Miss Sargam: Stories of Music and Misadventure by Shubha Mudgal, Speaking Tiger, Rs 499