Sadia Abbas on all that led up to her debut fiction novel The Empty Room
She is a DSC Prize for South Asian Literature 2019 nominee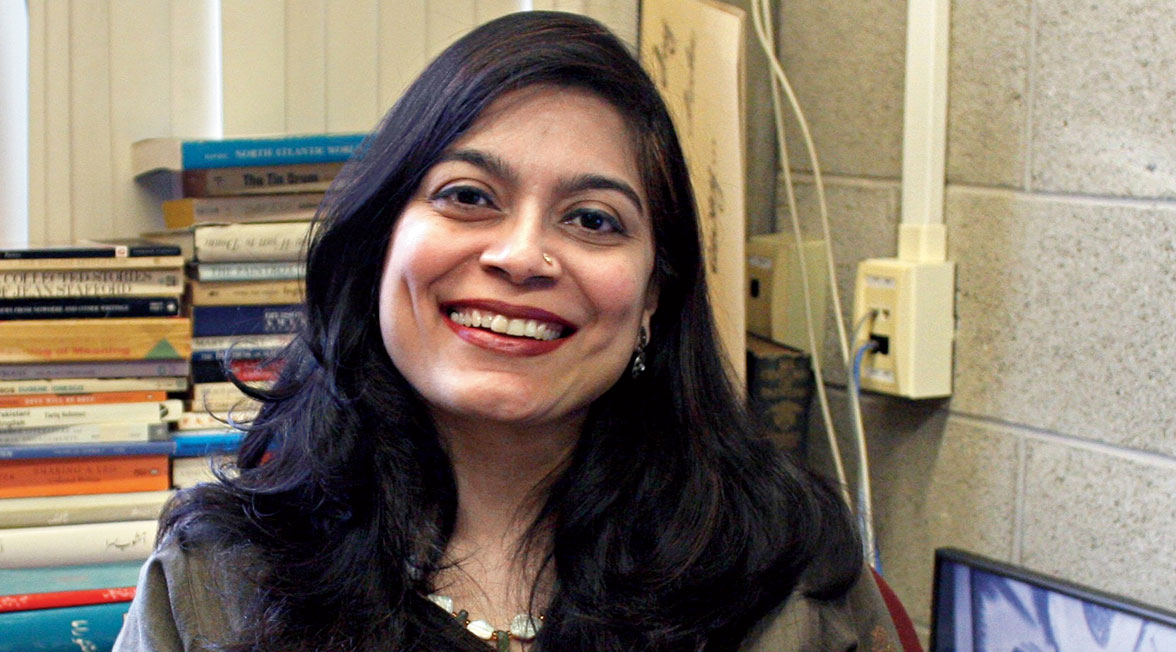 Sadia Abbas, a New Jersey-based author of Pakistani origin, whose tale of melancholy about Pakistan and a woman in the '70s struck a chord around the globe.
(Picture: Lawrence Lerner)
---
Published 16.10.19, 02:59 PM
|
---
The Empty Room by debut novelist Sadia Abbas takes you back to Pakistan in the '70s in a lyrical manner, while holding your hand through a form of darkness that consumes you from inside. Abbas talks about the country and the events that led up to the Zia regime that followed, juxtaposed against the story of Tahira, a beautiful artist who is married into a household of conformity. She, who is used to keeping company with freethinkers and social activists that are her brother and his friends Waseem, Andaleeb and Safdar, is alarmed at the crushing claustrophobia of discovering the truth.
Abbas is a scholar and author who has contributed extensively to the world of academia and non-fiction. This time, she has forayed into fiction with a riot of colours on canvas that is Tahira's story, to deal with events unfolding around her. Tahira encounters a family unwilling to accept her art till they learn to use it as currency for social validation and a husband Shehezad who is fighting contradictions within him. The beautifully drawn characters and the art she creates in a series called 'The Empty Room', all come together to make for a great read. t2 caught up with the New Jersey-based author, days ahead of the announcement of the shortlist for the award.
How does it feel to be nominated for the DSC Prize for South Asian Literature 2019?
Quite lovely and surprising. I am honoured to have the recognition. And it's nice to know people are moved by what I wrote.
In your opinion, how important are literary awards for an author?
I'd say there are at least two layers there. It's nice to be recognised but there are always so many great works that don't get recognised that it's also important to keep things in perspective. I won an MLA prize for my academic book, and I need to keep remembering how many greater books never saw a prize. The second layer is a market one — awards and the route to them helps circulate awareness of the existence of a book, so more people are likely to read it. In my case, I don't have an agent, so being on the longlist would probably mean more people would hear about the book.
Do you feel that South Asian literature is scrutinised under a stricter scanner on the world stage? If yes, why?
I think South Asians are our own harshest critics. There is also a tendency to expect non-white authors to be ethnographic representatives both in South Asia and abroad. At the same time, it seems to me Anglophone South Asian literature seems to have done astonishingly well globally. I wish more literature in languages other than English would get more attention.
Tell us about the journey of writing your first fictional piece? Any learnings?
Oh yes! Well, I started the novel when I was in grad school many moons ago and then thought I needed to focus on my scholarly work and then put it aside for many years. Thought about quitting the academy and focusing solely on fiction, realised I loved teaching and scholarly work too much, and then waited till I finished my academic book, got tenure and went back to The Empty Room. I learned that one just perseveres and it's okay to take on too much, and also to let go on occasion, which, I guess, is a roundabout way of saying — one has to be patient, with writing, with ones circumstances and with oneself sometimes.
Is there any part of you in Tahira?
It's not an autobiographical novel, so not really, although I do have certain reclusive tendencies myself. But I was brought up with similar attitudes, which I rejected, so I do understand some of her choices and wanted to write about how somebody might live them. I grew up in a claustrophobic household and I understand the claustrophobia she feels. Also, I really did want to honour so many women who have had to — and continue to have to — live with such injustice. But there are probably parts of me in Waseem and Andaleep as well. In fact, my friends would probably recognise some of my attitudes in Waseem's irritated indignation.
The oppression felt by Tahira still percolates into households in the subcontinent. Did you ever think the element of relating to a story and owning it as their own, would diminish slightly if it's set in the past, as opposed to now?
Not really. I just wanted to try to understand how these amazingly talented women did it and I felt that it's an ethical responsibility to try to understand other people's struggles even if they aren't our own. As it turned out, young women have written to me saying they do relate to the story. Also the 70s aren't really that long ago, no? So whose to say those struggles that seem slightly distant haven't shaped us anyway?
You know, I used to think about whether to finish the book. I didn't want it to become part of the oppressed brown women narrative in the West and I really wanted to publish it in South Asia first, if not primarily. So when Urvashi Butalia, whom I have admired for years, said she liked it, I was over the moon. It was such an honour.
I teach at Rutgers University-Newark, which has a large South Asian and Middle Eastern new immigrant population, and my students would say "you have to complete the book. We need you to". And I realised that they are still grappling with these issues. You know Behishti Zevar has been given to brides in New Jersey. On the other hand, I both wanted to really think about this moment when divorce was even more of a stigma than it is now and marriages really did come with no exit signs. When I got divorced a generation later, my mother kept pretending to people I was still married! It was bad enough that I had chosen my own (white) husband and then I had to go divorce him. She thought it was so shameful and was scandalised that I didn't agree. I also wanted to pay attention to the '70s, which was a time when the violence and repression that became the norm in the '80s was beginning to rise.
Tell us a little about your use of colours. Was it done purposely to make the contrast sharper when set against the tragedy unfolding outside?
There were many reasons. I did, indeed, want to think about how perception gets heightened in such enclosed and claustrophobic conditions, so yes. And I have always been intrigued by how we in South Asia tend to merge astonishing colour and beauty with astonishing violence towards women and towards those we perceive to be lower than us in caste and class terms.
But I am also interested in painting and visual representations of art, and the book is very much about how women create art in difficult — appalling, really — circumstances so the exploration of colour became part of that. I am co-editing a book on Shahzia Sikander's art at the moment.
I also wanted to think about colour as a metaphor as it is, quite explicitly, in the poem Safdar writes. I am obsessed with colour and it was an opportunity to think about the formal relation between writing and the visual realm. Finally, I really missed the colour all around us when I moved to the US to study and used to try describe that sensory overload to my friends. That got me thinking about the challenge of describing colour early on.
Your use of adjectives lends a lilting tone to the text. For a debut fiction writer, was that on purpose or is that how your pen flowed?
I was very conscious of the tone of the novel. I've always been very interested in voice and I wanted to come up with a voice that did justice to the Urduphone sensibility of the Muslims from UP, which is where Tahira's family is from. This meant thinking about that very formal, and sometimes Victorianised sensibility. Also, there's a lot of Urdu literary history and Urdu poetry in the novel and I wanted also to try to find a correlative style — with attention to both words and syntax — that could do formal justice to that.
Finally, I didn't at all want it to be inadvertently parodic or comic as some attempts to work across the Urdu/Hindi-English divide can become. When I started writing, it flowed easily enough but a lot of thinking about cadence and silence and speech had gone into it.
What is your writing process like?
Obsessive! I become quite immersed and write for long bursts and then have to force myself to stop, because of my other work. I do tend to edit a lot. Usually I start writing a little after I wake up and keep going until I can, do other things and then the next morning I begin by editing what I wrote the day before and then start fresh writing. I love walking and, when I am in Greece, swimming in the sea, so when I hit a limit I tend to go for a walk or swim — it helps clear my head. I also tend to write by hand and then type. I love fountain pens.
What can we expect next from your table?
The next novel I'm working on is strikingly different in terms of subject, locale, language and tone. It's about Britain's repression of its colonial history, and it's set in the UK and the US at the moment. Early days though, so I expect changes. I'm also working on my next academic book, and I have an idea for what might become the third novel, which will probably be set in Greece where I spend a lot of time.