Tracing the life of Gandhi through a great collection of books on the leader
The ironic question that resurfaces each year on October 2 is whether the great leader has now been reduced to a mere symbol, to be used at whim and without consequence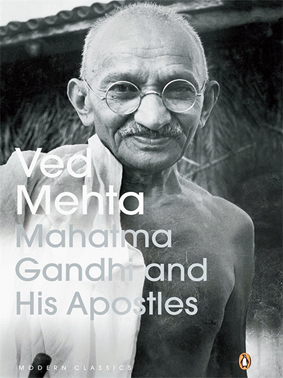 Mahatma Gandhi and His Apostles
Sourced by the Telegraph
---
Published 01.10.20, 09:58 PM
|
---
The idolisation of M.K. Gandhi began during his lifetime, but Gandhi himself was acutely and astutely, aware of the potency of symbols. In his attempt to raise funds for the different causes he espoused, he would auction his signed photographs, autographs and even personal items. The ironic question that resurfaces each year on October 2 is whether the great leader has now been reduced to a mere symbol, to be used at whim and without consequence. If he is at all relevant beyond his eventful times, how so? What can a man who saw his ideals of non-violence crumble shortly before his death — in the mass communal carnage of The Partition in 1947 — tell us about violence and communal harmony today? What can a man who in his insistence on fighting untouchability his way ended up antagonising the tallest modern leader of the Dalits and a possible ally, Dr B.R. Ambedkar, tell us about casteism? To find clues to these answers, we turn to some of the most rigorous and engaging books written on this revered yet contested figure.
Acclaimed historian Ramachandra Guha, in his definitive two-volume biography, provides a fresh perspective on Gandhi's transition from an Indian lawyer to a world leader. The first book, Gandhi Before India, traces the arc of his life from birth to 1914. Guha contends that it was in South Africa that Gandhi forged the philosophy and techniques, which he was to later refine and use against British colonial rule in India. A deeply researched and elegantly written volume, this book delves into Gandhi's personal life to create a three-dimensional view of the man, including his failings as a husband and father.
The second book, Gandhi: The Years That Changed the World, reveals the Gandhi we know with an epic sweep and brilliant storytelling, from the time he returns to India until his assassination in 1948. Drawing on hitherto unavailable material, the book puts Gandhi's bewildering contradictions into sharp relief against his infinite hope, as it explores anew his debates with Ambedkar, M.A. Jinnah, and Winston Churchill. Read alone or together, these volumes are an indispensable resource for a contemporary understanding of Gandhi.
Predating other records of his life, Gandhi published An Autobiography, Or The Story of My Experiments with Truth, translated into English by Mahadev Desai, in 1927 and 1929, and later a revised edition in 1939. Outwardly, it was a chronicle of his story from his birth to the year 1921, but it was prompted, as noted by eminent scholar and the creator of the largest digital archive on Gandhi, Tridip Suhrud, by a 'small, still voice' and was more a 'story of the soul'. In his authoritative and first-ever Critical Edition of An Autobiography, Suhrud elucidates the contexts and characters that Gandhi mentions in passing, providing a comprehensive historical background to the story.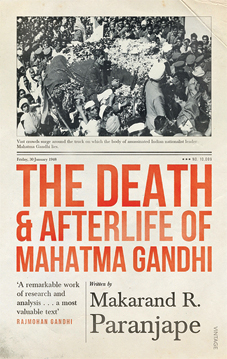 Suhrud also offers some alternative translations, bringing the reader closer to Gandhi's transparent writing style. Suhrud's insightful introduction examines the small inner voice — some would call it conscience, others God — that led Gandhi towards his innovative methods of non-violent struggle and seeking truth.
In The Man before the Mahatma: M.K. Gandhi, Attorney At Law, legal scholar and professor of civil disobedience, Charles DiSalvo mines hidden archives and focuses exclusively on how Gandhi's legal practice shaped him. DiSalvo follows Gandhi from his law studies in Britain to his flourishing practice in South Africa, tracing how he came to give up representing his rich clientele and began to support the besieged Indian community. This public work and, specifically, the use of civil disobedience, is what gave Gandhi his power as a leader who could take on the most formidable governmental, economic and political forces of his day. The esteemed historian Rudrangshu Mukherjee's meticulously edited volume culled from the Collected Works, The Penguin Gandhi Reader, also offers a glimpse of the themes central to Gandhi's philosophy.
Ved Mehta, in his beautifully written Mahatma Gandhi and His Apostles, says he 'was interested in exploring the "subtler and more lasting shapes"' (borrowing from E.M. Forster) of Gandhi, which led him to speak to his closest followers. Because it is in their memories 'that the pictures live, the myths take their shape, and his message is propagated'. Travelling across the world to talk to Gandhi's close companions and followers, and drawing his daily life in exacting detail, Mehta brings alive a vivid and nuanced portrait of the charismatic leader.
In a similar vein is the fascinating book introduced and annotated by diplomat and writer Gopalkrishna Gandhi in his trademark elegant style —My Dear Bapu: Letters from C. Rajagopalachari to M.K. Gandhi, his son Devadas Gandhi and to Gopalkrishna Gandhi. It includes 80-odd largely unpublished letters, from the run-up to Independence to its early years. Rajaji was famously described by Gandhi as his 'conscience keeper', and it shows in the frank, brave, at times even bitter, debates between the two leaders on matters crucial to the country's future. This book reveals Gandhi's consistent openness to strong differences of opinion.
No discussion on Gandhi can be complete without acknowledging the towering presence of Ambedkar, a great contemporary and more than a match for his incisive argumentation. In her provocative book, The Doctor and the Saint: The Ambedkar — Gandhi Debate, Arundhati Roy examines why Ambedkar and his followers were unable to trust the Mahatma: as he obstructed the political mobilisation of Dalits outside the Hindu fold. This is an important counterview of Gandhi's lifelong fight against untouchability, to be read vis-à-vis his proclamations on racism and colonialism.
This brings us to another interesting view of Gandhi's life and legacy by the scholar Makarand Paranjape. In his book The Death and Afterlife of Mahatma Gandhi, Paranjape asks the discomfiting question of who was truly responsible for the Mahatma's death — the assassin, his ideology or the majority of Indians as a whole. Closely analysing Gandhi's last six months in Delhi, where he managed to prevent a second wave of large-scale bloodshed, Paranjape offers a counterintuitive exploration of the meaning of the Mahatma's death.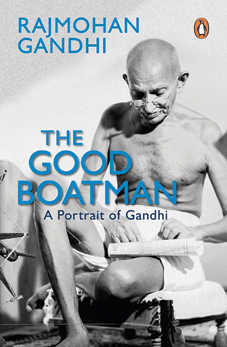 We end with a more personal yet scholarly book, The Good Boatman: A Portrait of Gandhi by acclaimed biographer Rajmohan Gandhi, who is also Gandhi's grandson. By examining in detail the dominant and varied themes of Gandhi's life — including his unsuccessful bid to keep India united, his attitude towards caste, his relationship with the British, his controversial experiments with chastity, and his selection of heirs — the book delves deep into the making of the man who would come to define a nation.
It will have become apparent to the reader from this selection that we cannot fully understand the enigma of a leader whose self and ideas were evolving until his last breath. Books on Gandhi will continue to be published as long as the issues he raised remain relevant. All we can hope to do is engage with and critically examine his thoughts and actions from multiple perspectives.
The author is a commissioning editor at Penguin Press