Getting under the city's skin: Delhi's urban ecology
The essays, read in connection, reveal a capillary network of power, labour, violence and profit, which produces a discourse about the 'environment'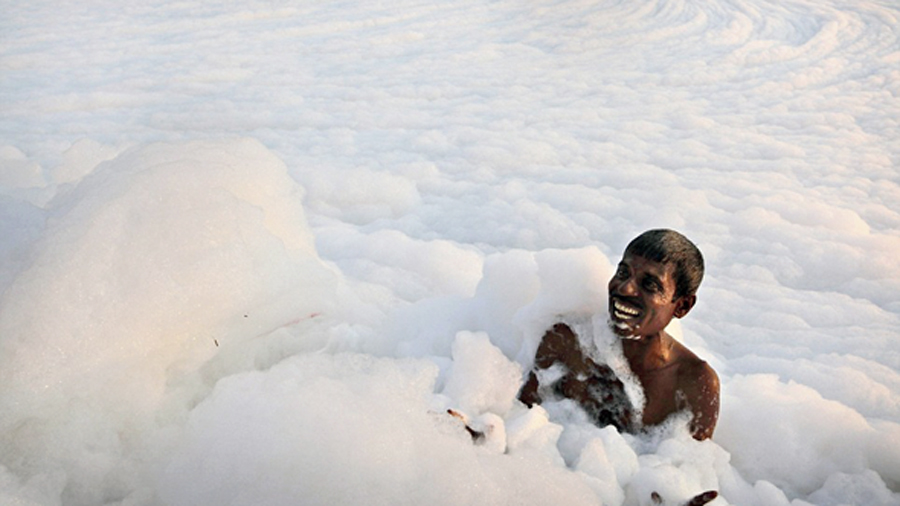 A man bathing in the Yamuna amidst toxic foam.
PTI file photo
---
Published 18.09.20, 12:34 AM
|
---
Book: Uncivil City: Ecology, Equity and the Commons in Delhi
Author: Amita Baviskar
Publisher: Sage and Yoda
Price: Rs 1,195
The city commandeers its own narratives. If one looks at the sociological literature on cities, some of the most significant works display a fascination for the magical and the grotesque of the urban. Contemporary writings about Indian urban spaces, however, belong to a different order than reflections such as Walter Benjamin's on Paris. In recent years, scholars have taken an entangled, networked approach to cities — mimicking the urban structures. Amita Baviskar's book has to be contextualized within this vibrant legacy. It is a collection of seven essays, which approach the city from an incongruous category — urban ecology. Delhi is a living entity even as it anatomizes urban politics and ecological imaginaries with precision and intent. Connected by a timely introduction and concluding chapter, the book makes for relevant and sobering pandemic reading.
At the outset, readers are introduced to urban sights. The city comes alive in startling images, like that of a driver bending to disengage his Maruti Van from the mud, inciting Sikh taxi-drivers to shout in glee at his revealed fundament. Few of the images are innocuous. In Chapter 1, they constitute the premise of Baviskar's analysis and represent the skin of the city. She contrasts the city when one knew where milk-men, washer-men lived, compared to a present when labour is contractually employed. But there is no space for nostalgia from a 'place of privilege' in her analysis. She argues that labour has always been corralled away from the middle classes, into other spaces. This warren is explored to reveal how dominant ideas about urban ecology are produced and how they influence people. Tracing the history of the Master Plan aided by the Delhi Development Authority in 1962, she emphasizes the truculent nature of contestations over space. In Chapter 2, a heartrending account from 1995 is provided; that of a young man beaten to death for defecating in a 'park' in the affluent neighbourhood of Ashok Vihar. Other chapters also reflect the classed nature of environmental activism. Tearing into ecological politics from the 1980s, she criticizes the Supreme Court's decisions for the closure of industrial units, leaving thousands of informal sector workers without subsistence. In Chapter 3, the hegemonic status of the middle class is emphasized in determining what constitutes pollution, to the exclusion of the 'migrant' working class. She also draws attention to issues like the DDA's violation of the Plan, and the contribution of untreated domestic sewage to water pollution.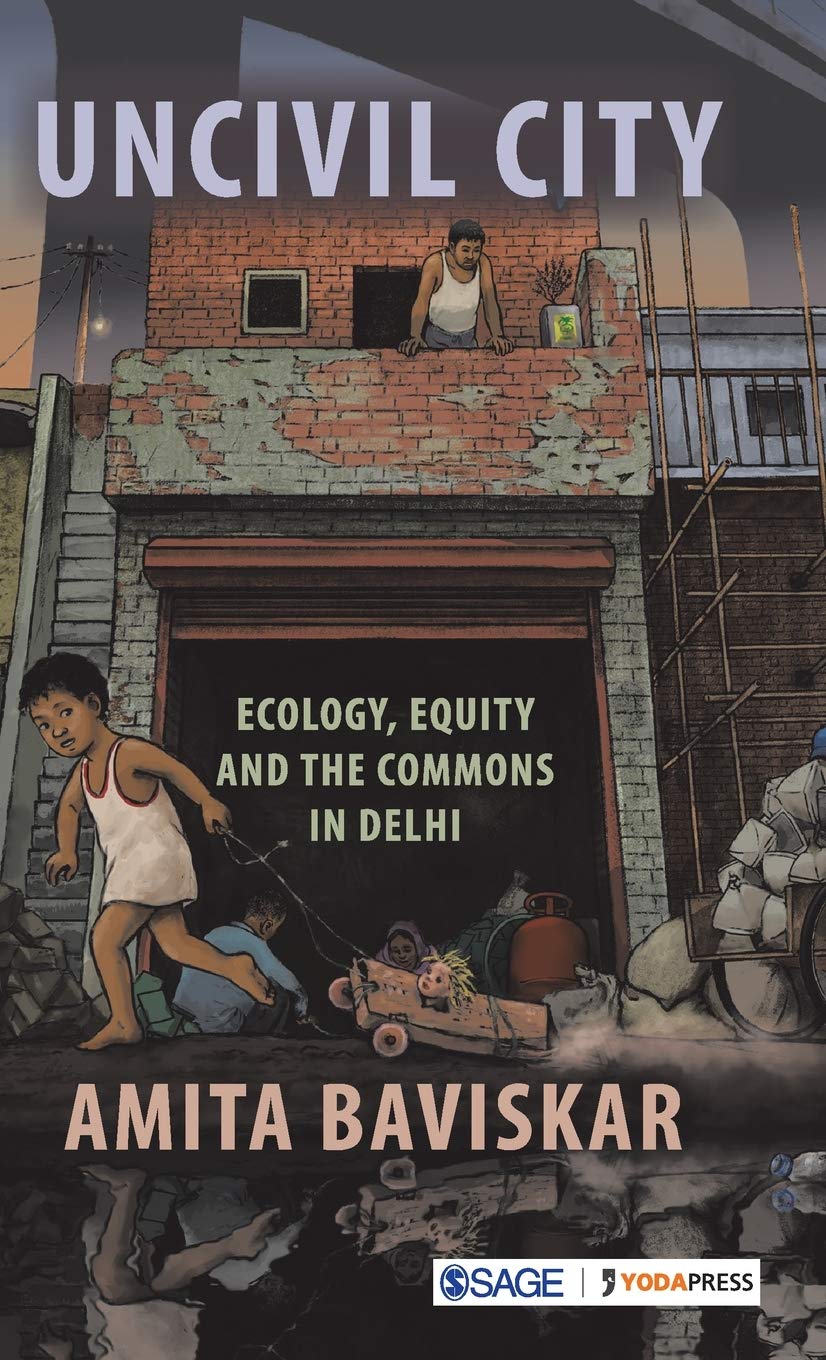 The essays, read in connection, reveal a capillary network of power, labour, violence and profit, which produces a discourse about the 'environment'. The idea of 'civic solidarities' is duplicitous when invoked to appropriate spaces from poor people to construct luxury apartments for the Commonwealth Games. In Chapter 4, Baviskar reveals its double standards as this land was once prioritized for ecological interests. Nature is enmeshed in the analysis of Delhi's spatial politics in the forms of the cow (Chapter 5), the Yamuna (Chapter 6) and the groves on the Ridge (Chapter 7), and is not a romantic entity segregated from politics. Through nature, Delhi's spatial history has been explored. The cows are reminders of the Gujjar villages, which were taken over by Delhi University, drawing rural people into urban employment and structures. In Chapter 5, the author argues that ecological imaginaries reflect an overtly 'modernist bias' in which cows and cycle-rickshaws are an affront to elite sensibility as opposed to cars.
The primary argument of the book is that Delhi's urban environmentalism is essentially elitist and biased. Her arguments deepen in Chapter 8, in which 'environment' is reconceptualized to include greens, wetlands and even streets. Critiquing the environmentalism uninterested in ecological sustainability, she posits the concept of 'urban metabolism', which is more inclusive. In Chapter 9, Baviskar ponders the climate change debate, which reveals the disingenuousness of bourgeois environmentalism in its role as a 'bystander' and its reluctance to address problematic bourgeois practices.
Ethnographic writing in India has come a long way from M.N. Srinivas's orderly and tranquil prose. This work exemplifies this shift. The reflection that dominant ideas of environmentalism are essentially bourgeois imaginaries, which create a disembodied, noxious adversary, is very relevant. During the pandemic, when there is anguish about 'migrant labour', discourses about 'public interest', and a smug discussion about 'pollution control' because of a lockdown which has devastating implications for the poor, this is a very pertinent read. The Delphic Yamuna gleams surreptitiously in the book, drawing attention to violence, dispossession, exclusion and disaster, and how everyone is implicated.