A man of two worlds
The book's latter half is devoted to Raza's life in France and his meteoric rise to fame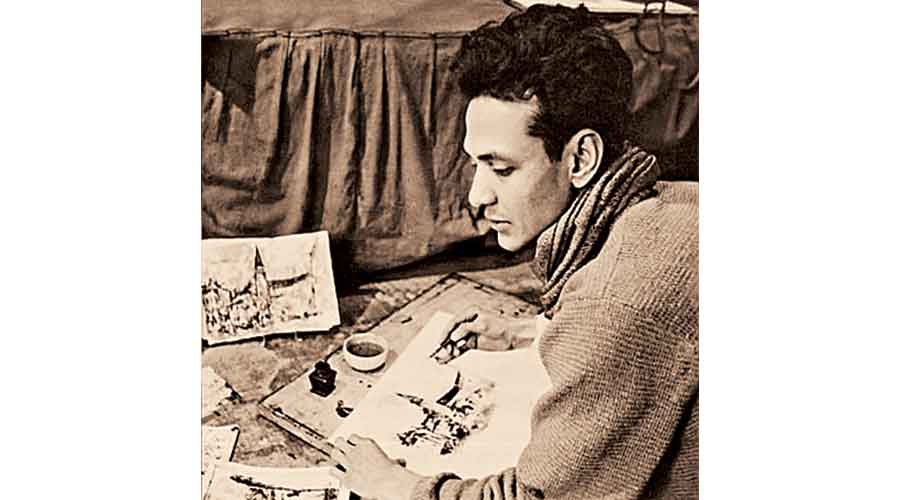 Sayed Haider Raza.
Scanned from Sayed Haider Raza: The Journey of an Iconic Artist
---
Published 05.11.21, 12:16 AM
|
---
Book: Sayed Haider Raza: The Journey of an Iconic Artist
Author: Yashodhara Dalmia
Publisher: HarperCollins
Price: Rs 899'
The front cover of the recent biography of Sayed Haider Raza by the eminent art historian, Yashodhara Dalmia, has a photograph of the artist from his mature years. He is engrossed in thought with his calm and pensive eyes averted from the camera lens. It is the portrait of Raza who had already been acclaimed as one of India's greatest modern painters and was a much sought-after artist in the auction mart. But, conversely, on the book's back cover, there is a photograph of Raza as a young man seated on a stool in his Paris studio, surrounded by his new, experimental paintings on the walls. Staring at the camera with youthful confidence and ambition, it is the portrait of an artist still struggling in the new cultural environment of the great city for survival and establishment. The dialectics between these two opposing gazes — one outward, the other, inward — set the tone for this tender biography.  
Sayed Haider Raza was born in 1922 in Barbaria, a small village in Madhya Pradesh, to Tahira Begum and Sayed Mohammad Razi, a forest ranger. The book details his early life in the village surrounded by the Kanha National Park, Kipling's Country, whose natural beauty had a lasting impact on his life. Long after he had become a successful international artist, he wrote, "Living in a great city was a strain although there were beautiful places. I thought that it was imperative for me to go out of the city and to be in a place which was closer to nature, trees and mountains, water, flowers and hills. I think this is also due to the fact that I retain a longing for my childhood days, for the forests of Madhya Pradesh." Living as the first generation of post-colonial Indian artists in a foreign country, he carried with him a piece of rural Madhya Pradesh throughout his life.  
Raza's artistic talent was recognized early on as a school student. Before leaving India for Paris in 1950 to study at the École des Beaux-Arts, he trained at Chitrakala Mahavidyalaya in Nagpur and at J.J. School of Art, Bombay. In Bombay, he came in close contact with the city's burgeoning art world. He met F.N. Souza, who inducted him into the historic Progressive Artists' Group founded in 1947. He also befriended M.F. Husain, Ram Kumar, Akbar Padamsee and other rebellious artists and gallerists, art critics and patrons of the city, who supported and patronized the recent artistic trends inspired by international modernism. There is a poignant description of Raza's early struggles as an emerging artist in the big Indian metropolis and the impact of the turbulent decade of the 1940s, particularly the Partition, on his family's life. The book's latter half is devoted to Raza's life in France and his meteoric rise to fame. This part, often neglected in the discourse of modern Indian art, narrates his marriage to the French artist, Janine Mongillat, their active congenial social life and contact with a wide range of creative people, from Henri Cartier-Bresson to Satyajit Ray to Ravi Shankar. It gives us insights into Paris's unique cultural environment and an Indian artist's struggle to find a home in a foreign city.
A lover of Rilke's poems, Raza showed interest in Cezanne and Malraux instead of the existentialist angst dominant during his college days in Paris. While narrating the events of his life, the biography discusses the significant shifts in Raza's thoughts and artistic practices, particularly from figurative to abstract art. "I realized that my eyes were focused outwards, and there was an imperative need to look within myself. Thus began a transformation in my vision, and in my work," remarked the mature Raza, who was drawn to the works of the American Abstract Expressionists. If the transatlantic experience inspired his famous abstract paintings in some measure, they were also — notably the series called Bindu for which he is widely known today — inspired by his childhood experiences. According to an anecdote narrated in the book, the Brahmin headmaster of his school, noticing his student's restlessness, drew a round spot on the white-washed classroom wall and made Raza sit and stare at it. Later in his life, when his works were under attack for his use of Hindu titles, in his defence, Raza explained, "My using a circle or a square as key motifs do not make my painting Tantric, even if I called them Bindu, Surya or Zamine. I am aware Tantric Darshan is far too complex. I know little about its beliefs and rituals. My involvement in work is essentially with the life of form, and all my efforts are directed towards a coherent pictorial logic." Uninhabited and modernist in spirit, Raza nurtured a rare sensibility, shaped by the culture of two great cosmopolitan cities in the world, Bombay and Paris.
Written in lucid and elegant prose, the biography of Raza, rich in art-historical analysis and intense archival research, reads like a fine novel. Drawing upon a large body of personal letters, anecdotes, memoirs and poems, Dalmia avoids the disinterested method of a biographer obsessed with historical facts to capture the artist's life of the mind, braiding his professional career with emotional energy. A result of extraordinary erudition, research and compassion, the biography of Raza, a true complement of the artist's well-known autobiography, is a must-read for anyone interested in the artist and in the cultural climate and milieu he grew up in. The pleasure of reading the book is further enhanced by the reproduction of rare black-and-white photographs and quality art plates placed contextually in the book.