Book: Consumerist Encounters: Flirting with Things and Images
Author: Sreedeep Bhattacharya,
Publisher: Oxford
Price: Rs 1,695
This book is a collection of thoughtful essays on a set of commodities and their images, which populate the everyday lives of an ever-increasing number of gratification-seeking Indians in the post-liberalization era. Bringing the material and the visual in a single analytical framework, Sreedeep Bhattacharya examines the changing relationships between objects of individual desire and their popular representations over the past few decades. For the author, an engagement with the emergent consumerist landscape is the most insightful way of making sense of the massive social transformation that is under way in contemporary India. While making his case for the significance of the symbolic and his culturalist reading of "image-mediated and commodity-infested lives", Bhattacharya seems to be in a tearing hurry to belittle and dismiss the disciplinary legacy of Indian sociology and social anthropology. In an otherwise accessible and well-written work, his exaggerated sense of this being a pioneering work punctuates the text with too many sweeping claims (without detailed explanation and adequate substantiation) that undermine its scholarly value.
Bhattacharya's book is an evident exemplification of the much-celebrated 'cultural turn' in social sciences. Although its invocation of some of the big names in the field of cultural theory and post-modernist philosophy — Agamben, Baudrillard, Bauman, Elias, Foucault, Jameson — and its endorsement by some of the leading lights of the Indian academy makes it appear quite updated theoretically, it operates with too many theoretical givens without much critical scrutiny of their historical provenance. Liberalization of the early 1990s as the harbinger of a consumerist society in India is one such theoretical given. Intriguingly, Bhattacharya does not think it appropriate to accord attention to the shifting relationships between State and classes and the way the State itself has played an active role in the making of India's consumerist landscape. This is surprising as the author must be aware of the work of Leela Fernandes who has, incidentally, also written advance appreciation for this volume. Another theoretical given is the unabashed assertion that "the postmodern condition engages its members primarily as consumers, and not as producers." We need to be wary of transplanting Zygmunt Bauman tout court as the ultimate authority on India's consuming classes.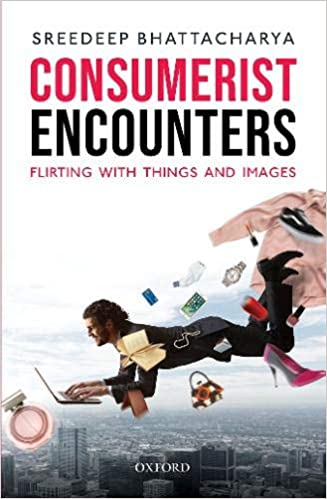 Consumerist Encounters: Flirting with Things and Images by Sreedeep Bhattacharya, Oxford, Rs 1,695 Amazon
Indeed, there is much in Bhattacharya's book that is inventive and refreshingly insightful. His chapters on waste and industrial ruin deserve our appreciation where he creatively combines text and photographs to help us visualize an abandoned jute mill near Calcutta, a metal junkyard on the peripheries of Delhi, and the aftermath of the Ladakh landscape once tourists have departed from there. His limpid prose offers us meaningful vignettes into some of "the new spaces of consumption, new forms of self-representations, new sites of leisure, new technologies of digital manipulation, new ways of gratification and new material rejects." Through his meticulous mapping of what he calls various consumption assemblages (commodities seen in relation to their visual manifestations, their popular appeal and their digital dissemination), Bhattacharya gives us a discomfiting sense of disappearing spaces and forms of sociability outside the world of consumption. Such an understanding makes his analyses of advertisements a profitable exercise where he plots the conceptual transition from the earlier ethos of restraint and thrift to present-day guilt-free consumption and material cravings.
In short, the book describes and discusses, in its nine chapters, different aspects of the making of the consumerist landscape in India. Scholars and laypersons alike would find Bhattacharya's account of the Indian middle classes' journey from "abstinence to indulgence" gripping even though old-fashioned students of sociology like this reviewer may have several qualms about his monochromatic accentuation of the symbolic over the political-economic.