'Quite enjoyed being candid': Viswanathan Anand
The Grandmaster on his autobiography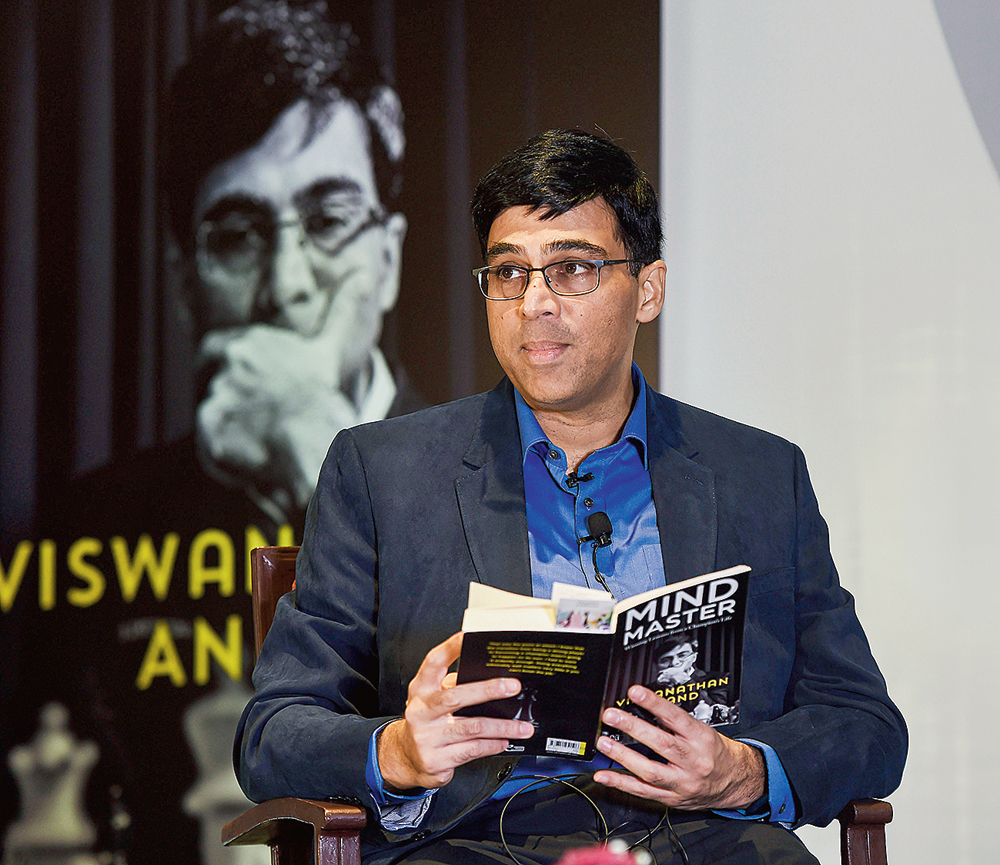 ---
---
When I won it for the first time (a World Championship), it was a big weight off my shoulder. But strangely enough, it was the first time I experienced how empty you can feel after you have won something."
Viswanathan Anand to The Telegraph in 2018.
His answer had stumped us.
There are many such moments in his autobiography Mind Master: Winning Lessons from a Champion's Life (as told to Susan Ninan) that will surprise you. 'We didn't know that about him!' plays out like a refrain in your mind as the five-time World Champion takes you through his phenomenal journey, the highs and the lows of being a champion.
"Find your path, learn, strive…. Just keep the voice of your dream alive in your head and the will on a simmer in your heart", says Anand at the end of the book. Goosebumps.
Days before the launch of the book, we caught up with him on the making of the book.
Congratulations on a lovely, lively and inspiring book! It is so assuring to know that Viswanathan Anand is human too! We often don't think our champions can be fallible.
Thank you. I am glad that you liked the book. Well, yes, I am human!
Since when has this book been on your mind? This birthday (December 11) must have been a special one?!
I would say that the idea to write an autobiography has been lurking… I did want to tell my story at some point. About two years ago, we got an extra motivation thinking that the 50th birthday is kind of a natural deadline. So, then we were able to step on the gas and get it done. It's a relief to have it ready by my birthday.
This is pretty much a manual for all chess players. You have also bared your soul, your vulnerabilities, frailties as well your strengths. Was it tough to decide how much you wanted to say and how much to hold back?
Yes, I certainly hope that chess players will find a lot they can relate to because I am not only talking about what I played, but also why I played them and what I thought while I was playing them. It wasn't too difficult to talk about everything. First of all, it's nice when you have a chance to set the records straight and it was nice to explain why I did the things that I did. Again, I feel this book had three broad aims. One was obviously my life's lessons. I hope both chess players and non-chess players will be able to relate to that. Second, I hope chess players will feel much closer to my matches because I have explained the thoughts behind them. And, for people outside the world of chess, I hope this book will give a good idea what top chess is like because you may see us making the moves and see the results but what goes on behind the scenes, I think, is also quite interesting.
How much was Aruna (wife) involved in filtering what went out there?
Well, Aruna was obviously involved, in every aspect of my career. From the time we got married, we were travelling together all the time. She accompanied me to most tournaments and gradually took over most of the non-chess material, whatever practical matters that had to be dealt with, and I could just focus on chess. Quite often she was also involved in deciding what to tell me and what not to tell me… what might help me if I knew, what would help me make my best chess performance… that remains true of the book as well. She also played a good part assembling the material and her memories as well are very important.
What has been the feedback like from those who have read it?
People who have read the book have told me that it's very frank and honest and actually that's the kind of feedback I was hoping for. We put some effort into baring everything that happened.
The book is a revelation. We didn't know you can get angry!
Yes, of course I get angry a lot and, in fact, in the book, there's quite a bit… I tell the story of my game with (Anatoly) Karpov in Dortmund when he came 40 minutes late and I talk about the difficulty of deciding what emotions you want to let go and what you want to stay in control of. Of course, I was very angry on many occasions and my mood swings are quite huge during a chess tournament but you also have to decide how to control yourself, what you got to show out there because once you do it, you have to continue doing it.
It's remarkable how you have put down each and every move of the World Championships. Did you go back to your notes? Or did you just remember them?
I remember most of the key moves of the World Championships that I have played. The ones I don't remember, I just refer them up.
We always thought you are way too diplomatic, till we read the book! The book is so so honest... did you have any apprehension before being so candid?
Now was a good chance to set the records straight and say a lot of things I wanted to say and no, I quite enjoyed being candid.
The portion where you talk about your mom had us teary eyed. How much do you miss her?
Obviously, I miss my mother very much. You can hardly be that close with someone — mother and son and also the fact that my chess began with her — and not miss her. I have always felt that she missed two nice moments… she generally saw the most important moments in my career… but she missed the tournament in Riyadh… World Rapid & Blitz (Championships) two years ago and I guess she would have liked to read the book… obviously I wanted to acknowledge everything that I owe her as well.
You have made fun of yourself quite a lot. Another revelation... your sense of humour!
Thank you. I feel I have always been able to poke fun at myself. You know, by the time you have come around to write the book and (it's your) 50th birthday, you also don't really see why you should hold back.
The photographs add to the experience. Do you still have old albums at home? We particularly loved your Top Gun moment!
I do collect a lot of photographs. I have a fairly good collection from most of the chess tournaments or some of our holidays and some early family moments as well.
Which experience was the most difficult to share?
I don't think there was one or two experiences that were difficult to share. Once the tape recorder was on, I just said whatever I felt. The happy ones, the sad ones… everything… but it's nice to get it off your chest.
The small summary at the end of each chapter is such a smart idea...
Yes, I like the idea that you take the life lessons and then you emphasise on the most important bit at the end. Also, a little summary of the key moment… the diagram was very good.
What are your top tips for parents who want their kids to be world champions?
My top tips for parents is that there is no way you are going to know what to do, the child as well, but the fun is just in letting things happen. So, just be there and support them. That's it.
The book ended with your son Akhil. What will you tell him about winning and losing?
I like the fact that we ended with the picture of Akhil and me playing chess… I don't have to tell him too much about winning and losing. He is someone who seems to know instinctively that you should enjoy what you do and I hope that's the attitude he keeps.
A biography or autobiography that you have loved reading…
I enjoyed reading Ramanujan's biography (The Man Who Knew Infinity) and also Andre Agassi's autobiography, Open.