Out of Asia: Kevin Kwan
His brush with Hollywood, having penned Crazy Rich Asians, to writing his latest novel that's the first of a trilogy, and his inspirations behind the strong female characters he creates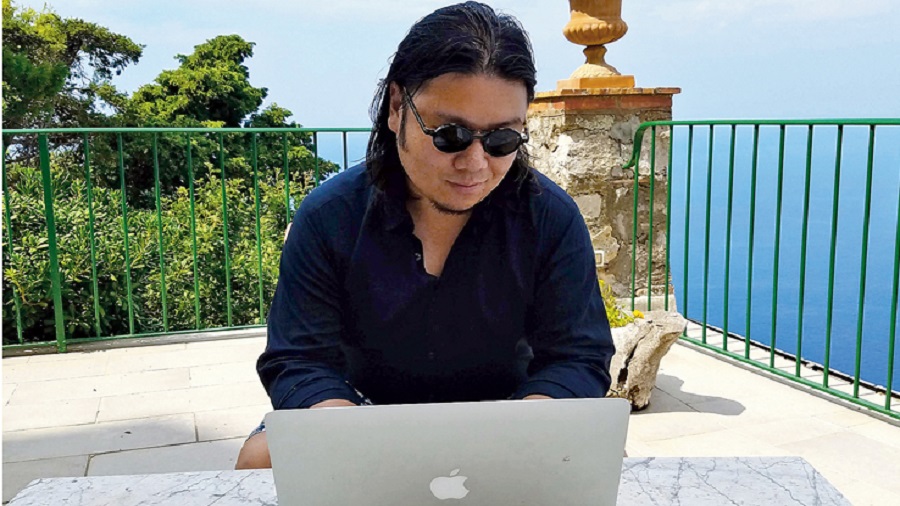 Kevin at work in Capri writing his novel Sex and Vanity
Sourced by the Telegraph
---
Published 11.07.20, 07:39 PM
|
---
There is a scene in the Jon M. Chu directed Crazy Rich Asians where Rachel Chu (Constance Wu) shares a timidly curious and abundantly loving glance with Nick Young (Henry Golding) across the church at an opulent wedding scenario, as his mother Eleanor (Michelle Yeoh) looks on with disdain. The disapproval of a mother of her son's beloved, solely for supposed inequality of social status, formed the crux of the witty love story that Kevin Kwan wrote back in 2013, before going on to executive produce the film with Warner Bros. in 2018, grossing somewhere upwards of $237 million worldwide.
When Hollywood had come knocking on his door, Kwan was quick to jump to the idea of a film and also had a clear vision for it. Many meetings with Netflix later, he was convinced of the need for an "old-fashioned cinematic experience in theatres" to do justice to the magnum opus he had written. Representation of Asians in mainstream Hollywood cinema became the keyword in this unprecedented response to a film with an all-Asian cast — a first since The Joyluck Club 25 years before it. The two sequels to the book — China Rich Girlfriend and Rich People Problems — are already in the studios and Kwan has since made it into TIME magazine's list of 100 most influential people in the world. In between writing for a TV series and moving to Los Angeles from his fave New York, Kwan is ready with his tribute to E.M. Forster's A Room With A View — a romantic novel, first of a trilogy, Sex and Vanity (Hutchinson; 400pp; Rs 699). On an animated WhatsApp call tying in two exactly opposite time zones, the author spoke to t2oS about his Hollywood experience and his thoughts behind his new book, the rights to which have already been sold to Sony Pictures and SK Global.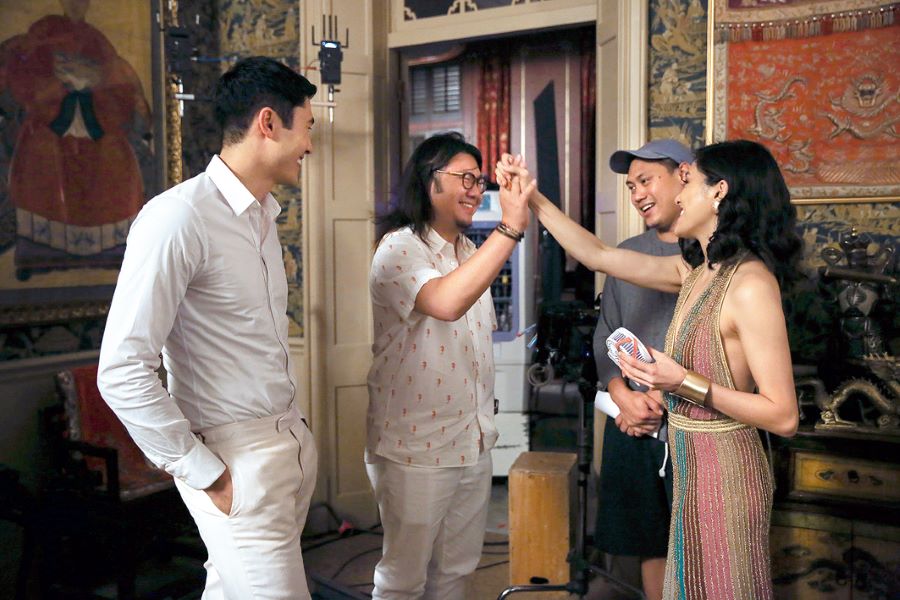 The 'crazy rich' experience
The complete journey of Crazy Rich Asians from book to film was just traversing from one surreal moment to another for Kwan. Selling the rights in 2013, there was a striking dearth of Asian actors he could name who he really wanted to be a part of the film. Except for Michelle Yeoh, the Malaysian actor who starred in visual extravaganzas like Crouching Tiger, Hidden Dragon and the James Bond flick Tomorrow Never Dies. "We even considered a few Indian directors who are doing such great work when suddenly, Jon Chu's name came up. My initial thought was that he is much too famous to do this. He makes these $300-million G.I. Joe films, but then guess what happened?" (laughs!)
Kwan was deeply involved in the production process, constantly sending reference pictures for set designs and costumes, some straight from his personal archives documenting the affluence of his own family two generations before him. His great-grandfather Oh Sian Guan was one of the founders of Oversea-Chinese Banking Corporation, Singapore's oldest bank. While every scene in the film reflected his vision, Kwan comments upon his first experience of entering the set. "I was jet-lagged and had just reached Malaysia from New York and they put me in a van and took me straight to the set where Jon was filming the big party scene. While driving up the hills, I see these
18-wheeler trucks and I start counting them. There were hundreds. I felt like I was crashing a party that was in my book when Jon grabbed me and took me up the stairs to a table that had framed pictures of my grandparents. I felt that he had put my ancestors on the set and that I was being guided by the spirits amidst them."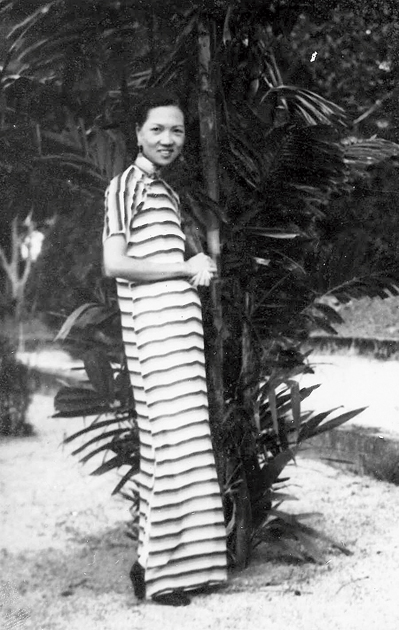 Writing about women from Kwan's 'place of truth'
Kwan attributes his deep understanding of women to this force of association he feels with his family, having grown up in a family that was matriarchal. "My grandmother always ruled the roost in the household and I have always been exposed to very strong female characters. My Cantonese nanny was a helicopter mom and my mother too was a formidable character. The men? They were mostly silent," he laughs. Growing up with two brothers meant that Kwan craved and succeeded in finding 'sister figures' at every juncture of life. While we understand the emotional connect, we can't help but wonder about the deep fashion connect, as he puts a bride in his latest book in a "white duchesse satin strapless gown with delicate pleats just below the bodice, mirrored by pleats at the back that flared dramatically into a long billowing train". This dress was an exact replica of Audrey Hepburn in a Givenchy in 1955, we find out and are compelled to ask! "I am actually not that knowledgeable about fashion. All the fashion in the first three books came with a lot of help from the women in my life," he chimes.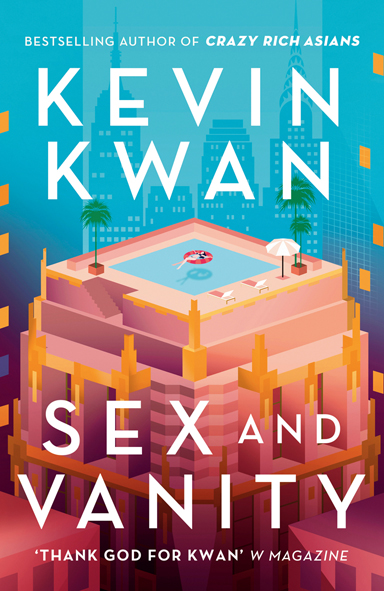 From Lucie Churchill in Sex and Vanity to Rachael Chu in Crazy Rich Asians, his women are culturally rooted to their Asian heritage and are made of all the right ingredients of intellect, talent, looks and gravitas that form the recipe for a perfect strong female protagonist. "I never set out to write stories about strong female characters but that is how they emerged in the end. Astrid (Gemma Chan), the character in Crazy Rich Asians, was supposed to be the protagonist's cousin and a very small side character, but she emerged and how!" he exclaims.
Disassociating from the old to arrive at the new
There was a need to do things differently for Kwan when he embarked upon his latest novel. All his previous books were set in Asia. So, this time, he decided to take his readers to the small island of Capri and later to New York. "I didn't want to be typecast as an author who only writes about rich Asian families. I wanted to evolve with my style and you will notice that it's a subtler book, which is not so ensconced in the bling and glamour of the money." That, in no way, means that Lucie Churchill in Sex and Vanity, Kwan's version of Forster's Lucy, is not privileged. While his Rachel fought her lover's family's privileged, closed mindset, Lucie's fight is more internal. "I wanted to write something simpler that ultimately makes people laugh and brings them joy," he adds.
Lucie is a half-Asian (Hapa), American girl who often gets asked "which side of the family she feels more at home with". This Hapa experience is a contradiction of sorts as the inner values of the culture oftentimes conflict with the Anglo outer environment. However, for Kwan, documenting that turmoil feels almost effortless. "The challenge of the book was to make her authentic. Because I am not half-Asian, it was imperative that I do justice to her story," Kwan says of his character born from the 'many, many, many different interviews' he conducted of friends to understand this narrative.
His observations on the 'colonial hangover' in Asian countries, which get reflected in their obsession for all things 'Western', somehow find their way into his books just as it does in a free-flowing conversation with him. There is a sense of relatability when he speaks of kids in Asian countries scrambling to be best friends with the only biracial kid in the class. Through a tool as influential as a romantic comedy that predominantly attracts a female audience, these are the exact inherent biases that he tries to satirically highlight.

If Forster had Instagram
The tale is simple and as close an ode to Forster as it could be with a room with a view of the Tyrrhenian Sea in Capri, the little island in Italy. Lucie Churchill falls in irresistible love-hatred for George Zao at a wedding in Capri amidst unfathomable riches. Many years later, after life has moved on and Lucie is betrothed to a clumsy billionaire Cecil, a chance meeting with George from the past overturns her life. "The way Forster addresses class really interested me and helped put a perspective to Lucie's narrative," he says of this love triangle. In any love triangle, the need to demonise one party becomes almost imperative to justify the love between the other two. However, negative emotions are not that rampant and one is bound to feel equal parts pity and disdain for Kwan's Cecil. "He maybe a snob but you can see the root of that snobbery and that is what makes Cecil more humane," he says.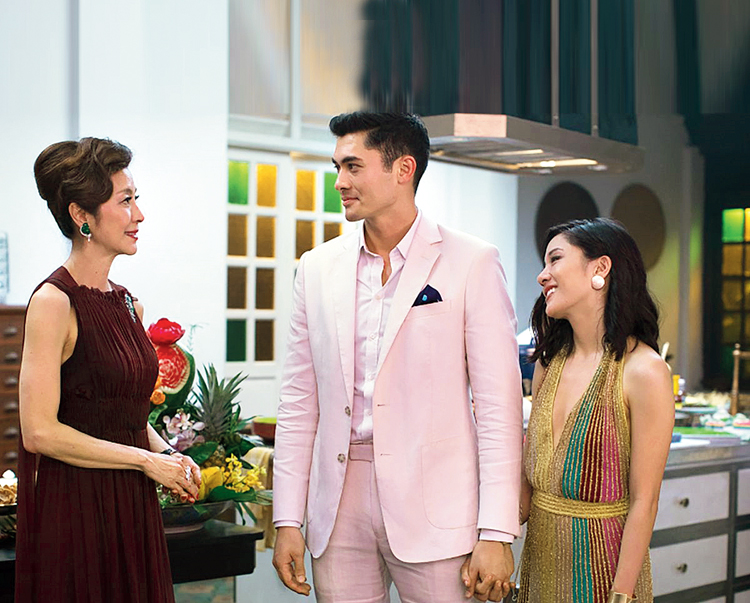 Picturesque Capri comes alive, almost like a character in itself in the book and forms an ode to the island that has won the author's heart over the years, where he has spent many a summer exploring every nook and cranny.
"It's not all jet-set, bling bling. I spent years observing so many hormonal Lucies running loose on the island, having summer romances that they don't plan when they decide to vacation there with their parents," he laughingly adds. The trilogy he has planned will not be the conventional kind and each book will have a city he absolutely adores, with New York being the first one followed by London and then Paris.
Building a satire with a rigorous writing process
Kwan's books have always commanded a satirical angle and, in his latest, he introduces every character with their schools in brackets — 'Mordecai von Ephrussi (Wetherby/ Dragon/ Harrow/ Magdalene College, Oxford)', he writes. "I wanted it to be hilarious and this is something I have observed in my New York days, where complete personal stories were unearthed within minutes of introduction through a rant on school snobbery. It is almost a way of socially placing you and I found that hilarious. Especially when I went to a public school and got a damn good education for $2,000 while they paid $70,000!"
These little observations contribute to the nuanced understanding of his characters, whose privileged reality is very different and aspirational from an unachievable point of view for most.
"Writing is a lot like working out, you have to be disciplined about it. I do spend a lot of time thinking about my books and then the writing begins," says Kwan, who stops his emails and completely goes underground when he starts writing.
Reading and watching regimen
Kwan has been asked to watch Amazon Prime's Made in Heaven. "It is the Indian version of Crazy Rich Asians, I was told," and we can't help but agree with him! Copious amounts of Netflix binge form a part of the existence of Kwan, who is currently watching Dark. Mindy Kaling's Indian-American teenage story Never Have I Ever has caught his attention for being "all heart". As he speaks fondly of Indian directors like Mira Nair and Shekhar Kapur, his association with popular culture shines through his vibrant personality. Gurinder Chadha's Beecham House is also on top of his list because of his "love for all things India". He is reading Notes on a Silencing by Lacy Crawford, who he is interviewing next week for a book event.
Reluctant to say bye to a fun-filled conversation that effortlessly goes into an hour-long chat, he is ecstatic to have been able to talk about his book and his writing. "Most people just want to talk about Crazy Rich Asians and while that's fine, there is so much more that I would love to discuss about my writing." A breath of fresh air in the midst of the pandemic is what marks Kevin Kwan and his latest offering that one can effortlessly imagine playing out on the big screen. And we can't wait to find ourselves transported to London in the sequel.