Nandana Dev Sen pays a tribute at the first Nabaneeta Dev Sen Memorial Lecture
She was speaking at the Kolkata Literature Festival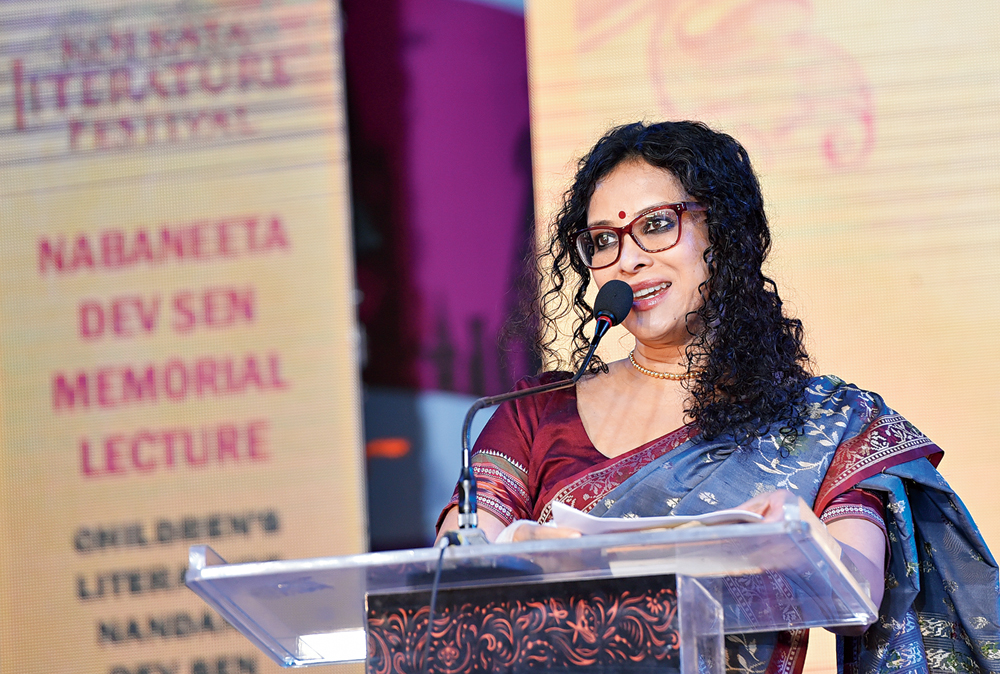 Nandana Dev Sen
Picture: B. Halder
---
Published 03.03.20, 01:40 PM
|
---
I feel absolutely delighted that today we are celebrating not only the genre that I love the most in the world, that is children's books, but also the legacy of the person who I will always love and admire the most in the world, my mother, Nabaneeta Dev Sen." With these words, Nandana Dev Sen started the first edition of the Nabaneeta Dev Sen Memorial Lecture, held within the 44th International Kolkata Book Fair on February 6 as a part of the seventh Kolkata Literature Festival in association with The Telegraph.
Nabaneeta Dev Sen was a prolific feminist writer and published more than 80 books in Bengali — poetry, novels, short stories, plays, literary criticism, personal essays, travelogues, humour writing, translations and children's literature. Awarded the Padma Shri in 2000 and the Sahitya Akademi Award in 1999, Sen passed away last year on November 7. Nandana delivered the first annual lecture which also focused on children's literature. She spoke about her mother's work and her views on the need for gender equality and parity in the books and fairy tales being read to children. Excerpts...
The legacy of Nabaneeta Dev Sen
"She had a limitless capacity to love and to be loved and was brilliant and prolific in every genre that she wrote in. So rather than reintroducing maa to you in my own inadequate words, I would like to share a few of her own thoughts where she talks about her own identity as a writer and the transformative powers of her children's books," said Nandana as she read out an excerpt from the autobiographical essay First Confidence translated from Pratham Pratyay.
Quoting Nabaneeta, Nandana said, "I (Nabaneeta) am often asked in all my interviews what it is that I enjoy writing the most, making me realise that it is a terribly hard question. It is like asking someone what do you enjoy being most — a daughter, a mother, a granddaughter, a sister, a wife, a lover, a friend? Well, what I think I enjoy most is writing for children. I love to write fairy tales. It allows my imagination complete freedom and allows me to play with the child within me. And fairy tales, I believe, are good food for encouraging a child's imagination and instilling good values at an early stage. My stories have wise queens and clever princesses as heroines. Intelligence, wisdom and goodness are the resources they use to overcome problems, not weapons. Peace and joy, not riches and power, are the ultimate goal in my fairy tales."
Highlighting the two main assets for children to have 'a rich imagination' and 'strong values', Nabaneeta's writing was successful in incorporating both, said Nandana.
Characters in her work
A rabbit who loves poetry and tries to make himself look like Rabindranath Tagore, a cyclop with conjunctivitis and a single eye and a singing banshee who wants to be the next Lata Mangeshkar — these are some of the characters one would find in Nabaneeta's stories. The words 'inclusive' and 'diversity', which have become so relevant in today's context, have always been so in Sen's stories. In her stories, not only were the kings and queens the protagonists, but also were woodcutters, farmers, gardeners and maids. Themes of equality and social justice were prominent, and at times ghosts and demons, generally outcasts, were also lovable characters. Sen had created a universe centred around gender equality.
The impact of a book on a child's mind
Parents have now taken upon this responsibility to help their children to develop educational and life skills, understand issues like gender and race equality and pay attention to our climate and to the less privileged. These complex topics are made easier to understand through books as they have a greater impact on a child's mind. Often books are the last thing in the evening before they sleep and stay with them through the night. We should be aware of where we stand in portraying gender roles in children's literature. "I fill my children's books with examples of working mothers, from a writer to a farmer, and fathers who like to cook and be in caregiving roles. I also wrote In my heart, a book about non-traditional family units, and as a mother of a small child now, I have seen how quickly children pick up on moral narratives, whether about adoption, equality or caring for other people," said Nandana. Children's books serve a tremendous social purpose — they help children develop confidence, build up their vocabulary, stimulate their imagination and allow them to prosper in every sense.
"Globally there is a huge gender imbalance in children's literature in terms of representation," said Nandana. She talked about how research shows male characters far outnumber females, which in turn gives out the message that females occupy a less important role in the society. "Despite some positive changes in the last few years, in India and for the most part of the world girls are portrayed as naive, nurturing, passive and dependent while boys are aggressive, active and independent," said Nandana. While boys are 'rescuers', 'fighters' and 'pioneers', girls are just 'caretakers'.
Way forward
"There has been a change in the way gender roles have been portrayed in Indian children's literature. The number of female protagonists has increased considerably, though it is still far from being equal to the male characters. More and more authors are writing books that consciously break gender stereotypes. Pink and Blue by Ritu Vaishnav gets kids to think about gender norms and explore what is appropriate for a girl to like versus a boy. Abba's Day by Sunaina Ali tells the story of a stay-at-home dad who is in charge of the housework but the whole family contributes to it. In Amma's Toolkit by Nandini Nayar, a mother shows her two daughters how to fix broken pipes. In Nila and Najam by Ashwini Ashokkumar, the girl twin adores robots and science while the boy dreams of being a caring primary schoolteacher," said Nandana. Gender coding happens really fast when the kids are young, and it's on us to be sensitive and careful towards this issue.
End note
Nandana decided to end with Nabaneeta's words too. Her voice became heavy with emotion while reading out — "There is a little girl in me who is still alive. Who loves to run around, who misses people easily. Every afternoon she wants to go out to play. When I write for children, sometimes this girl picks up the pen and at other times the pen is held by the mother of my two girls. After all, my writing for children started from all the tales I used to tell them. Through my stories I wanted to raise a fundamental moral and social consciousness in children, which cannot be instilled separately through lectures, nor through schooling. It can only happen through caresses and stories. These are relentless times, I believe that the task of fairy tales is to make children understand that their universe is not a battlefield. That this beautiful world is a place for peace, for togetherness, for love."