The Revenge of the Non-Vegetarian resurrects Upamanyu Chatterjee
This is the best book the author has written since his acclaimed first novel English, August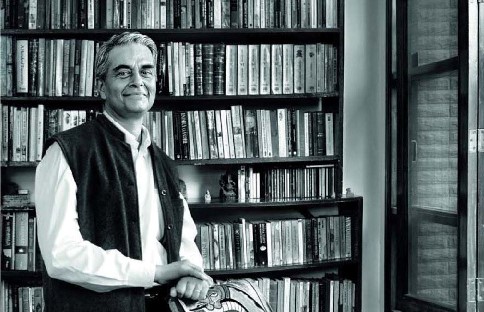 Novelist Upamanyu Chatterjee
Courtesy: Speaking Tiger
---
Published 10.08.18, 12:00 AM
|
---
Writers cannot be faulted for turning towards their most successful work for inspiration after dishing out a few ordinary books. English, August is, to date, Upamanyu Chatterjee's best work. The fruits of his creative labour since then - Fairy Tales at Fifty is a perfect example -have been rather bland. In The Revenge of the Non-Vegetarian, Chatterjee resurrects Agastya's father, Madhusudan Sen - he is the sub-divisional magistrate of Batia - a suave, meat-loving gentleman whose mamlatdar, the man who had been entrusted with the task of supplying meat, fish and eggs to Sen, is brutally murdered. The result of Chatterjee's resurrection of the Senior Sen, albeit in a different time and setting, is a pacy, tautly-written narrative.
Small town India had horrified Agastya. Madhusudan seems more accommodating temperamentally. "Well, frankly, I like the bungalow that's been allotted to me, those centurial trees, those arches, that picturesque well", says Madhusudan to his mamlatdar. But Batia is far from the idyll that Chatterjee lulls the reader into believing. So when the subterranean violence explodes, manifest in the grisly murder of the Dalvi family, it comes as a bit of a shock.
But this is not a whodunit. Chatterjee reveals the identity of the killer much before the denouement, which, incidentally, lacks the desired punch. The fleshing out of the murderer's character is disappointing: his motive is a bit shallow.
But what Chatterjee is pursuing here is something deeper, complex. The forces that shape notions of public morality, their manifestations in terms of everyday cultural practices like the demonizing of certain kinds of food, the architects and defenders of such purity, the sluggish pace of justice in India - each of these phenomena is subjected to Chatterjee's uncompromising gaze.
These probing reflections help Chatterjee bend time with finesse. The Batia of 1949 could easily be the polarized India of 2018 where certain spatial stretches are sanitized of meat even though such a decision has no sanction from the authorities - "What does exist is the vox populi." Orders are passed to close abattoirs too, ostensibly for the lack of requisite permits, bringing in mind not fictional Batia but contemporary Uttar Pradesh under the sceptre of a monk.
The colour of the moral universe is, more often than not, grey. Chatterjee is aware of this possibility. Madhusudan, reeling under shock after visiting an abattoir, orders its closure. Yet he is unafraid to question the tenuous link between a carnivore and the professed love for slaughter, reminding an influential visitor - and perhaps the creators of New India - that a vegetarian had inflicted horrors on Europe and the world.
Chatterjee's unwillingness to judge characters is humane. But are his readers entirely free of the vice of judging Otherness?