Kunal @ Kalam
Kunal Basu on his new book Sarojini's mother and his art of storytelling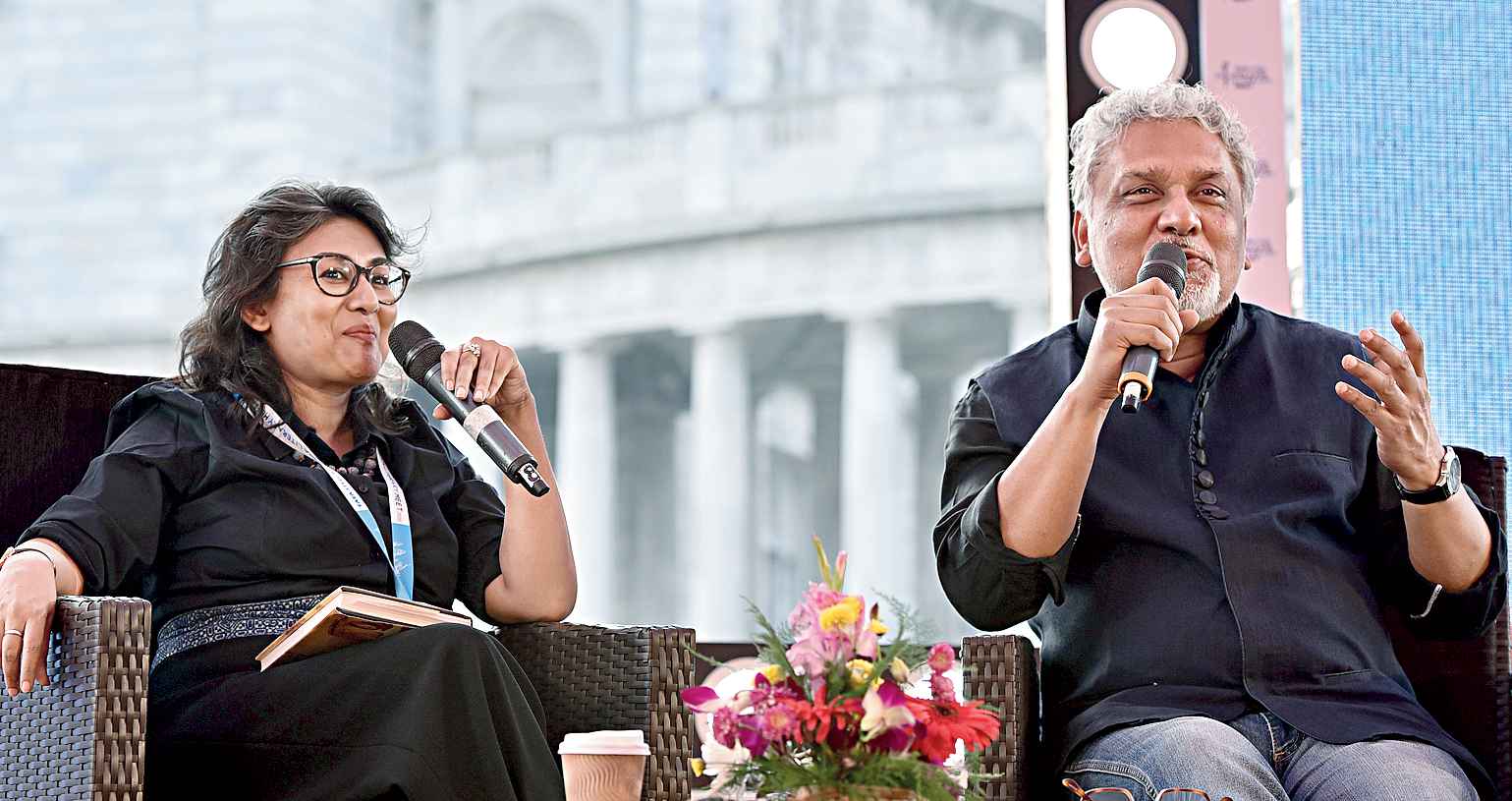 ---
---
On the first day of the Tata Steel Kolkata Literary Meet in association with The Telegraph and Victoria Memorial Hall, Kunal Basu, the author of many loved literary works like The Japanese Wife and The Miniaturist, introduced his new book Sarojini's Mother at an afternoon session by the same name. Alongside, he also introduced the English translation of his book Tejaswini O Shabnam, translated by Arunava Sinha and titled The Endgame. The author was in conversation with Jash Sen as he spoke about both the books before steering the discussion towards "the joy of writing in two languages". Excerpts:
SAROJINI'S MOTHER
"This is a story about a young English girl called Sarojini who was adopted at birth from India, taken by her English mother to England and raised there. Sarojini, when she comes of age, decides to come to India to look for her biological mother," said Basu, as he introduced the new book. Though a common theme, as the author himself agreed, referring to the Oscar-nominated 2016 Hollywood film Lion, he said that the book is not about the grand reunion between the mother and child nor is it about the disheartening situation of not finding each other. Expanding further into the storyline, he said, "There's enough circumstantial evidence that a woman called Jamuna might be her mother, who is a housemaid and lives in a slum. And the other woman who claims to be her mother is Urvasi, who is a high-society lady and has a fashion boutique of her own and there is some circumstantial evidence in that too. So Sarojini is pulled in different directions and this novel, above many other things, questions what she is really looking for, who has she come to look for, what does being a mother mean for her and if she chooses one mother not only will she choose one woman but she will choose one part of India. If she chooses the other woman, she will choose the other part of India."
Mother-child relationship
Basu clarified that the epigram of the book, a quote from Bertolt Brecht's play The Caucasian Chalk Circle, hardly suggested an inspiration and rather indicated the context of the novel and acted as the scene set-up. Claiming that neither "consciously guided" by Brecht nor the famous story of Solomon's judgment in The Old Testament, he revealed, "The genesis of the novel was very curious and it took birth in two or three different places. In Deewaar there is this famous scene where Amitabh Bachchan confronts Shashi Kapoor and says 'Mere pas maa hain'. When I saw Deewaar in the '70s in Calcutta, it was not completely satisfactory and reduces a mother to a very uninteresting character. What is a mother therefore for — to offer unconditional love? And what does a child do? Offer unconditional love back? So what do you do with a relationship like that? You cannot write about it and there are no nuances. Whereas all of us who have had mothers know that the mother-child relationship is the most complex relationship on earth."
As Basu introduced the fourth character of his novel, an interesting chap named Elvis, the author asked the audience this question — "Is mother a noun or an adjective? A guy called Elvis narrates the novel, he is called Elvis because he sings Elvis Presley songs and dresses like Elvis too. His band members tell him, 'Look you have made a mistake, you have confused a noun with an adjective. Mother is a noun, motherly is an adjective. You can have a mother who is not motherly, you can have a person who is very motherly but is not your biological mother'. So what is Sarojini really looking for — is she looking for a special relationship or does she want a fact to be established?"
CALCUTTA, THE SETTING
As Sen initiated further discussion on the setting of the story, Basu responded to this in reference to renowned Bengali poet Shankha Ghosh and said, "'Ei Kolkatar moddhe achhe arekta Kolkata, babu moshai. Dekhtey sikhun.' Like all major metropolises, Calcutta is not just one city. I believe this is a city that can surprise me as a writer because if I write a dozen novels which are set in Calcutta, then in each of these novels, the setting of Calcutta will be very different from each other. They will be different because their stories are different and their characters are different. In this novel, there are things that happen in the Indian Museum, then there is Sudder Street where all backpackers come and stay. So when Sarojini comes to Calcutta, she stays in a backpacking lodge on Sudder Street and she doesn't know where her mother might be. So she goes around putting up notices in tea shops and restaurants and she offers a reward of Rs 50,000, when suddenly this character called Elvis appears in the scene. And Elvis and Sarojini become a pair as they start looking for who might be the woman who is Sarojini's mother. And that search takes them from the slums and Bengal Club to Kidderpore on a tram... No. 36."
Later on in the discussion, he added how Ghalib Bar and Birla Planetarium are some of the chosen places around the city where the novel unfolds. He said, "When I went to do the research at Birla Planetarium, first of all, I felt like a fish out of water because there were all these young couples and they were all busy with each other. Nobody was listening to the commentary on the Milky Way. At one point in the story, Sarojini says to Elvis: 'You never take me anywhere! You take me to hospitals, you take me to museums but you have never taken me to a romantic place.' So Elvis takes her to Birla Planetarium. Now I cannot pass by that place without chuckling. Ghalib Bar is near Elliot Park and it is a rough bar. There are some nice characters there and some not-so-nice characters and when I was writing Kalkatta, I used to go to Ghalib Bar often and one time, the owner came and asked , 'Why do you come here ?' and I said I am writing a book. And he said, 'Oh yes, people say they are writers but when they go out, they forget everything about their writing and only remember everything that they have done here'.
"There are parts of Calcutta where they seem very friendly and innocuous but suddenly Calcutta can change character and turn out to be a dangerous beast as it does for Sarojini at the Ghalib Bar," Basu explained.
TEJASWINI O SHABNAM
Before moving on to the discussion regarding the translation of Tejaswini o Shabnam, Basu gave the audience the backstory of the book on how a film company's request to write a script for them led him to an encounter with rescued girls from trafficking and how that encounter in turn inspired him to write his third Bengali novel. That led him to drive to Sandeshkhali in North 24 Parganas, where a group of young girls were waiting to be rescued from trafficking and were waiting to be interviewed. "I went well-armed with a pad, paper and recorder and I was taken into a small school house without a roof. Their ages ranged from about 15-22, waiting to speak to me and I couldn't ask a single question. I broke down. The ferocity of it struck me in the face. The ferocity of a 15-year-old girl from a 24 Pargana village travelling to the Middle East as a sex worker and the 11 pairs of eyes blended together and became Shabnam for me," he said.
ON TRANSLATIONS

So why didn't Basu, who is well-versed in both the languages and writes novels in both, translate his own novel? "I find translations to be very tedious, I find it hard. Imagine you are a student in high school and you have written an essay. And the teacher says it is a very good essay but I just want you to rewrite it. By then you have exhausted your passion, you know. In writing this novel, I have exhausted my passion and this is the same thing I told Aparna Sen when she asked me to write the screenplay of the story for The Japanese Wife, and I said 'No, it's now your passion that must breathe life into this film'," said Basu.