Keshava Guha takes on the dark side of life with a dose of irony in his debut Novel Accidental Magic
this book is anything but a meet-cute orchestrated by said love for Harry Potter leading to a happy-ending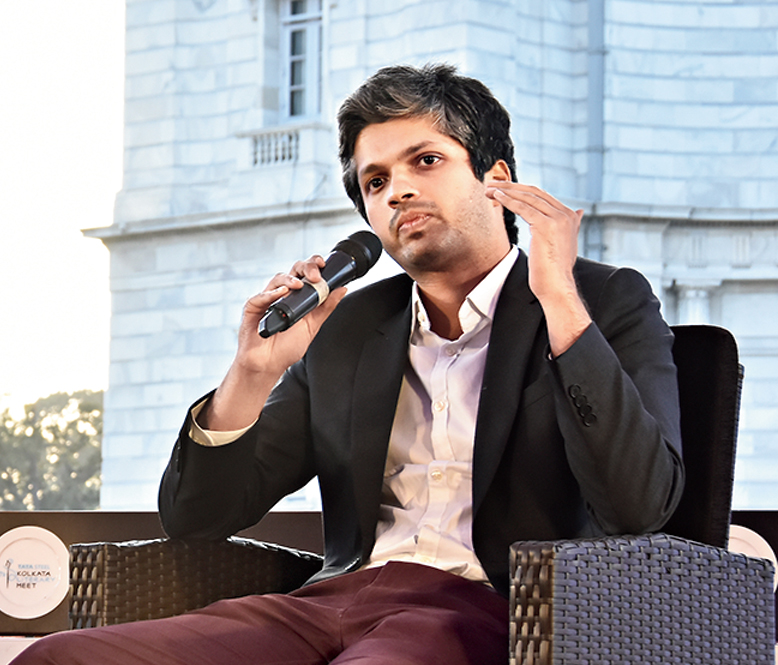 Keshava Guha at the Tata Steel Kolkata Literary Meet, held in association with The Telegraph and Victoria Memorial Hall.
---
Calcutta
|
Published 17.02.20, 10:58 PM
|
---
Those familiar with Cole Porter's tongue-in-cheek songwriting would know that his timeless hit Let's Do It (Let's Fall in Love), is a humorous love song a la Porter style, replete with sexual innuendos. Therefore, when you flip open the book with a half-yellow jacket that spells out the title Accidental Magic in pop colours atop the ever-familiar lightning bolt reminiscent of a certain boy wizard, and then find this very song referenced to in the epigram, it might mislead you for a minute. For, this book is anything but a meet-cute orchestrated by said love for Harry Potter leading to a happy-ending. "The thing about the book is that they fall in love with Harry Potter but they can't fall in love with actual people," explained debut author Keshava Guha, when I caught up with him over the phone, a few days after attending his session at the Tata Steel Kolkata Literary Meet, held in association with The Telegraph and Victoria Memorial Hall in January. "This is actually a very dark book — the title and the epigram, in a way, are using irony to underline the darkness," he added.
Kannan, a young Indian techie from Bangalore living the ubiquitous American dream; Grimmett, a significantly older Anglophile in the process of resigning to his American life; Rebecca, a bright young girl, fresh out of college and working a mediocre job; and Malathi, a Chennai native who goes to the US after marrying Kannan, eventually find their paths crossing in Boston due to their common love for Harry Potter. But the similarity ends there as Guha apportions a share of internal conflict to each of them, which are distinctly different due to each of their different experiences in life. It is interesting to note the omnipresent thread of solitude, often changing tones to cross over into the territory of loneliness, which is integral to this plot that sees the external stimuli of Harry Potter uniting this quartet and, in Guha's words, "particularly important" for Kannan and Grimmett. "Part of the aloneness and loneliness thing was trying to invert the cliches of the immigrant novel because it generally does focus on loneliness, homesickness and nostalgia. There are people, and Kannan is one of them, who sees leaving India as an escape. But there's a line in the book about making the journey from aloneness to loneliness and that's what happened to him," explained Guha.
As for the women, Guha said: "For Rebecca, there is an element of loneliness to her after college and after her break-up, and Harry Potter is a bit of a comfort blanket and a source of companionship. With Malathi, it's not just Harry Potter but books in general and probably, though I don't say this expletively, but I think a reader can infer that because she lost her mother when she was so young, books were a source of companionship for her too."
In the heart of the book lies a rather unlikely friendship between Kannan and Grimmett and while reading the book, I found myself wondering how to categorise this relationship — a question that Rebecca finally manages to ask Grimmett out loud towards the end. So did Guha ever concern himself with how he would establish the friendship between a
20-something Indian immigrant with an older Anglophile? "The thing about this book is that the characters don't behave in rational or sensible ways. Let's be honest — it's not exactly clear what it is about Kannan that attracts Grimmett so much. If you look at Kannan closely, he doesn't deserve that much attention from a person like Grimmett. But what I would say to that is that in life, we often give our attention and love to people who are undeserving and there's often no reason…. The whole idea of this book came from this Grimmett-Kannan friendship and Harry Potter was the vehicle to bring them together. And they are the central figures of the book in a way because they are the ones with the biggest issues in a way. I would not expect the readers to understand and I am not sure if I fully understand but my point is that there are friendships and relationships that one can't fully understand," summed up Guha, referring to the often inexplicable reality of interpersonal relationships.
In fact, this is not the only instance to show how this work of fiction is firmly grounded in reality as Guha generously draws from the world around (at the time of the turn of the century when this story unfolds) and refers to the influences of digital connectivity, globalisation, the fragility of relationships, inter-cultural friendships and community. Incidentally, the first thing that Guha told me when I met him at KALAM, was: "I hope you don't think that the book is about Harry Potter because then you'll be disappointed."
Here I admit that at the time of the release of the book last year, I had skimmed through headlines and passed it off as one based on fan-fiction and the ilk till a copy landed at my desk. Though I finished the book in earnest only after scheduling the telephonic chat with Guha in February, I had known enough about the book by the time I met him in person to know that Harry Potter was just a premise. However, I was curious to know if it ever worried the first-time author to write a book using this premise that ran a high risk of misinterpretation. "You know when you write a book, you personally have to accept that every reader is going to make up their own mind. If I was worried about how readers would react, I would not have written it. I wrote it because I wanted to write it in a certain way and then I will have to accept that some people are going to like it and some people won't. I was so worried about people who didn't know Harry Potter and whether they would get it but turns out, those are the people who really get it. So readers will surprise you and you learn from them always," said the young author.
Accidental Magic is, in fact, a very real story of interpersonal relationships and its oddities, often using humour to put forth some very difficult truths. Guha's characters are highly nuanced, complete with quirks and biases of their own and one must credit his convincing characterisation for taking a strong dislike to a couple of them based on these same biases.
And I can only imagine how ironic it must have been for readers expecting a Harry Potter-based story for a significant share of its fan fiction "ships" the Harry-Hermione romance theory, based on how compatible they are, thereby making the lack of compatibility between Kannan and Malathi so stark. As Guha put it: "If every child dreamt of getting their Hogwarts letter after reading Harry Potter, nobody would want to meet someone like Kannan after reading my book." And I, for one, surely don't want to.