K L Saigal: A light that shines still
Kundan: Saigal's Life & Music is an important work that attempts to make an objective analysis of the actor-singer and his craft
---
---
Kundan Lal Saigal was one of the earliest superstars of Indian cinema — he was an exquisite singer and turned into a fine actor in spite of his unconventional good looks who drew in the crowds. Therefore, it is surprising that not much has been written about the man whose film career lasted merely 15 years but whose legacy has outlasted that of most of his peers.
Sharad Dutt's Kundan: Saigal's Life & Music, originally published in Hindi (for which it received a National Award in 2005), and transcreated in English by Jyoti Sabharwal, is, therefore, an important work that attempts to make an objective analysis of the actor-singer and his craft.
Dutt traces Saigal's journey from Jammu, where Kundan was born on April 4, 1904, to Simla (now Shimla), where he first honed his acting and singing skills at the National Amateur Dramatic Club, which staged plays at the Gaiety Theatre; to being a salesman of Remington Rand typewriters in Delhi; on to Calcutta, then the hub of Indian cinema, and New Theatres of B.N. Sircar; followed by Bombay, where he signed a deal worth a whopping Rs 1 lakh per annum with Ranjit Movietone. He returned to Calcutta in the mid-forties, by which time he was grappling with chronic alcoholism, which led to his death in Jalandhar in January 1947, barely seven months before Independence.
Dutt attempts to look deep into the character of the man who was a mix of paradoxes. The book chronicles how Saigal would, from childhood, render complex bhajans flawlessly, getting the nuances and the lyrics right after just one hearing, but would struggle to remember what many would consider simple mathematical tables. This frailty would dog him in adult life as well when he would falter while memorising dialogues for a play or for a film.
Saigal also never forgot his roots or his poverty-riddled past which made him generous to a fault. He was known to stop his car when he saw a destitute and hand over his coat to keep the person warm during winters. So free was he with his cash that Dutt says Saigal's wife instructed that his salary be handed over to his chauffeur. And in spite of his considerable success, Saigal would be easily hurt — Dutt tells of a story surrounding Dhoop-Chhaon from which Kundan was discarded and he resorted to alcohol for solace.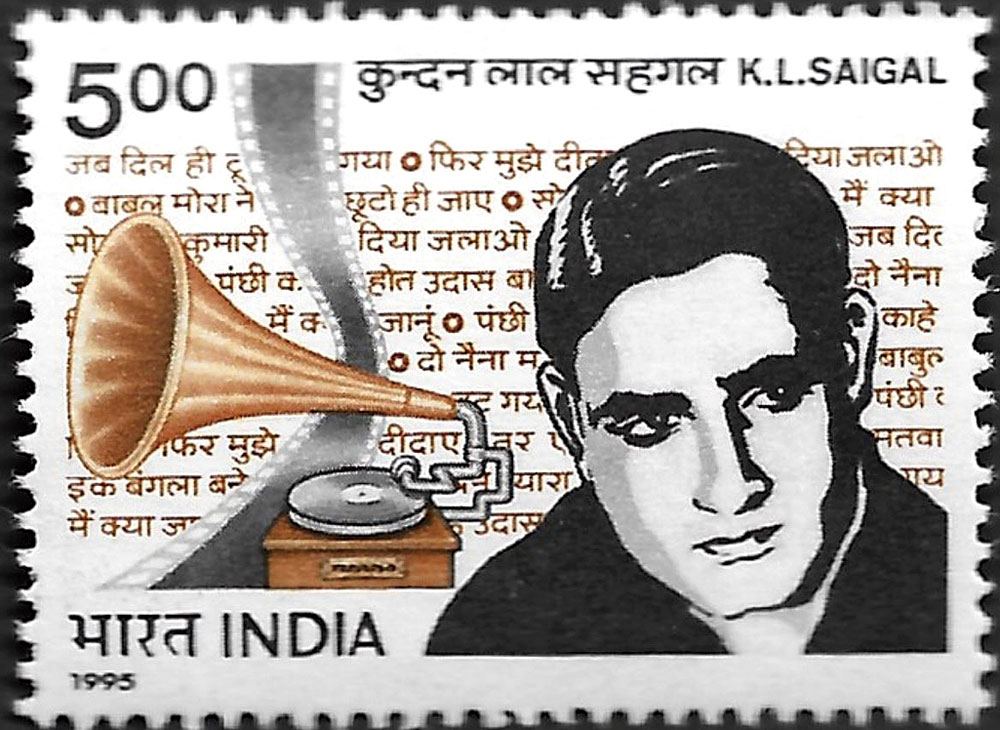 Saigal was equally adept at singing bhajans, songs based on ragas, and even light-hearted romantic numbers. But he is best remembered for his pathos-laden songs. What caused the grievous hurt that manifested itself in his voice we do not know, but the author guesses one of the first instances would be the sore throat that a young Kundan developed at the age of 10 which prevented him from singing for two years. Added to that was the derision Saigal faced from his father Amar Chand Saigal, a clerk in a local court, who considered his third son a wastrel. If anything, Kundan drew inspiration from his mother Kesar Kaur who sang bhajans and he inherited her innate talent.
The book narrates an incident where a Sufi saint Salman Yusuf had blessed the child Kundan and predicted to Kesar Kaur that her son would become a "great singer". Saigal attained such mastery over his craft that later singers such as Kishore Kumar, Mukesh and Mohammed Rafi all drew inspiration from him. Even Ustad Faiyaz Khan, the book says, was so impressed with Saigal's rendition of a khayal in Raag Darbari that he told the singer: "Beta, mere paas aisa kuchh bhi nahin jisse seekh kar tum aur bada gayak ban sako (Son, I have nothing more to offer that you could imbibe to become a greater singer)."
The book, while being a biography, also chronicles the history of cinema, especially of Bengal. Dutt offers a lot of research and insight into the evolution of cinema, the rise of the singing star and subsequently the advent of playback singing. Also of note are the photographs — some of them rare ones — which will be a delight for connoisseurs of Hindi film music. The book is rich in trivia: for example one of the most famous photographs of Saigal is of him clad in a suit, tie and a hat. Dutt tells us the attire was a gift from the Raja Saab of Jhalawar as an appreciation of Saigal's enormous talent.
One shortcoming is that the book does not delve too much into Saigal's family life, apart from a brief mention of his wife. Neither does it have an index — of names or of the songs and the films, making it a tad difficult to cross-reference. This should have been included in a book of this nature.
But these are minor quibbles in what is otherwise an important work in tracking the career of arguably India's first movie superstar whose voice had mesmerised the master and captivated the commoner.
Kundan: Saigal's Life & Music; By Sharad Dutt, Stellar, Rs 695