Immersive world of graphic novels
Bringing to you a must-indulge list from our bookshelves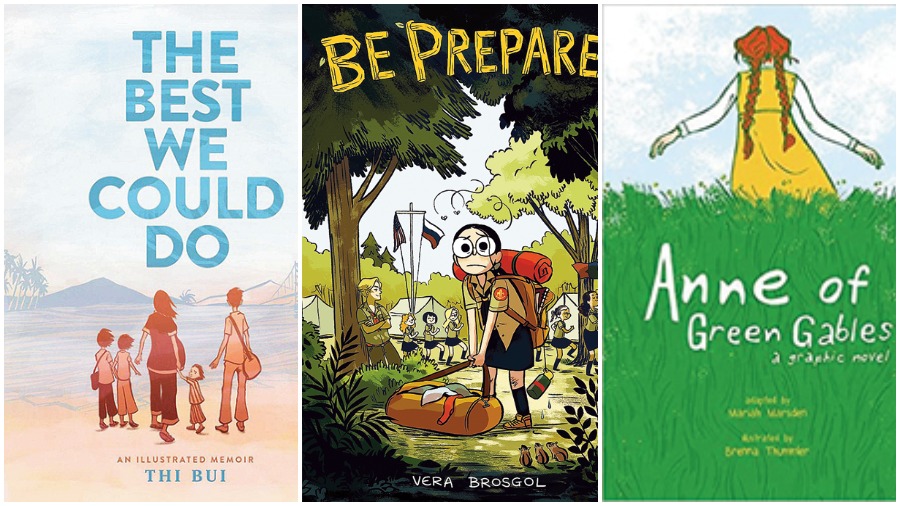 Sourced by the correspondent
---
Published 04.05.21, 12:32 AM
|
---
The eternal quest and struggle for 'home', freedom, family, identity, parenting, and a 'new life' without 'war and loss' while delving into one's complex past on the slippery slope of memory find a unique voice in The Best We Could Do by Vietnamese American writer and artist Thi Bui. The illustrated memoir that won critical acclaim and was the finalist for the 2017 National Book critics circle, recounts her family's life experiences before and against the backdrop of the Vietnam War — of how her parents escaped after the fall of South Vietnam in 1978 with a three-year-old Thi; the difficulties in rebuilding their lives from scratch as immigrants in the US and the emotional vacuum, complexities and communication lapses that insinuated between Thi and her parents, drawn in vivid, moving detail.
Be Prepared by Russian-American cartoonist Vera Brosgol raises many laughs at one's schoolgoing days and teenage years spent in trying to fit in. The funny, light, autobiographical, Bildungsroman tale negotiates the complexities of the cultural hybrid of immigrant life and the urge to truly belong to a foreign land. Immigrated to the US from Russia at the age of five, Vera's struggles to transition from her Russian roots to her American identity and socialise with her peers are evocatively brought out through the eyes of a child. Heartening, palpable instances fill Vera's journey to fit in, oscillating between her cheer and her chagrin at mistaken attempts and glimpses of Russia pack the unusual template of black, white and olive-green panels.
Anne of Green Gables, the classic children's novel by L.M. Montgomery, is retold in the form of a beautiful graphic novel, adapted by Mariah Marsden and illustrated by Brenna Thummler. Eleven-year-old redhead Anne Shirley, who loves poetry and beauty and likes to chatter away, is sent to live in Green Gables farm with the unmarried siblings Matthew Cuthbert and Marilla Cuthbert who had decided to adopt an orphan boy to help in their farm work. Now as little Anne has it, their quiet lives no longer have a dull moment. Anne's childish mischiefs with her friends Diana Barry, Gilbert Blythe metamorphoses into her growing up to be a meritorious girl who goes to study at Queen's Academy. Set in 1947, Chhotu: A Tale of Partition and Love by Varud Gupta, illustrated by Ayushi Rastogi, narrates a love story at the heart of the Partition of India. Rastogi's illustrations recreate the familiar sights and shades of Partition-torn Delhi. Reminiscent of Art Spiegelman's Maus owing to its zoomorphic characters, Chhotu is a student and a paranthe cook at his foster father's parantha shop in the bylanes of Chandni Chowk. Unbothered by the Partition looming darkly on the horizon, Chhotu is twitterpated by Heer, the new girl at school. In an attempt to win her affections, he needs to make aloo parathas for her but finds that aloo is missing in Chandni Chowk. The search for missing aloo lands him amid communal riots, entangling him in the dark underbelly of the city. However, Chhotu subsequently rises to be an unexpected hero in this satirical blast from the past and learns the true meaning of freedom, which rings relevant even today.
Priyanka, an Indian-American teenager living with her single mother in the US, chances upon a Pashmina shawl tucked in a suitcase. Charmed, she wraps the shawl around her to unleash a collage of colourful images in an altogether different world sprouted out of her yearning to discover her roots and cultural identity, and to have questions about her absent father and her parentage answered in some form. Literally and visually embracing the reader in its warmth, Pashmina by Nidhi Chanani explores the coming-of-age tale of Priyanka as she books a flight to India with the prize money she won at an art competition, to unearth deep-seated truths about her identity.
In what remains to be one of the darkest blots on American history, US President Franklin D. Roosevelt called for every Japanese person to be sent off to miles away to 'relocation centers' during World War II in 1942, where they were held for years together in inhuman conditions. They Called Us Enemy by American actor, author, activist George Takei, Justin Eisinger, and Steve Scott is a gritty, lucid retelling of his childhood memoir and family's experiences of racism in the American concentration camps amid the ongoing war. Speculative fiction meets the urgency of a social cause and the fast pace of an action-adventure story in Lake Of Tears authored by Kwabena Ofei and illustrated and co-created by Setor Fiadzigbey. It was originally published online in four free installments. Boring into Ghana's inland fishing industry, Lake of Tears brings to light the dark menace of child trafficking and forced child labour, and the atrocities meted out to the children who till date live and work as slaves in large numbers on Lake Volta.
Deconstructing the primacy of the trope of violence in science fiction and fantasy, and blending the genre of the graphic novel with children's book and comics, Tea Dragon Society by New Zealand illustrator and author Katie O' Neill won the Eisner Award twice. It revolves around Greta, a young blacksmith in training, and her rediscovery of the lost art of taking care of tea-dragons after she rescues Jasmine, a small green dragon who had lost her way in the town's marketplace. The colourful, visually lush narrative is spread into four seasons, and propels the story forward mainly through the images, with little text. Above all, the graphic novel underpins the progressive ethos of inclusivity in diversity in kids, layered with the pervasive themes of friendship, rootedness, tradition, culture, and memory.
Imaginatively illustrated and richly referential, Sarnath Banerjee's Doab Dil unfolds like a literary tapestry with concurrent layers of images and text about one topic in one chapter. Banerjee fashions his text like a multicoloured quilt, in patches and shades from the compendium of literature that has informed his literary consciousness, converging words with images, fiction with non-fiction. He coalesces the bits from poetry, philosophical musings, books that he has read. Each chapter delves into facets of life like gardening, night, libraries, history, and more.
The best-selling, multiple award-winning graphic novel New Kid by American cartoonist and children's book illustrator Jerry Craft explores the modern-day lived experience of an African-American in a post-Apartheid America, partly drawing from the personal experiences of Craft and his two sons. Seventh-grader African-American boy Jordan Banks keeps himself immersed in sketching cartoons reflecting on his life. But instead of realising his true fit in an art school to hone his talent, his parents send him to a private school well-known for its academics. Little Jordan struggles to blend in with the students in a class where he is one of the select few Black students. Jordan is caught in the collision of the two different worlds, one entailing culture shock, microaggressions, racial identity, and privileges and the one world where his art takes over.