Greenlight: Matthew McConaughey bares his soul
The book is like watching the actor perform his life on the crisp, white pages of a paperback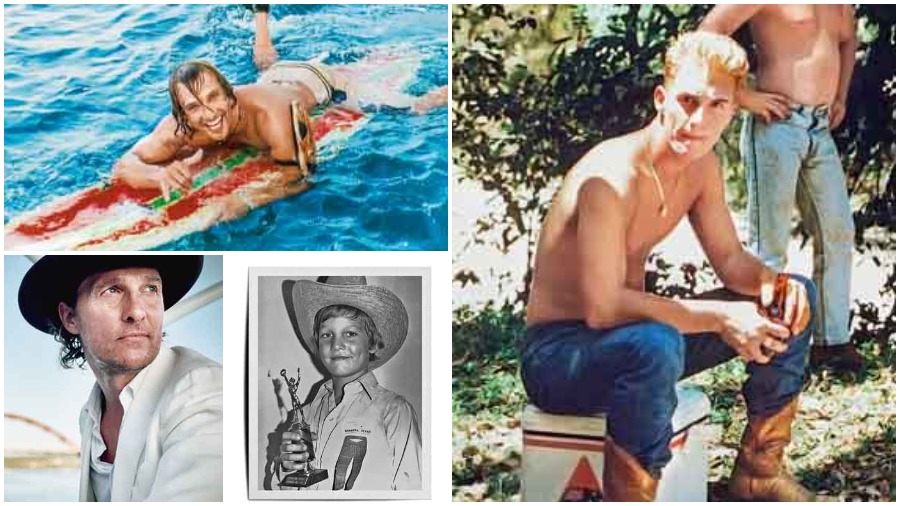 Picture: Vida Alves McConaughey
---
Published 03.03.21, 12:38 AM
|
---
In a scene from We Are Marshall (2006), Matthew McConaughey tells a packed room of journalists "If it's a miracle you are looking for, you gotta keep looking" and Greenlights (Hachette India, Rs 799) is a book that captures and makes an effort to explain this spirit, throwing light on sights and sounds from the actor's life that are a bare glimpse into that special spice that comes assured with every role he has embodied till date. Written by the author himself, Greenlights is no ordinary memoir. At 50, the actor is just getting started. He is not here to give advice, he tells his readers at the very first page (although he loves preachers he admits) and is instead here to collate and put forth all his writings, memories, incidents, and learnings captured since the age of 15 in an effort to help us navigate the yellow and red lights of our lives. He loves green lights so very much that he even dares to turn into a singular word — 'greenlights' and from the very first page onwards, we are hooked.
"I've earned a few scars getting through this rodeo of humanity"
With parents who flung dinner tables and brandished knives at each other, dancing the tango of domestic war three steps away from their three sons, his childhood would be any social worker's worst nightmare. However, when you have hurried through the pages of his childhood, flushed to know more, what you remember is that his parents got married thrice and divorced twice — to each other. And you learnt that perhaps in some world away from words like 'toxic' and 'dysfunctional', there is the possibility of a lotus blooming in the mud.
Everything is metaphor for a greater learning in Matthew's world. We suspect that might not have been the case when he was young and peeing in his pants in front of his father for having knowingly accompanied a friend with the intention of stealing a pizza, but in retrospect, all he remembers are the lessons. The importance of words, of ownership, of listening to your heart and of never shying away from the idea of risk.
"A denied expectation hurts more than a denied hope"
Greenlights is a mesmerising read akin to watching Matthew McConaughey on screen — you know what is unfolding in front of you is very different and perhaps unique but you can't really point your finger straight at what makes it genius. His Oscar acceptance speech for Dallas Buyers Club had gone viral on social media and this book made me unearth it for a rewatch of the four-minute gem. "There are three things I need every day — something to look up to, something to look forward to, and someone to chase", he says on the Academy stage and having gulped down this book in a single sitting, his "All right, all right, all right" suddenly has a deeper meaning.
He writes short sentences in Greenlights and like any actor would admit, that just packs a stronger punch to the gut. He narrates the tale of his unfortunate acne with the same dry comic sense with which he finishes the tale of a failed attempt at suing the oil company by his father for having casually won the 'Most Handsome Award' at school at the end of that supposedly traumatic year! McConaughey seems to find humour and lessons in every chapter of his life and while some parts may appear like a lucid dream of words juxtaposed upon one another, this religious man has learnt things the hard way. While he may not have passed rite of passage to becoming a man in his father's eyes as he believes, he arrived where he needed to be with the grace and tenacity of a raging bull in a gazelle's body.
"We have to prepare to have freedom"
McConaughey accords his emotional depth to the one year spent as an exchange student in Australia, right before embarking on the educational journey of being a lawyer. Stuck in the middle of nowhere with a borderline crazy family, he started writing to himself, more than he was writing home. It was only an hour prior to the final exam of his sophomore year at the college The University of Austin in Texas, that he realised that film school and not law school was where he wanted to be. All he remembers from the turmoil however was the trepidation with which he had called his father to inform him of his change of heart only to hear, "Well... don't half-ass it". It was that support and that push that led him down the path of film school where his first "big break" came as that of a hand model. There is a smell of discipline plaguing every chapter coupled with a sense of relentlessness that would easily justify how he has never chewed his fingernails, an otherwise deep-seated habit, since having been told that his hands had the potential of modelling.
"All right, all right, all right"
Much like everything else in his life, even this catchphrase has a story behind it. This Lord Byron-reading, U2-listening, Nissan 300ZX-driving charming, lover of women is made up of little pixels that come together to make right from wrong, be it on screen or in real life. His elusive charm oozes from every story he decides to narrate and string together in Greenlights which makes for a great Sunday read. If you have loved him in films, you would know his charm is always charming and never arrogance and it is that which drove him to a film school to learn acting after having scored his big break in Hollywood, twice over. Hop along for because it sure is one hell of a ride!