Buddhadeva Bose's English essays on food, Tagore and more
'An Acre of Green Grass and Other English Writings', is a bit of a surprise because Bose, one of the foremost Bengali writers, is largely forgotten as having written in English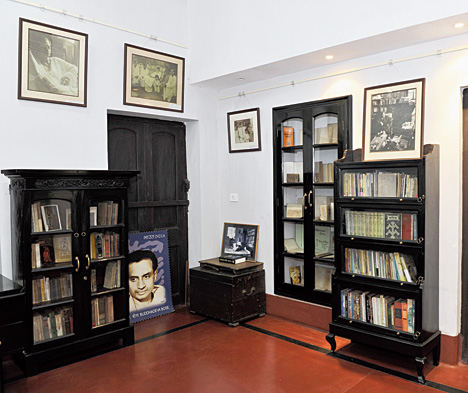 ---
|
Calcutta
|
Published 21.08.18, 12:00 AM
---
Calcutta: Every Bengali knows that the spring hilsa is intolerant of every spice except turmeric, that the smaller catfish is glorious with slices of the green banana and just a dash of ginger and the yellow cumin, and the pabta fish needs no heady spices if dressed with the coriander leaf - an aromatic product of the soil which smells like a "green breeze" blowing over grassy meadows, as a Verlaine or Jibanananda Das would have said, writes Buddhadeva Bose (1908-1974) in his essay titled Bengali Gastronomy.
One is tempted to write about Bose's prose the way he writes about food, with a robustness and relish, only if one could. This essay and the other pieces in An Acre of Green Grass and Other English Writings, a collection edited by Rosinka Chaudhuri and published recently by Oxford University Press, are a bit of a surprise because Bose, one of the foremost Bengali writers, is largely forgotten as having written in English. One reason is Bose himself. Considered one of the most eminent writers in Bengali, Bose, poet, novelist, playwright, essayist, and not less important, contrarian, "was preoccupied with Bengali language and content", reminds Rosinka Chaudhuri.
Bose, who taught comparative literature at Jadavpur University, had also spoken out against the privilege accorded to the knowledge and study of English in India in the essay English Literature in India, included in this collection, which includes books, essays and book reviews.
Yet he delights in the language that was not his own. In Bengali Gastronomy the pleasure he takes in the smallest details of food, and the way he is using words, is obvious. He is almost singing, joyous: "The mark of autumn is the tender arum-stalk (kochur loti)...", and into this delicate prose, or poetry, he throws in the right ingredients: his knowledge of Bengali food, and of literatures and cultures from the many parts of the world.
He talks about the admixture of "Shakta and Vaishnavic strains in (the Bengali's) blood and of Brahmanical and heterodox elements in his culture", and elements of foreign cultures, which make one wonder about the narrow parochial range of food that is popular now in the city and in Bengal, despite the "multicuisines".
Bose's heterodoxy extends to his subjects as well: he does not discriminate, writing about food the way he writes about Picasso, an essay on whose art is also included in the collection.
The collection features Bose's writings from the 40s - An Acre of Green Grass was first published in 1948 as a slim book - through the 50s and 60s. The book could not have been put together without the help of Damayanti Basu Singh, Bose's daughter, reminds Rosinka Chaudhuri.
Amit Chaudhuri, who has written the introduction to the collection, feels that a great strength of the essays is that they are not "academic" or "scholarly". The essay has been revived in the last 15 years, alongside a reassessment of writers like Susan Sontag and Elizabeth Hardwick. But well before Sontag, Bose, in Bengali, and in English, was bringing to the essay a form that was neither entirely scholarly nor reportage. "There is a kind of writing that weaves into the critical essay the memoir," says Amit Chaudhuri. "Whether it is criticism, or an encounter, the unexpectedness of the sequence of thought, the words, and the absence of reliance on any kind of cliché speak of a high originality. It is writing that invites you to read closely, engage with the writing itself."
Bose writes with humour, candour and feeling, but the frame remains large. The piece on Henry Miller is a moving portrait of the American novelist. Bose visited Miller at his home in Big Sur in California, when Miller, though well-known, was yet to see his books sell. But what also stands out in the piece is Bose's memory of the sea and the landscape and the moon seen from his cabin. "I had an intense feeling of the night," he writes. What he also felt was "an incipient poem". Then the Pacific struck him again in the morning, "sharply curved like a half-moon" and Miller came round just then.
Tagore, of course, forms the bulk of the book. With Tagore, Bose's relationship was intense and fraught, as it happens in matters of legacy. The inheritor, glad of the inheritance, also struggles to free himself. Bose, a leading light of the "post-Tagore" generation, was seen by some as being unkind to Tagore as well.
In Tagore (1962), another book that is part of the collection, Bose writes of being attacked both for showing "blind devotion" and lack of reverence for Tagore and tries to explains his "peculiar and personal" relationship with Tagore. "That of journeyman and master it certainly is, and of a hungering reader and a poet who is apparently inexhaustible, but these... are only minor aspects of this complex and vital relationship. I should compare it, if I may, to a long-drawn love affair, continued over several decades or rather a whole lifetime, with avowals and reversals, periods of truancy or weariness, moods or recoil and revolt followed by inevitable reconciliation."