Exotica repackaged
Whether Ayanna Llyod Banwo's novel fulfils a new explanation of myth or gives a new spin to the unusual is to be decided by the reader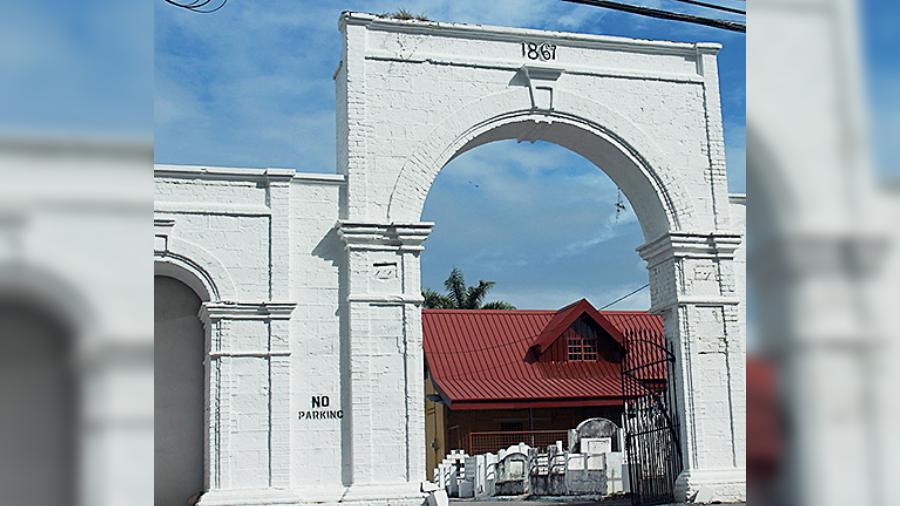 Lapeyrouse cemetery
File Picture
---
Published 10.06.22, 03:09 AM
|
---
Book: When we were birds
Author: Ayanna Llyod Banwo
Publisher: Penguin
Price: Rs 699
Indigeneity is in, both as a theme and as a method. In a rapidly hurtling and hurting modern world, the retracing of myths, rituals, spirituality, even necromancy, offers a wholesome organic world built on natural reciprocity. Equally, as a method, indigeneity provides a plural worldview combining romance, crime, the supernatural, history and folk, to name a few. Set in Trinidad, Ayanna Lloyd Banwo's debut novel holds promise on both counts as it balances a female comingof-age story crafted out of an ancient bird myth and matriarchal inheritance with a Rasta man's trials and tribulations following his broken vow and his job as a gravedigger. The two stories converge, those of Yejide and Darwin, as both strive to live while dealing with their debts to the dead.
The myth of the black vulture, as narrated by Yejide's grandmother in the opening pages of the novel, is not about cleansing the world but about the Corbeaux's transformative power of releasing the dead. Recalling perhaps the vulture rites of Oshun, the Yoruba fertility goddess associated with both creation and destruction, the bird myth confers female wisdom to Yejide's ancestors at Morne Marie. The myth provides Morne Marie with a resistant anticolonial past as Yejide's first ancestor, Maman, is said to have freed the mansion's toiling African slaves through her miraculous destructive powers. Hence, Yejide's 'kin' household stands testimony to the powers of female inheritance, to the diversity of cultural pasts, and to gender role-reversals characterized through bird women and nurturing men. But for Yejide, this generational legacy and duty to the dead clash with her desire for a life of her own, a clash which is made more difficult as her dying mother never shows maternal love. As she is caught in her struggle, a spectral vision of a "green man" in a "graveyard" propels her towards Emmanuel Darwin, a grave digger.
Fidelis, the graveyard, patterned on Port of Spain's Lapeyrouse cemetery, is the site of the dead and a witness to other pasts, eras and lives. Banwo energetically draws a bustling city life along with the ghostly and sinister world of Fidelis through the eyes of Darwin, who is both a stranger to the city as well as to the world of the dead. Looking for a job to make ends meet, a graveyard is the least likely place for Darwin, as he has been brought up in strict Rastafari ways by his single mother. And, yet, he must, and as he forsakes his home and vow and is drawn to the singularity of mourners and to the stories etched in the tombstones, he finds himself embroiled in Fidelis' murky ways presided over by Errol and his gang. Like in Yejide's case, his spectral meeting with her is providential and the story picks up pace in the last quarter of the novel.
A diasporic writer, Banwo has been praised for her evocative prose, her exploration of 'soft' masculinity, her use of Creole speech, her ability to hold multiple genres, and her narration, which is both contemporary and an act of memory. However, the political purchase of indigeneity in diasporic writing is debatable as its latent orientalism ensures a willing erasure of material history. In When We Were Birds, the economic compulsions of Morne Marie are never revealed beyond the wispy details of a fabric retail store. Likewise, its anticolonial past is not anchored in any serious historical details as Banwo's incandescent prose and hallucinatory episodes throw a veil over many such questions. For readers in India, the power of the folk and of the oral tradition in regional writings is not a novelty. Among many well-known writers, one remembers Mahasweta Devi's Bashai Tudu in which myth, history and people's struggle come together to recreate an alternative cultural and political vision.
Undoubtedly, the focus of a story is the prerogative of a writer, and the point is not to rail at what is excluded but to address the effectivity of myth and memory in narration and their possible success in dislodging the novel's character-centric bourgeois premise. Of course, whether Banwo's novel fulfils a new explanation of myth or whether it repackages exotica will have to be decided by the reader.