Die, what? Something but not Covid
You're cordially invited to time-out in Kafka's chamber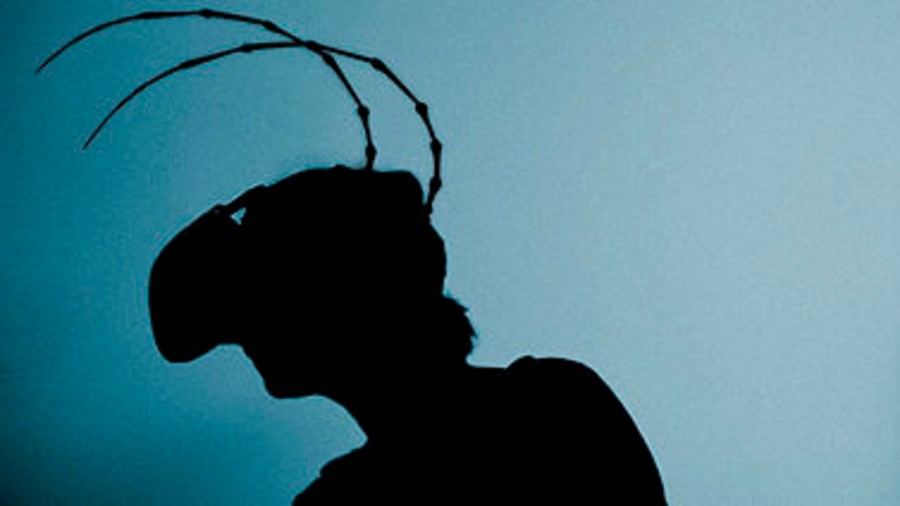 ---
---
Wake up in the virtual world as Gregor Samsa, not only late for work but transformed into a giant insect, read the invitation from the Goethe Institut, Calcutta. I was intrigued.
The event was called VRwandlung, meaning virtual reality. And Samsa is the protagonist of German writer Franz Kafka's Die Verwandlung or The Metamorphosis. The whole thing eventually turned out to be a virtual reality experience, which had travelled to 36 cities of the world before arriving in Calcutta. Yes, yes, pre-pandemic.
When I reached Goethe Institut that evening, I saw young people chirping all around. A squarish section of the library was cordoned off and covered with black drapes. A woman sat at the entrance, between the folds of the drapes. She ensured that visitors took off their shoes before entering; that done, she tapped on the laptop before her as she sent one person in.
Soon, it was my turn.
A middle-aged man greeted me as I pushed the drapes aside and peeped in. The room was lit a neon blue. I was told to wear a pair of grey sliders with sensors attached to the tips. Next, I was handed a headset, a pair of large headphones and gloves three times my size.
There was a flash of light like a lightning clap and suddenly I was in Samsa's room in the Old Town of Prague and in a completely different body. I looked around and I could see the room just the way I had imagined, except for the floral wallpaper and the sound of the pelting rain.
I could hear Samsa's sister pleading with him to open the door, as his office manager and parents pounded on another door; they were demanding an explanation as to why Samsa had not turned up at work that day.
I turned around and saw a white iron bed. The bedspread had creases on it. The blanket was half-folded, as if someone had just woken up. An arm's length away there was a white porcelain mug on a writing table surrounded with Samsa's possessions — a pile of books, papers with scribblings, a drawer with a key hanging from it. The desk looked like it had not been cleaned for days. A dimly lit lamp sat gloomily atop the bookshelf. A black and white photograph of a young woman, in a glittery golden frame, got me thinking — was there any reference to a woman in Samsa's life except for his mother and sister?
I could feel the antennae — my antennae — bobbing on my head. Sometimes they bobbed into my view. I tried to touch the shelf, only to realise I did not have arms anymore. I looked down and I could only see my transformed feet. They resembled the pointy, hairy feet of an insect. I had the arms of a roach or a beetle, I couldn't tell what exactly and then I remembered that Kafka had never got into the specifics of the insect Samsa was transformed into.
I could feel the helplessness of Samsa. The questions in his mind of the how, what and why, were now swimming in my mind. The creepy acoustic and visual effects made everything seem all the more real. I walked towards the door as I heard Samsa's mother crying. A look to the left and I saw a long mirror. As I lifted my arms and touched my head, the mirror reflected the image of an ugly insect with wiggly arms touching its head. I was horrified.
There is something so reprehensible about seeing a human-size insect. It occurred to me at that moment that insects are created small for a reason. I moved away from the mirror but much like a horror film unfolding, I was tempted to look again. Only this time, I couldn't look for too long. There was Samsa's father at the door, pounding it and screaming, "Gregor... Gregor, open that door now!"
The protagonist was no longer Samsa. It was me. While I was restricted to living Samsa's life, I could direct my body or move any way I wanted to. There was a strange buzzing sound of an insect around me. And the knocking at the door intensified, the cries got louder, but before I could react further, my four-minute metamorphosis was over.
As I came out of the dark room with a fluttering feeling, butterflies or maybe roaches in my stomach, a bespectacled Mika Johnson — the artiste who had conceptualised and directed VRwandlung — looked at me and smiled. He handed me a grey badge. It had the face of Franz Kafka with the German words "Ich Bin Verwandelt" in bold white lettering. I am told that means, "You have been metamorphosed."