Cyrus Mistry takes aim at the high-flyers
Mistry's accusation against Ratan Tata regarding AirAsia India was the most dramatic. He stated that the AirAsia India issue involved international criminal and terrorist elements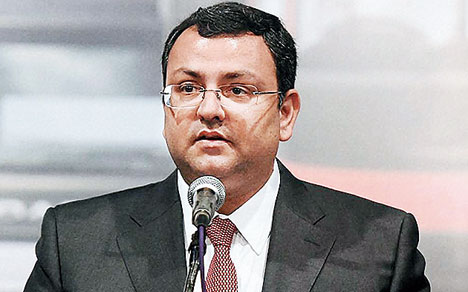 ---
Published 02.07.19, 10:49 AM
|
---
In 2012, norms were eased for foreign investment in aviation. This had come almost too late for Ratan Tata. Even though this was a business Ratan Tata had long hoped to bring back into the Tata fold, he was all set to retire that year. Ratan Tata grabbed the opportunity with both hands. Malaysia's AirAsia was looking to enter the Indian market. Partnering with the Tata Group and the Malaysian airline was the Delhi-based industrialist Arun Bhatia, who had a venture making precision instruments for the aviation sector. On 28 March 2012, Tata Sons and Arun Bhatia's Telestra Tradeplace formed the joint venture and called it AirAsia India. On 4 April, the finance ministry cleared Malaysian AirAsia's entry into the country after which the Malaysian partner bought a stake in AirAsia India. By 18 April, all three partners were set to start work. The deal went through at a fast pace and in less than a year the first plane was off the ground. The Tata Group agreed it would follow AirAsia Malaysia's lead in engaging management in AirAsia India.
The AirAsia deal paved the way for other airlines to come to India. Among them was Singapore Airlines, that had been eyeing the Indian market for a while. That is how Vistara, a joint venture between the Tata Group and Singapore Airlines, came about in November 2013.
AirAsia got off to a rocky start from the word go. Mistry shared with the court several emails of Bharat Vasani, group general counsel and AirAsia board member, to show that signs of mismanagement at AirAsia had been present from the beginning. Among other things, Vasani had raised concerns about related-party transactions because AirAsia India was giving contracts to AirAsia Malaysia and its sister concerns. Vasani questioned the pricing of these contracts. In a later email, Vasani objected to an agreement to lease a plane from AirAsia Malaysia, which had not been appropriately vetted. Finally, in November 2015, Bharat Vasani quit the board of AirAsia citing regulatory infractions that he could not condone. 
In May 2015, AirAsia India needed more funds to operate. It made a capital call on its shareholders. Arun Bhatia did not want to subscribe to the issue, so the Tata Group's stake in the business went up. Hereafter, AirAsia Malaysia held 49 per cent in AirAsia India, Bhatia's stake reduced to 11 per cent and Tata became a 40 per cent shareholder. Ratan Tata wrote in an email to Vasani, 'The dilution of Mr Bhatia's holding to 11 per cent will, in my view, be a good development. It resolves several issues and, I believe, will make the board discussions less onerous.'
In March 2016, Arun Bhatia wanted to exit the venture. Acquiring his shares would make the Tata Group a 51 per cent shareholder. But the financial accounting of the AirAsia India investment would affect the results of Tata Sons. People involved said Mistry was reluctant for Tata to buy more than 49 per cent. AirAsia Malaysia could not increase its stake because it was bound by the foreign investment norms of India. This left 2 per cent which needed to be sold to another investor.
It was thus decided that four directors in the company would buy 0.5 per cent each. S. Ramadorai, chairman of AirAsia, former chief of TCS, bought 0.5 per cent. However, two other directors reneged. In the end director and former executive assistant to Ratan Tata, R. Venkatramanan, bought the remaining 1.5 per cent in AirAsia India, financed by his mentor.
But Mistry did not let up. He claimed that Venkatramanan was also personally involved in the formation of AirAsia India through an old email exchange. Vasani wrote a mail to Mistry saying Venkatramanan had approved the planned structure. Mistry questioned the capacity in which Venkatramanan was advising.
Venkatramanan had been nominated on the board of AirAsia India in March 2013 itself, when the company had been formed. As a director of the company, he legitimately had access to details of the deal and was free to share advice on its structure, he said.
'Allegations regarding my alleged active role in influencing the structure of the deal, etc., are baseless and a figment of Mr Cyrus Mistry's imagination. It ought to be noted that AAIL [Air Asia India Limited] is a company governed by its board of directors and decisions taken reflect the collective wisdom of the board and are not attributable to any one person.'
Based on the fraud that was detected in the Deloitte report of September 2016, a complaint was filed with the police on 9 November 2016, a day after Ramadorai returned from his vacation. The Group moved court to recover a part of the Rs 22 crore by blocking two properties and one bank account of the former chief executive, Mrithyunjay (Mittu) Chandilya, who the report suggested was siphoning money from the company. A civil suit is still on in the Bangalore High Court for the full recovery of Rs 24.32 crore since June 2017.
Deloitte followed up its report with a review in May 2017 and cleared Venkatramanan of any involvement in the transaction. The chartered accountancy firm issued a letter saying that while it found a fraud in AirAsia India, it had found no link to Venkatramanan. The CBI case on Venkatramanan continues, but no irregularities have been found out yet.
Vistara on the other hand remains operationally strong with the highest capacity utilization among peers. Its losses in the financial year ended March 2018 narrowed after revenue grew by 50 per cent. The airline has ordered fifty-six new aircraft, which it expects in 2019.
After Cyrus Mistry was sacked, AirAsia found itself in his line of fire. Mistry said that the initial investment in the business had been made due to emotional reasons, not commercial ones. The Tata Group had released more funds to buy out Bhatia and even more to give to the venture after Mistry's departure. He added that continuing the business was not a rational decision.
Mistry would repeatedly say that he was saddled with an aviation sector investment, which in the beginning he did not fully understand. He had to deal with two separate partnerships. When Mistry began to understand the aviation business, he had made his displeasure on these deals known, he said explaining to the court that his original agreement to enter these partnerships was an uninformed decision.
If the tension between the Tata Group and AirAsia wasn't enough, in 2016 a serious fraud at AirAsia India would be confirmed by a Deloitte forensic audit report – this was on Cyrus Mistry's mind when he went into the fated board meeting on 24 October 2016. It was still on his mind after being fired! As briefly mentioned in 'The Wish List', Mistry had accused R. Venkatramanan of trying to throw a lid over the fraud. Venkat, as he is often referred to, was still seen as someone close to Tata.
Ratan Tata felt anguished by the allegations flying around. When it came to decision-making, 'Mr Cyrus Mistry not only presided at several such meetings as the executive chairman [of Tata Sons] but also actively participated in these meetings of the Board of Directors of Tata Sons where it was unanimously resolved to set up Vistara, the joint venture with Singapore Airlines'. Tata Sons pointed out that there had been never an instance in the Board Meeting minutes where Mistry had voted against any decision.
Of all the accusations Mistry levelled against Ratan Tata, the one regarding AirAsia had the most dramatic repercussions. Mistry sent the relevant documents related to the fraud to the authorities and also accused Venkatramanan of corruption and lobbying to secure licences for AirAsia. The Central Bureau of Investigation (CBI) and enforcement directorate latched on to this information and opened an investigation. It was an unprecedented day in the history of the venerable Tata Trusts when on 1 June 2018 Venkatramanan's office was raided and documents taken away.
But Mistry contended that the AirAsia India issue was no ordinary fraud. It involved international criminal and terrorist elements. Mistry said, 'These dealings by Tata Sons, at the behest of Ratan Tata, involved transactions with one Mr Hamid Reza Malakotipour, who has been classified as "Suspected and UN-Sanctioned Alleged Global Terrorist'' by the Government of the US.' The Deloitte report had connected the dots of some of AirAsia India's payments to Malakotipour. In fact, Mistry would sensationally tell the court that through these aviation ventures, the Tata Group was sponsoring terror through hawala transactions!
When Mistry asked Bharat Vasani to initiate action based on Deloitte's findings, he was informed that Venkatramanan had asked him to wait for a few days. But before the next follow-up, Mistry was fired. So, Mistry asked the court to examine whether Venkatramanan benefited from the fraud and was sweeping it under the carpet.
Venkatramanan said, 'To attribute any involvement with a "Suspected and UN-Sanctioned Alleged Global Terrorist" is downright defamatory and scandalous.' Venkatramanan contended that he merely wanted time to confer with S. Ramadorai, the chairman of AirAsia, who was at the time away on personal leave. Ramadorai had already been in touch with the police authorities and Venkatramanan considered it better to check with Ramadorai before filing an FIR with the police.
Extracted from Tata vs Mistry - The Battle for India's Greatest Business Empire by Deepali Gupta with permission from Juggernaut Books