In conversation with the winners of the big Little Book Awards 2020
Subhadra Sen Gupta and Rajiv Eipe talk about children books, literature, history and the innovative award that felicitates child literature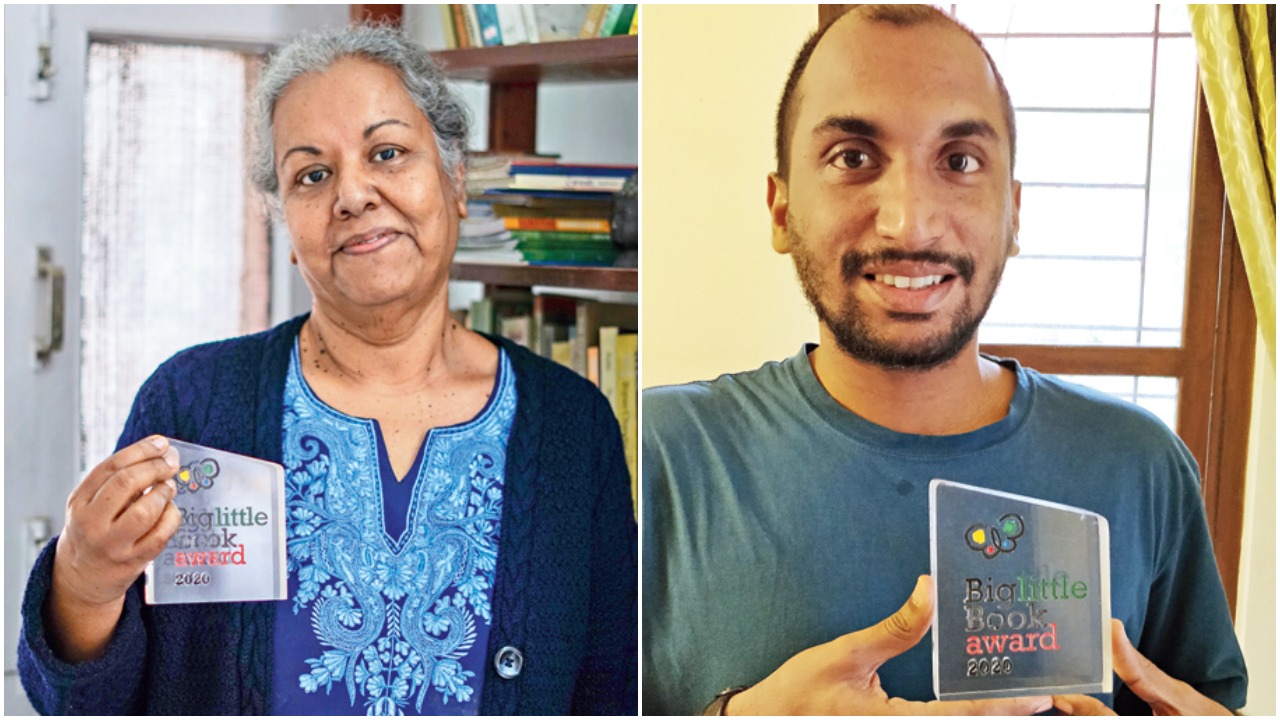 L-R Subhadra Sen Gupta and Rajiv Eipe
Sourced by the correspondent
---
Published 16.12.20, 11:49 PM
|
---
Tata Trust and its subsidy Parag initiative began The Big Little Book Awards (BLBA) to offer a peek into an often-missed category of literature that is children's books. Not only is the award innovative but also inclusive with an author and an illustrator chosen from a different Indian language every year. After Bengali, Hindi, Marathi and Kannada, this year the BLBA is being awarded to an author and an illustrator of books for children written in English. The winners of the award in 2020 were Subhadra Sen Gupta and illustrator Rajiv Eipe.
While Sen Gupta has written over 60 books for children and adults, her most important body of work remains historical books for children, many of which have even gone on to be a part of the NCERT curriculum. Her work includes popular titles like The Constitution of India for Children, The Secret Diary of the World's Worst Cook, History Mystery Dal Biryani, Let's Go Time Traveling and Girls of India: A Mauryan Adventure and she has won the Bal Sahitya Puruskar by Sahitya Akademi in 2014.
Rajiv Eipe is an illustrator for children's books who also runs a design studio in Bangalore. His works include Dive, Pishi and Me, Ammachi's Amazing Machines, Oh No! Not Again! and Dinosaur as Long as 127 Kids. "An award always makes your work worthwhile, that's all," began Sen Gupta, after having taken home this year's BLBA, in a conversation with The Telegraph. We caught up with both the winners of 2020. Excerpts…
SUBHADRA SEN GUPTA How is writing for children different from writing for adults and what does one need to be careful of, in the former?
Absolutely because when you are writing for children, you have to be aware of their capability to understand. You are talking to a different level of maturity but nothing beyond that, if one has to differentiate between writing for children and for adults.
You have to be very careful that you do not manipulate children's minds. They are just beginning to learn about the world and if I were to imbibe in them something which is wrong or prejudiced, it could affect their mind. You have to be very very careful and I literally think of every word when I am writing. Will they understand and will they find it interesting? What I love about children's writing is that the values you want to tell them about can be woven into fiction as well as non-fiction.
What are your thoughts on the educational curriculum in India?
I can only speak for history and I can tell you that I began writing historical books for children because they told me they hated it. I went and checked the textbooks, I realised how boring, difficult and badly written they were. My books are non-text books because I talk about things that children want to hear about. I meet children six-seven times a year in school workshops and I ask them what they want to know about history. And the first thing they all said was that they wanted to know how people lived in the past. What did they eat? How did they live? How did they travel? Did children have homework? My writing will always be about creating a portrait of the past.
My biggest influence in historical writing was Saradindu Bandopadhyay. When I read him, I realised this is how history should be written and I find it works, children love it.
There is a lot of criticism surrounding the way history is written in India. How do you keep the politics out of the narrative when you are writing history?
I totally sympathise with somebody who is trying to write history textbooks. You have to teach all of Indian history in three years. Ancient, medieval, modern and you have some 4,500 years of very complex history to teach. That means sometimes there are three or four dynasties simultaneously ruling over the subcontinent. All that has to be told to a 12-year-old. It gets further complicated when you come to modern India where on one side you have the British, and on the other you have the Freedom movement happening. Trying to make that simple is very hard. So I don't think the books are bad but I do feel that writers should write supplementary books along with the texts, in the form of fiction, biographies etc. A lot of my books are used by teachers as supplementary reading. History is a very difficult subject due to its vastness. I don't criticise our textbooks, I think they are doing the best they can. Of course politicians trying to manipulate the textbooks is a different conversation. But in terms of trying to make some sense out of it for a young child, they are not doing a bad job frankly. At least NCERT is!
But won't you agree that the history taught in schools has a very north-centric narrative?
Yes, very much. The north has somehow dominated our history. The sad thing is that very few south Indians are writing about the history of south India. When I was doing my research and went looking for books, I found only a basic one by Nilakanta Sastri in the 1960s. So sitting around and saying that you aren't covering us is not enough. I want to know about the Cholas and the Pallavas but very little work is being done on them. There are few in regional languages but nothing in English and you go to the north and that completely changes. One cannot write the history of the people without being aware of their life.
Do you feel that publishing is changing when it comes to children's writing in India?
Children's writing is just developing but I don't spot a balance there. What we lack in India right now is promotion of children's writing. They don't get reviewed. There will be half-page stories of some author in Sweden but they won't have a column on children's writing. Parents are desperate for children's books and they don't know where to find them. You'd be surprised that the bestselling category of books is this. Now publishers are waking up to this and it is changing. We have some very good children's publishers now.
RAJIV EIPE How does it feel to have won this award?
It feels nice and thrilling to have won this award. Honestly, I was taken aback to hear about it. As a professional, to have your work mentioned is gratifying. When you are creating the work, you don't think of reception and appreciation. For a body like Tata Trust and Parag to have given me this honour, it's humbling.
Is there any technical difference creating for children versus a graphic novel for adults?
Creating work for children is different, I suppose. There are things to keep in mind. It's important to not take it lightly because it's children's books. A lot of thought goes into each illustration. At present there is a very nice push by publishers for children's books, with a lot of diversity and representation in picture books. This is something I also try and work into the stories.
You have spoken about your parents being extremely supportive of your decision to be an illustrator, which would be unthinkable before. So do you feel a shift in this conversation?
Yes! I think even a decade back, if you told somebody that I am an illustrator, they would do a double take. It is now a clearly defined profession with so many people doing this for a living. Even though my parents didn't know what I would end up doing, their support meant a lot that time.
What are you reading now?
The new Margaret Atwood MaddAddam trilogy.