Presenting V.P. Menon through the sparkle of embellishment
This book is undoubtedly one step forward for India's historiography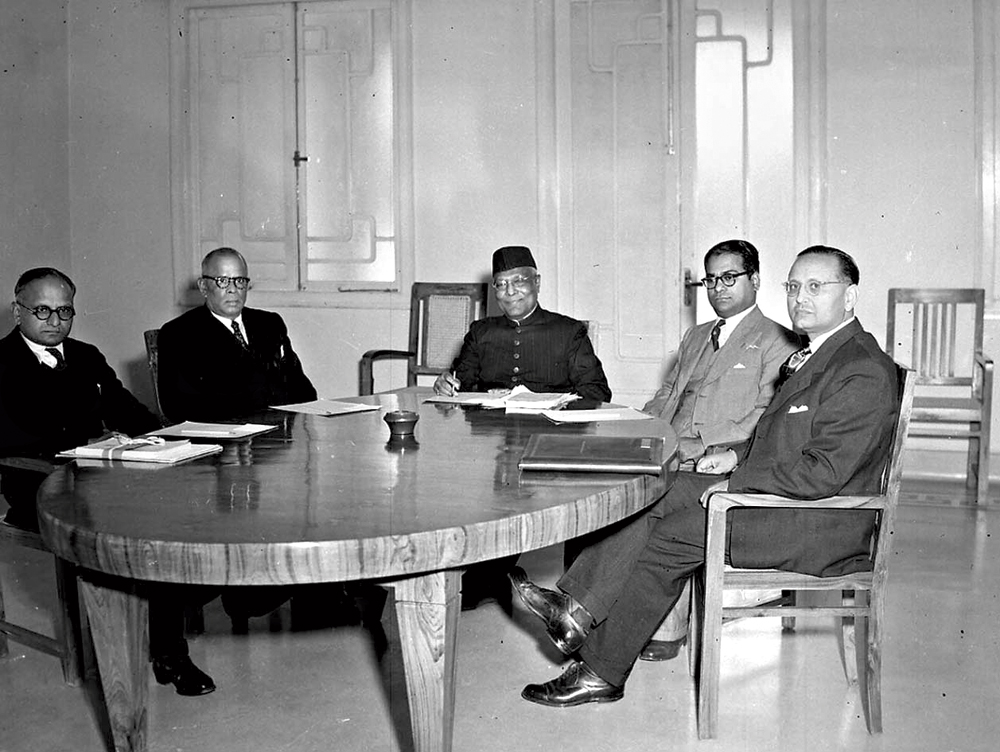 V.P. Menon (second from left) with M.V. Rangachari, K.C. Neogy, Kaushalendra Rao and B.K. Madan at a meeting of the first Finance Commission in Delhi
Library
---
Published 26.03.20, 11:20 PM
|
---
In sync with the SoPs of political biographies, which are being churned out at a fast pace and launched at glamorous events, the author diligently goes through with the de rigueur recycling compulsion. However, in the inevitable info-jam, what is more than a tad disconcerting — although wholly understandable from the family bond angle — is the overarching, undisguised agenda of a grand resurrection. A unique variant of Augmented Reality at work.
With his initial plans for an independent India in tatters, as the author flags, a desperate viceroy, Lord Mountbatten, turned to V.P. and gave him a single night to devise an alternative, coherent and workable plan for Independence. V.P. met the stringent deadline, presenting the Menon Plan, which would play midwife to freedom for the nation. While worthy of celebration, for a seasoned government official closely associated with constitutional reform for extended periods with the colonial regime, this could not be counted as a miracle as portrayed.
Throughout the detailed narrative, there are many such averments, purposed to shine the brightest light on V.P. as the go-to guy who always got it right when it came to complex issues — transfer of power, Partition, integration of 565 states — and dexterously navigated behind the scenes only to have the political bosses unabashedly slurp up all the credit for his unstinted dedication and tireless efforts. Most of them — Nehru, Jinnah, Mountbatten — come across as petty, peevish and enormously exhausted. The critical four-year professional association with the Iron Man is woven with surprising blandness. He is sad, bitter and worse — blurred.
There's a provocative assertion that Sardar Patel was originally omitted from the list of cabinet ministers submitted by Jawaharlal Nehru and that it was V.P. who worked on Mountbatten to get him included. The jury is still out on that. His "outrageous flattery" of the Viceroy is what supposedly worked many a wonder in the tumultuous times ahead.
This is one step forward for India's historiography, no doubt. But more should follow to achieve an acceptably finessed rebalancing of the memorialization.  
Contagion is in the air. The virulent one the world is presently grappling with is best left at a safe distance. The one referenced here relates to what may be dubbed the contagion of greatness-appropriation. It has caught on big time and shows no signs of abating. Ever so often, we have the memory of the past dredged up and unceremoniously dismantled, only to be artfully reinstalled in a manner that enhances a particular ideological swerve or recreates the texture of entire time swathes without compunction. It helps in competitive mind-space grabbing, arguably, important in the post-truth era.
A light déjà vu of comparable shade attaches itself to Narayani Basu's paean to her great-grandfather, V.P. Menon, billed as his first definitive full-length biography.
The purported USP is the mellifluous swirl of rigorous research into as yet untapped material — stowed away in forgotten files, letters, personal papers and diaries as well as in his explosively frank interviews, including the one on tape to Harry Hodson in 1965 before his death — blended in the right measure with contemporary-style, charming storytelling. Startlingly unknown facets of the life and times of the unsung architect of modern India are coaxed upfront to restore him to his place in history. Alongside, an academic retracing is essayed to provide a filigreed understanding of the unfolding, and realization, of decolonization and the democratic experience which travelled alongside.
Multiple skeins lend themselves well to an account, which has more than its fair share of gripping, intense moments. That a distraught runaway schoolchild from a Kerala village who never returned, who laboured in the mines of Kolar and the musty, obscure warrens of the imperial behemoth for decades, would end up as Reforms Commissioner to the last three Viceroys — Linlithgow, Wavell and Mountbatten — and then as secretary, states ministry, in post-Independent India and as the right-hand man of the redoubtable Sardar Vallabhbhai Patel, is fantastical stuff. His admittedly unconventional personal life and private conflicts make it that much more of a delectable punch.
There can be no quibble about the need for such a mainstreaming project undertaken with a justifiable expectation to end what is generally perceived as an undeserved, mere footnote for one in the mould of V.P. However, there is more than fair ground for many a quibble and contestation in the etching of landmark events and iconic personalities of the freedom struggle, the constitution of the Indian State and the precise role and contribution of the protagonist staking a claim to his rightful space in the alluring, elusive hall of fame.