Barun Chanda's first non-fiction book pays tribute to his mentor and friend Satyajit Ray
Titled 'Satyajit Ray: The Man Who Knew Too Much', the book recounts the author's complete experience of his lifelong association with Ray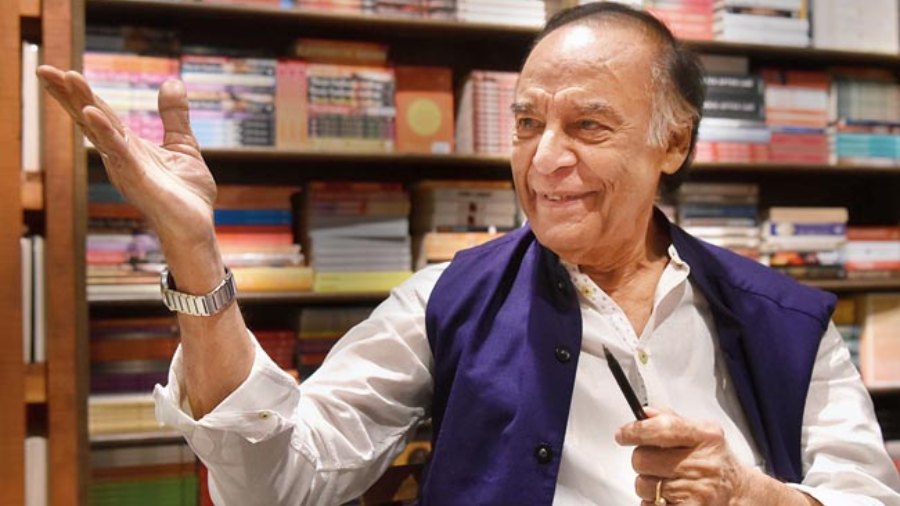 I am an alive person, and this is what it means to be human. I am interested in meeting people and storytelling — Barun Chanda
---
Published 01.06.22, 01:20 AM
|
---
Barun Chanda is a man of many talents. His love for creative expression has been platform-agnostic as he has donned the cap of an actor, a writer, an advertising professional and it is perhaps this multifaceted approach to creativity that led him to the doors of Satyajit Ray under the pretext of an interview. The interview did see the light of day in Junior Statesman many decades ago but what it also did was push Chanda into Ray's inner 'Sunday circle'. This liaison eventually led to the iconic film Seemabaddha and Chanda has now recounted his complete experience of this lifelong association with Ray in his first non-fiction book Satyajit Ray: The Man Who Knew Too Much (Om Books; Rs 395). Chanda who played the protagonist in Seembaddha and then gave up acting for the next two decades, has written crime-thrillers before. They include titles like Murder in the Monastery. His baritone made him a household favourite, his acting chops landed him a special prize and Seemabaddha went on to win the National Award that year. The rest as they say is history. However, recounting those memories around and about a man he so revered, kept him kicking and awake in the pandemic.
"I would have lost my mind had I not been working on Ray. Writing this book helped me retain my sanity. I was very close to climbing the walls, losing my head," Chanda said in a conversation with The Telegraph ahead of his book's launch at Starmark Bookstore Kolkata. On the topic of multi-faceted approach to creativity, Chanda is quick with a humble and shy smile. "Two things impress me immensely –– writing and acting. If you say that they are separate creative formats, yes. But other than that I like paintings as well as sculptures. I would love to explore the latter art," he says with a long pause. "I am an alive person, and this is what it means to be human. I am interested in meeting people and storytelling," he adds.
Generally, Chanda is the kind of writer to write when inspiration strikes. However, with Ray's tale came this need for discipline and religious adherence to time. "Writing this book became a habit. I would sit mostly in the mornings, trying to snatch a little time before breakfast. As a result of which, for one-and-a-half years, I had a severe back problem," Chanda admitted. Along with writing came extensive reading that included a plethora of interviews that Ray gave during that time period and speaking to his contemporaries who found themselves in similar situations as Chanda as a fledgling actor under Ray's wings. He recounts Ray asking about his cocktail shaking and driving skills before admitting that he was considering Chanda for a role. However, the most important tidbits appeared from his memory and these rich recollections make for a fine evening of yet another peek into the maestro's mind. These contemporaries include the likes of Aparna Sen, Pradeep Mukherjee, Dipankar De, Chandana Banerjee and Dhritiman Chatterjee who also managed to find time to drop by at Chanda's book launch event at Starmark. Chanda also had access to Ray's extensive library curated painstakingly over the years. A beautiful descriptor of this library finds its place in the book that is written in the most conversational manner, narrating the tale of a fascinating man whose exploits are nothing short of historical. The book is very candidly written and Chanda has not shied away from expressing any emotion he has felt along the course of his journey and friendship with Ray. "I refrained from saying certain things but I wore my heart out. There is one passage that is close to my heart –– 'what kind of a man was Ray'. There is even a portion where I talk about Ray considering me as Feluda. That portion wrung my heart out," Chanda said. He chose to read out that very portion at his session at Starmark with director Srijit Mukherji and son Avik Chanda in tow.
The book is a nostalgic journey back in time for Calcuttans, filled with mentions of places of significance that unfortunately no longer exist anymore. Places like Ferezzini find themselves on the pages, recounting a life of vibrancy and shine. "Going to the nightclubs was such an immense experience. We would be starstruck as students passed by those shiny, lit doorways of these places. It's infinitely saddening that so many of these wonderful places have vanished," Chanda said. Chanda's writing has mostly revolved around knitting together pacy crime thrillers. However, Satyajit Ray was a leap in another direction with a memoir-esque book that pays homage to his mentor. The experience he admits was not vastly different except that he was more disciplined in the case of the latter. "This I have written in fiction style, totally chatty without being pedantic or scholarly. I did not want to sound holier-than-thou, and on the contrary, I made myself very vulnerable," the author said.
After such a reflective book, Chanda has promptly jumped back into crime, he tells us with a twinkle in his eyes. He is willing to drop slight hints for his readers as we request him to spill some beans. "I am writing about something that I have written about ever before and I firmly believe that very few people have written this kind of a story," he reveals. "It's about a bisexual disc jockey who has an enviable voice. Some people even claim that he has a voice to die for… (pauses) That's the title!" he laughs and says.