Echoes from a quieter past
Ayodhya: City of Faith, City of Discord is a must read for scholars who wish to explore the politics of Hindutva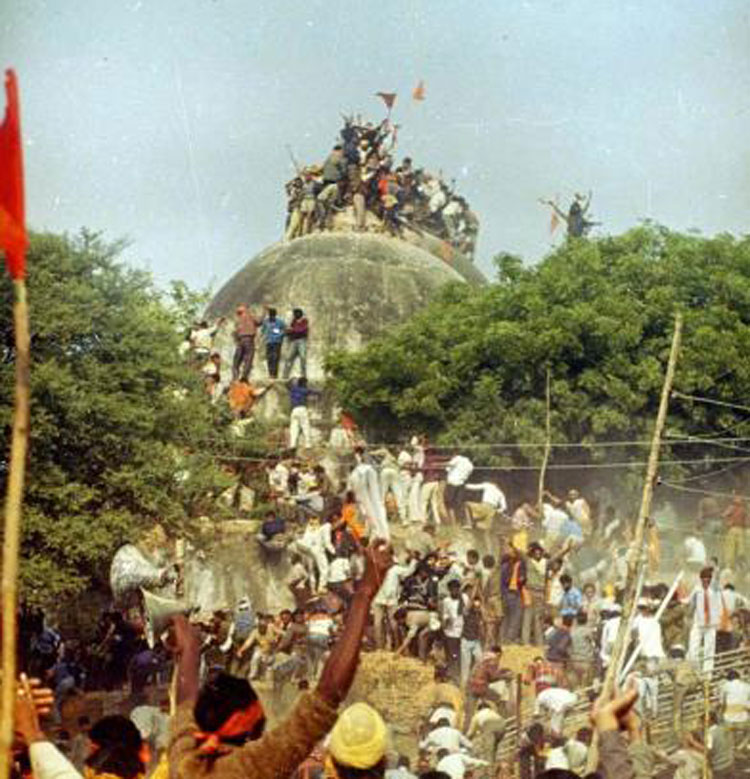 Kar Sevaks atop the Babri masjid shortly before it was demolished
Telegraph archive picture
---
Published 02.05.19, 03:36 PM
|
---
Ayodhya: City of Faith, City of Discord By Valay Singh, Aleph, Rs 799
This book, according to Valay Singh, is not about the Ram Janmabhoomi-Babri Masjid dispute. The history of Ayodhya, a 3,300-year-old city, cannot be reduced merely to the events linked to one and half centuries, he argues. Indeed, there is weight to this argument. Developments of thousands of years of past cannot simply be set aside because the events of the last century or more have become loud in our political conversations. But, would he, an accomplished journalist, have taken interest in Ayodhya had there been no dispute? It is hard to believe that the discord was not a trigger. For most readers, enlightening themselves about the dispute would definitely be as much a trigger for reading this book as learning about the evolution of the city itself. Fortunately, readers would not be disappointed if their main interest is merely to learn more about the dispute.
The book has two main parts: the first part grapples with the pre-1947 part of history and the rest deals with Ayodhya's tryst with destiny pertaining to the mandir-masjid debate.
This historic dispute, which has decisively shaped the electoral terrain and political meaning of India's pluralist democracy, has been a source of varied intellectual interrogations. Indeed, the seeds of this book are sown in the dispute as well. Singh attempts to present a comprehensive account of Ayodhya's history and culture to make better sense of the ongoing political conflict. 
Much of the existing scholarship, according to Singh, is "pro-temple" or "pro-Babri" or "inspired by Ayodhya's Buddhist origin" or "driven by a humanitarian perspective that wants a hospital or a library at the dispute site" and so on. So he tries to go beyond these categories of objectives to present a dispassionate account. Does he succeed? My verdict is that readers inclined towards the Hindu-Right would still accuse him of being a champion of secularism — which speaks more about the times we live in — primarily because the book does not make a case for a Ram temple.
Among all the chapters, three, particularly, are of great relevance: "The Ramayana and its Plurality"; "Indian Rebellion of 1857"; and "Ram Janmabhoomi Movement". The whole book is well-researched, but these three chapters are rigorous, and each has something fresh about its narrative. Deeply concerned by the dispute's adverse implications for India's social fabric, the author hopes that the discord would be best resolved if it is not seen as a Hindu-Muslim issue, and for this he places his faith in future generations of leaders. Some readers might dismiss this as wishful thinking, but the fact remains that the conflict has had a disproportionate impact on the Indian polity. In this era of Hindu-Right politics, this book might have a sobering effect on one's intellect. It is an important intervention at a time when distortions of history have become a national pastime for our politicians. It is also a must read for scholars who wish to explore the politics of Hindutva further.