Antoine de Saint-Exupéry's classic The Little Prince is a story about deep love
French author and aviator, Antoine de Saint-Exupéry's 119th birth anniversary is on June 29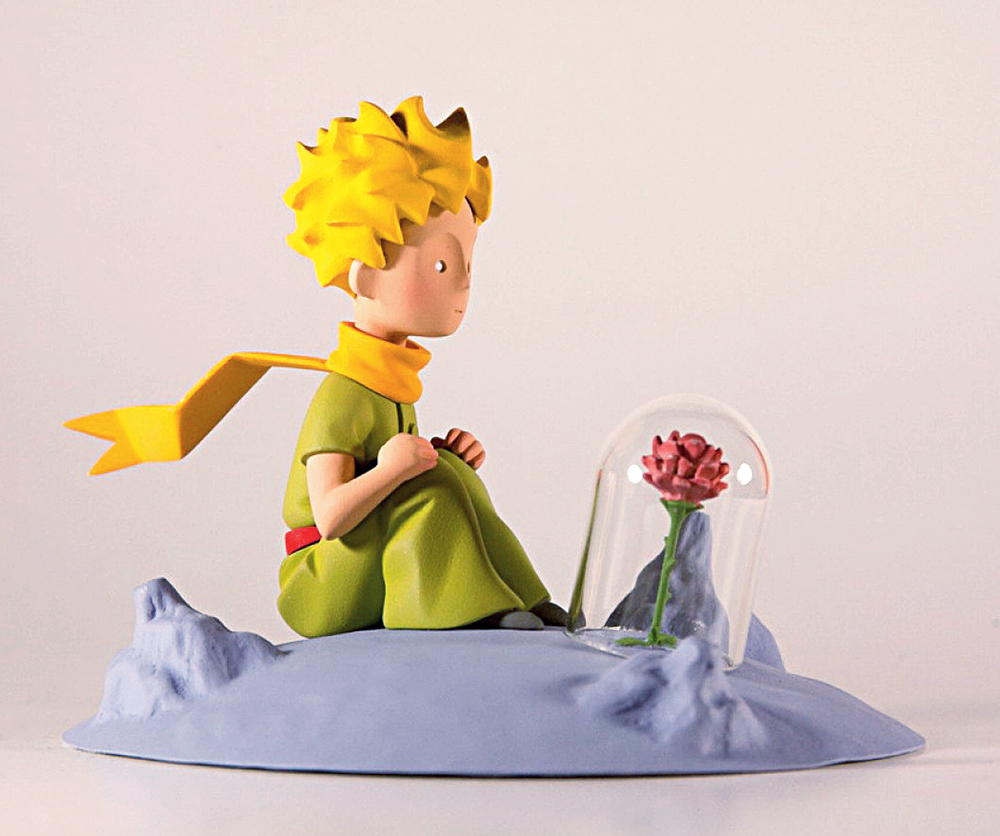 A sculpture of the little prince and the rose
Source: A blog hosted on Blogspot
---
Published 27.06.19, 06:11 PM
|
---
In the course of his life, the French author and aviator, Antoine de Saint-Exupéry, whose 119th birth anniversary is tomorrow, may have written just one book for children. But The Little Prince — a delightfully illustrated tale of a fox-befriending, planet-trotting, rose-loving space child — is his best-known work. It remains one of the most dearly-loved modern classics, a bitter-sweet story holding up a mirror to the hardest truths of life and leaving adult readers with a longing for the little boy from the stars.
Significantly, though, The Little Prince is a story about deep love — the little, golden-haired space boy dies for a fragile rose on his tiny planet — and it is no coincidence that after his experiences on other planets with troubled, narrow-minded adults, he forms an unlikely yet close friendship on Earth with the narrator of the story: a stranded aviator. In Le Petit Prince, the French edition of the book, Saint-Exupéry does not use the word, 'adult', to refer to his uncomprehending, dismissive elders. Instead, he labels them les grandes personnes — roughly translating to 'big people'. This is no accident; in fact, it is a critical distinction. Just as there can be children who are grandes personnes, there can be adults who are not. This idea is at the heart of the real dilemma of the book — who really belongs in this world? The little prince, with his tender, loving nature, found no place in a Darwinian world of ruthless survival. So he died.
Such ideas of misfits and love are found in several other works of literature, one of which is Ernest Hemingway's The Sun Also Rises. The Little Prince, however, is different; its author was first a pilot, then a writer. Saint-Exupéry loved the freedom that the sky offered. For him, flying was all about staring up at the stars, not down at the war-ravaged world he would eventually have to descend to. In spite of living and writing in a time of war, he trusted the beauty he saw above the clouds and wanted the people on the ground to see it too. This desire distinguishes him from the likes of Hemingway, whose profound disillusionment with the world often overpowered softer feelings.
In some of his other works, such as Night Flight and Wind, Sand and Stars, Saint-Exupéry expressed his faith in the ability of mankind to reject the barriers of the material world and see true beauty — in other words, to evolve from adults into the little space child. In his own life, as in his writing, he kept harking back to childhood — he had mood swings, threw tantrums, dropped water bombs on people, and regularly peppered his letters with charming illustrations of himself in bed or with an aching tooth, dating them with the words, "I haven't-the-foggiest-idea". Indeed, it is said that when the photographer, John Phillips, asked him how the little prince had come into his life, Saint-Exupéry remarked that he had spotted a tiny, childlike figure one fine day on a blank sheet. "I asked him who he was... 'I'm the Little Prince', was the reply."
Perhaps this is why The Little Prince, in the midst of its sadness, is still full of compassion — a particularly important form of love — and, crucially, hope. For adult readers, especially the heartsick, it offers a strange sense of relief, and gentle lessons on how the best way to face the prospect of loss is to live a life full of love. The final illustration in the book depicts a lone star above a desert. The pilot-narrator implores the reader to let him know if he ever chances upon this sight, and spots, underneath the star, a child. "Don't let me go on being so sad: Send word immediately that he's come back."