Anand Neelakantan on retelling Indian mythology
'Our epics are not about the good triumphing over the evil fairy tales. They are debates on Dharma and karma'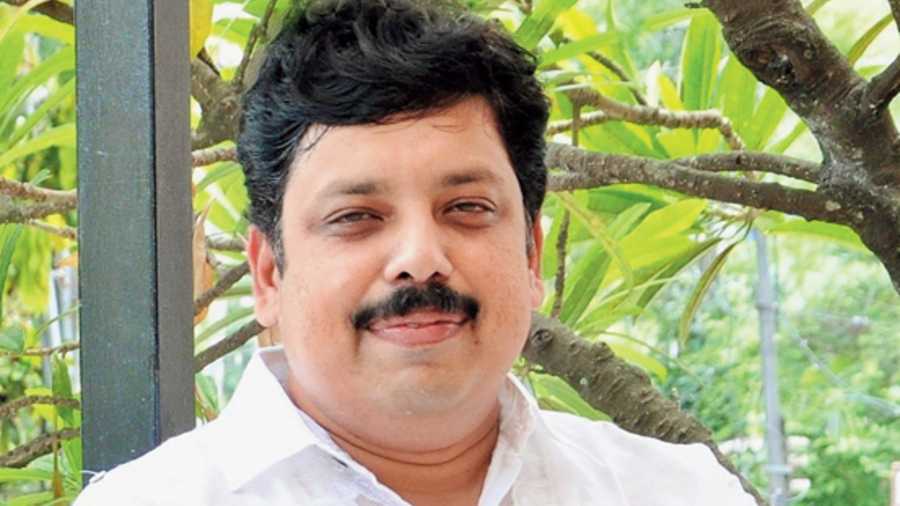 ---
Published 26.08.21, 04:02 AM
|
---
Many Ramayanas, Many Lessons by Anand Neelakantan, the bestselling writer known for his retelling of Indian mythology, has launched as an exclusive Audible Original. Available in Hindi and English, it is spread across 29 episodes. A candid chat with Anand on the project and busting myths about mythology.
There is something eternal about mythology. Do you remember your first brush with any kind of mythology? For most of us, it would be a storytelling session with our grandparents.
For me, my parents were storytellers. I grew up in Thripunithura, near Cochin, a town seeped in temple arts, Kathakali and traditional performing arts. These are my first brushes of mythology. I would have heard and seen Puranic stories performed before I had learned to speak.
What sparked an interest in you to give a spin to mythology, and how has your journey been over the last decade?
It is not a spin I am giving. Puranas, especially Ramayana and Mahabharata, are so nuanced and varied that it is sad how television has turned them to be a kind of mono-text. Through my books and audiobooks, I am attempting to bring out the diversity of our rich tradition. I use contemporary language and my imagination as a writer, but the stories I tell are age-old.
The last decade had been fantastic. With 11 books, television series like Siya Ke Ram, Mahabhali Hanuman etc. and the Bahubali trilogy, it has been a dream journey for me.
Why do you think there has been a surge of interest in mythological fiction in the last few years? Do you perceive deep-rooted insecurity, searching for familiarity and the need to find many answers to the riddles of modern life that are resulting in a rise of interest in mythological fiction? Ramayana and Mahabharata were devoured during the first lockdown...
Ramayana and Mahabharata transcend geography, language, caste or religion. These are eternal classics, and at the first hint of crisis, Indians have always turned towards them. So it is no wonder that Ramayana and Mahabharata were devoured during the lockdown phase. It isn't just modern times, but throughout our history, we can find that we have produced new versions of our epics whenever we faced major crises or invasions. The epics get reinvented, reinterpreted and churned as per the needs of the time, and that is why there are so many versions of these two epics. Audiobooks and mythology are like best friends. If reading books gives you limitless imagination, listening to one is the icing on the cake. Goosebumps. Tell us about your experience with audiobooks.... What do you love about them?
Audiobooks do not tie me down to my desk. Instead, they come with me while I walk or drive. First, audiobooks help me explore Kannada, Urdu or Tamil literature, the languages I can follow but cannot read. Then, with calming music and the skill of a voice artiste, audiobooks take me back to the splendid world of oral stories, the original way of storytelling. I really enjoy listening to them on platforms like Audible.
Can you give us a sneak peek of Many Ramayanas, Many Lessons available on Audible?
Many Ramayanas, Many Lessons available on Audible is now available in English and Hindi with fantastic voice narration and background score. It offers an immersive and meditative experience. I was pleasantly surprised how the story grows when narrated by a talented voice artiste from its black-and-white written version. I have used many folk tales I encountered while researching my previous books like Asura and Vanara to narrate the Ramayana in these audiobooks. For example, one of the folk tales is about the debate on Dharma during Jatayu's funeral. Rama wants to cremate the bird that sacrificed its life, trying to protect a woman from her kidnapper. Honouring Jatayu in his martyrdom is Rama's Dharma. But the foxes, the worms, the vultures and the crows object. They ask Rama, 'Why are you bringing the Dharma of Ayodhya to the forest? Here, if a bird dies, it becomes our food. By imposing your Dharma on us, you are creating an Adharma.'
Thus the debate on Dharma continues, implying there is no absolute truth but only relative ones. My audiobook Many Ramayanas, Many Lessons, available on Audible has many such stories taken from the repose of Indian oral storytelling tradition. It is my humble tribute to the bards of India.
What life lessons does Ramayana hold for you? And, what about Mahabharata?
The great epics of India prompt us to think and wonder about life. They are non-judgemental and doesn't contain any commandments on how we should live life. Even after Gita, Krishna says to Arjuna to rationally analyse what he said and decide what he feels right. The greatest life lesson is that life doesn't follow any dogma or scriptures. It has a mind of its own, and humans can only marvel at the unpredictability of it. Life is beyond human logic.
Which characters from mythology are the most relatable in the 21st century? Conversely, are there characters you simply cannot fathom? Would it be fair to ask you to pick favourites?
Every character is relevant. I am fascinated by the so-called antagonists in our Puranas. What drove them to do what they did? Aren't they the true reflection of human nature than the avatars? Krishna's celebration of life fascinates me. So does Ravana's. The female characters aren't the wimpy teary-eyed voiceless women that the medieval interpretations and the television serials made them to be. Sita, Tara, Soorpanakha, Manthara, Shanta etc., are fiercely independent women whose tales are fascinating.
Tell us about Karna.
Karna, one of the most tragic characters in our epics, was the victim of his fate, the caste-infested society, and his sense of insecurity. I am exploring him more profoundly in a multilingual film that I am writing the screenplay of.
What kind of books and audiobooks do you personally like to read and listen to?
I prefer non-fiction to fiction in audiobooks in English. I also like audio dramas and fiction books in various Indian languages in audio format. I enjoy listening to them on platforms like Audible.
What is the one myth about the mythology that you would like to demolish?
There are heroes and villains in our Puranas is one of the recent era myths that television series propagated. The characters are much more layered, nuanced, and more profound than the television series's simplistic storytelling. Our epics are not about the good triumphing over the evil fairy tales. They are debates on Dharma and karma.
Anand's fave
Favourite mythological tale of all time: Ramayana
Favourite mythologies of all time: Mahabharata
Favourite films with mythology at the core: The old Tamil film of Thiruvilaiyadal, the tales of Shiva enacted by the thespian Sivaji Ganesan
A character you want to write about the most: Karna
The most misunderstood character from Indian mythology: Duryodhana