An evening with Ruskin Bond
His latest book, Happy Birthday, World!, illustrated by Maya Ramaswamy, is for his youngest reader yet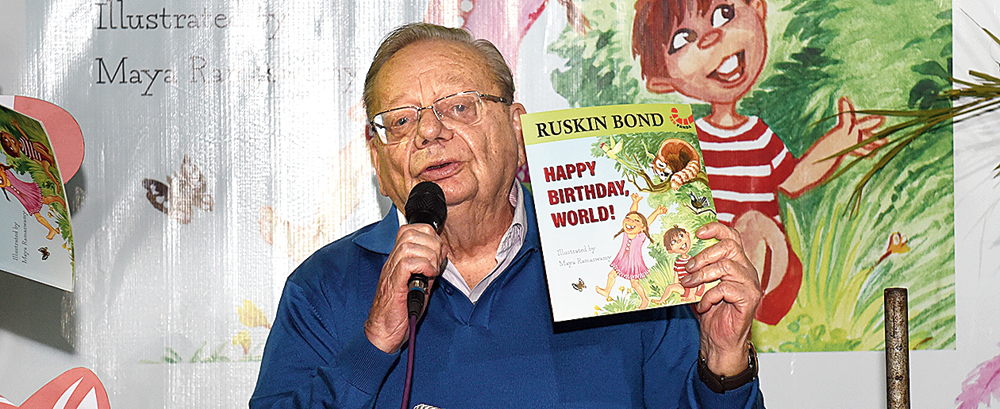 ---
---
If you have grown up as an ardent reader, you've more than likely been a Ruskin Bond fan as well. Perhaps India's most-loved children's author, Bond was at the Storyteller Bookstore, VIP Bazaar, recently, an opportunity that me, a big fan of the writer, could just not pass up.
As the familiar, friendly face walked into the bookstore, I was filled with awe. Not just because I was in front of the author responsible for much of my childhood fascination with chaat and the mountains, but also because of the number of children enthusiastically waving and calling out his name — something I'd only ever seen reserved for filmstars before. While technically Bond does have a parallel career on the big screen (a cameo in No One Killed Jessica), he was at the store for the launch of his latest book, Happy Birthday, World!, illustrated by Maya Ramaswamy, for his youngest reader yet.
The twinkle in his eye, his trademark grin and witty replies following every question gave away how his inner child still comes alive when he speaks to children. Talking about his new book, he stated that while it is unfair for everyone to have just one birthday, the world is the only entity that celebrates its birthday every day, and this book is a celebration of that spirit. He went on to speak about how nature is being harmed by human beings, and urged the youth to take necessary steps. Spreading awareness about the harm being caused to nature was another reason behind writing the book.
On being asked what he liked about being a children's author, he replied that younger readers always give him very honest answers. "There was this girl I met, not too long ago. When asked what she felt about my writing, she looked me up and down and replied, 'Sir, you're not a bad writer', while another one said she liked my ghost stories but they weren't frightening enough," he chuckled. He stressed on the importance of parents reading to children from a very early age since books would remain one's lifelong companions, reminiscing how his father inculcated the love for books in him.
When asked about the inspiration behind his writing, he replied that it was meeting feisty children who appreciated his stories that prompted him to write. He cited Lewis Carroll, Charles Dickens and Rabindranath Tagore as some of his favourite authors from childhood.
A writer truly for all seasons, it was reassuring to see his contribution to literature isn't merely restricted to his books, but the children he has managed to inculcate the habit of reading into, and often encouraged to pen down their thoughts with words too. When he asked how many children in the audience wrote, there were barely any hands that weren't raised. With his trademark humour, Bond exclaimed, "Oh, looks like you will all soon be putting me out of business!"
With over a 100 books to his credit, it seems highly unlikely of that happening. In the event, however, that it does happen, I doubt anyone will be happier than a certain Ruskin Bond.