An engaging chat on women's safety with novelist Damyanti Biswas
Debut novelist Damyanti Biswas on the injustices and violence against women in our society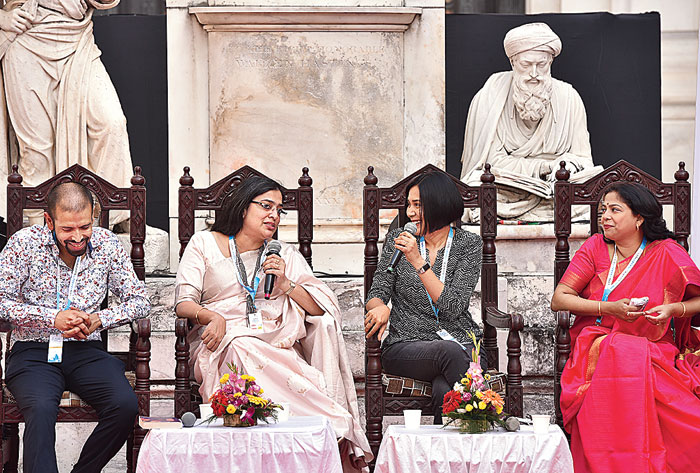 Three authors on the panel — Damyanti Biswas, Rajorshi Chakraborti and Rituparna Roy, who in their new novels largely talk about the various old and new challenges faced by women in their own cities though under different circumstances.
B. Halder
---
Published 02.02.20, 01:52 PM
|
---
Debut novelist Damyanti Biswas is not as concerned about her tag as a writer as she is about the strong purpose behind her writing, which is to make her voice heard about the injustices and violence against women in our society. Damyanti was at the Tata Steel Kolkata Literary Meet, in association with The Telegraph and Victoria Memorial Hall, talking about her debut novel You Beneath Your Skin in a session titled She And Her City at the Western Quadrangle, Victoria Memorial, where The Telegraph caught up with her for a chat after the session:
How did the novel happen ?
Short stories for a few publications happened over a few years after which the image of this woman, Anjali, came to me, who becomes the protagonist of You Beneath Your Skin. I had this vision of a woman who is a perfectionist but she has an imperfect life — she has a son with autism and is having an affair with a married man. So my story kept coming to me from what if she loses her son or this entire life that she has and her life changes completely then what will happen and the story became longer and longer. And then I couldn't deny that it was a novel.
How was the plot of this crime fiction conceived?
The novel was written over 15 drafts and when I say 15 drafts, it was re-written 15 times so I kind of figured out what happens in the novel with each draft and yes, of course, my work with Delhi-based Project WHY (a charitable programme) informed the plot about what happens next. STOP ACID ATTACK (a campaign to stop acid attacks started in Delhi) came in because I wanted some symbols of violence made visible, for example rape, but I wanted it as a symbol or metaphor for violence against women. Somewhere, I read an article about acid attacks and that is how the plot developed. And the plot changed completely when I first met an acid attack survivor and then realised what kind of devastation they go through, what kind of problems they go through and I could not just reduce it to a plot point. The plotting happened very organically over years and years after many many drafts.
Why did you choose Delhi as the setting of your story?
Anjali came to me in Delhi. Also, I think it is because I spent many years there. I had a very conflicted relationship with the city and I could never get to love it. There was always this push and pull that comes at the end and I think some of the best stories come from places of conflict.
Your characters are strong individuals, not afraid to make tough choices. What was the process of sketching them?
Thank you for asking this. For me, characters are where all stories come from so if there is a character that is interesting, I try and figure out what happens to them and I am curious. For me, it is always the curiosity of the characters that leads into the story. So to sketch them I think I wrote a lot of letters from my characters to me. I figured out the backstory of each character — what was their story when the novel begins and also what gave them their world view, what are the three major experiences in their life that make Jatin a cynic that he is and that make Anjali the perfectionist that she is, that make Maya the firebrand that she is and what makes Pawan the nice guy. So I did the research on the backstory and I think I spent a lot more time on the characters. Because once you get the characters right, they start doing their thing and that leads to the plot, which makes you feel they are actually real.
The title of the book gives a hint about the shadow that falls between the appearance and reality of a person. How did you come up with the title?
The book was earlier called Delhi Winter for obvious reasons, because it was Delhi and it was winter. But as I went into various drafts, the theme came out very strongly. So then it became You Beneath Your Skin. I think it started with Beneath Your Skin and then I got more direct by adding 'You'. Then you are co-opting the readers also. You are asking the reader who you are beneath your skin.