Acclaimed artist, author and poet Sharanya Manivannan who was nominated for the JCB Prize for Literature for her novel The Queen of Jasmine County, has dived into her roots and created her first graphic novel for adults, Incantations Over Water (Context; Rs 799). Illustrated by the author herself, this lyrical novel narrates the tale of a mermaid, Ila, who has lived in the lagoons of Mattakalappu, Ilankai. The author has her roots in Batticaloa, Sri Lanka, which was ravaged in the hands of conflict. She felt compelled to tell this story because of an absence of lore around the 'singing fish' that is known to be a part of culture and aesthetics of the place. Her words and art have a hypnotic effect as they draw the readers into a world that is replete with 'cultural history, eco-consciousness, political reality, and personal longing'. Magic surrealism meets glorious profundity, making this a novel that one would want to keep around for many years. t2 spoke to the author about the experience of creating Incantations Over Water. Excerpts.
Tell us about the inception of this book.
The mysterious sounds that emerge from within the Kallady lagoon on full moon nights are a real phenomenon, and I have heard them myself. My maternal family is from Batticaloa, and the civil war meant that I did not go to the town until I was 27. Then, I saw that there were mermaids all over the town's public facades — this made me realise that my mother had not been flippant when she would say, when I was a child smitten by Disney's The Little Mermaid, that one sang in a lagoon in her hometown. I was mystified by how lore had not sprung up around such a public motif, and first presumed that lore had been erased. My explorations into this subject yielded my Ila duology.
How was the experience of writing a graphic novel different from your previous writing experiences?
Incantations was preceded by a companion children's picture book, Mermaids In The Moonlight. So the graphic novel was my second self-illustrated project, and I was able to bring the picture book experience into the same. A very pleasurable aspect of creating it was that the making of each page of art brought delight, much in the same way as the completion of every poem or story in a collection had done. With both the books in the Ila duology I discovered that the illustrator in me held the reins and had more ease. The writer, meanwhile, worked more tentatively than usual.
There is a lilting, dream-like quality to the presentation of the book. What kind of choices did you make as a writer to create this?
Ila's voice will be familiar to those who have read some of my prior work, including the story collection The High Priestess Never Marries. It's a narration style that comes to me instinctively, and is deeply informed by my sensibilities as a poet.
What attracted you to the lore of this mermaid?
Ila is the only one in the book that I made up, and I made her up because I could not find her in lore or literature. She was to me one of the tutelaries that I sensed in the many hours that I spent near the lagoon. She called to me, and I came.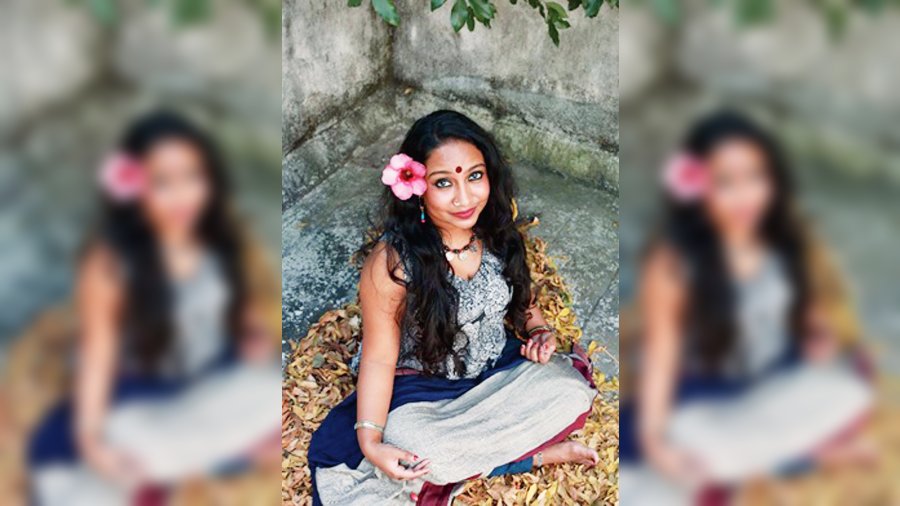 What was your writing process like?
The writing of Incantations was slow work, and humbling, because I had started out thinking that I would be able to create the prose within a few weeks. In actuality, the writing took around three months, and the art also took just three months, which tells you how slowly I was doing the former — and how swiftly the later flowed.
Could you please reflect upon the name of the book, Incantations Over Water?
Ila narrates the book as a soliloquy, a serenade, a seduction — and as a spell. There is something she desires, and over the course of the book she attempts an enchantment that will bring it to her, and let her keep it. She draws, of course, on the powerful magic of Batticaloa itself.
What were the challenges you faced as a writer of a text where human beings are othered and yet your protagonist is narrating a fiercely feminist tale?
I didn't see this as a challenge in part because I didn't envision Ila as someone who others humans. She sometimes includes herself in their category, and sometimes in the category of marine creatures — blurring these distinctions. Both books in the duology are intentionally feminist.
Tell us a little about the research that went into this book — especially the historical aspect of certain tales.
There were two major parts to my research — one was time spent in Batticaloa, talking to people and learning about the place and the culture I had been raised in at a distance. The other was extensive reading. There is so much in this book that also just came out of, well, being a Batticaloa person. For instance, my great-grandfather told my grandfather, who told me, that he had personally watched AnaimudiChittar parting the sea and entering it; but you'll find nothing about this mystic on the Internet. The animosity between the Tamils of the north and the east of the island, which is neatly eluded by north-dominated narratives, is also something you'd only know from the inside. You could say the element that held the two parts of my research together was my identity. The voice of a paranormal being, Ila, embroidered them into place.
What can we expect next from your table?
I am back within the big novel I've been working on for the last 17 years or so: Constellation of Scars. It spans the period between 1929 and 2006, and is about several generations of women from Batticaloa. I would like to tell you confidently that this will be my eighth published book, but considering that I have published seven others while always returning to this one, I can't be certain. I have a few other fiction projects in progress too.