Actor Kabir Bedi on his must-tell tales
The actor opens up about his relationships and the way he sees the movie industry today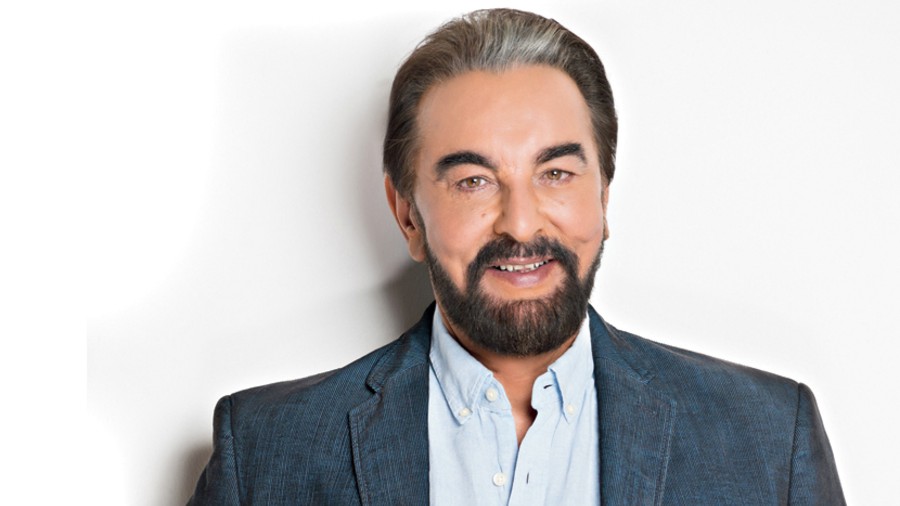 Kabir Bedi
Sourced by the correspondent
---
Published 18.04.21, 02:25 AM
|
---
Kabir Bedi has been the collective heart-throb of young women in the early Nineties when his good looks and societal-norms-defying outlook caught the media frenzy. His iconic relationships with Protima Bedi and, later, Parveen Babi, created a furore in urban India and his work took him across the world to Italy for one of the longest running shows, The Bold and the Beautiful, and later to Hollywood as the dastardly villain in James Bond movie Octopussy. Starting his life as a radio journalist for All India Radio in Delhi, the passionate rule-breaker went around the world collecting stories and now those stories have all come together in a book he wrote called Stories I Must Tell: The Emotional Life of an Actor (Westland). Releasing tomorrow, the book is a tell-all by the actor who has given us films like Khoon Bhari Maang, Mera Shikar, Hulchul and Sazaa. The Telegraph got on a call with the actor-turned-author whose pleasing baritone still sounds like music to the ears from so many miles away. Excerpts.
Tell us about the inception of the book...
I had to make a decision whether I want to tell my story or not, and were I to choose to tell it, would I tell it as honestly as I could. The problem was not what I wanted to say but how I wanted to say it. I did a few attempts and found the linear form very boring. I abandoned multiple manuscripts. It was then I thought of the idea of presenting it as a series of stories, which allowed me to travel back and forth in time, which was far more interesting. Taken together, they formed the story of my life. I chewed on that for 10 years and many failed attempts before I got clarity.
Some stories have a more theatrical narrative while some are free-flowing ruminations. How did you arrive upon the style of each story?
Things that concern human relationships and emotions naturally make for a gripping narrative if you tell it right. However, my stories are not just about Parveen. It is a book of many chapters. I have tried to explore each event in its own way, relative to how they deserve to be told. Some stories lend themselves to a more cinematic approach like my beginnings in Delhi, my interview with The Beatles. When I explore my spiritual beliefs, there isn't so much banter I can bank on. They are ideas that have shaped me or ideas I have arrived at. Hollywood was me talking about a larger picture of what was happening. Of course I peppered things with conversations that happened with famous people. Talking about the larger sense of events that happened is more dramatic to me. Then the story about my parents going from being revolutionaries to religious figures –– that story has a logic of its own. I have tried to make it gripping and vivid because it's unknown to most people. My mother's Satyagraha with Mahatma Gandhi… each story had to be told in its own style.
How was your Bollywood experience different and similar to your Hollywood experience?
They are very different industries and my experiences were very varied. Bollywood is where I began and acted as the springboard that made me a star in Europe, which then gave me the strength to go to Hollywood. It was a strange situation for me because I was a young actor in Bombay, a star in Europe and a ranked newcomer in Hollywood! Hollywood is an insulated society and they don't care what happens outside of it. You have to deal with them in their terms and I had to struggle to get roles which weren't really being written. When they did write roles for Indians, they had no qualms in taking a white man and painting his face brown. That was one of the biggest obstacles I faced and I protested in the trade magazines. Cumulatively, in time, as a result of many people saying similar things, the scenario is indeed different now in Hollywood. Diversity is an issue in the forefront now. Nothing gives me greater joy than seeing Indian actors flourishing in Hollywood, be it Riz Ahmed or Kal Penn or Mindy Kaling.
I came back to Bollywood in the middle and did a few films like Khoon Bhari Maang for which a lot of people remember me. Hollywood is just a more planned industry. They plan things longer and they shoot quicker. We tend to plan less and shoot longer. Bollywood in those days were family-run firms!
You mentioned 'family-run firms' and 'nepotism' is the word about town right now. Do you think nothing has changed now?
The names change but the games remain the same. Of course there is bound to be nepotism, who wouldn't want their kids to do well? But at the same time, there is a great crop of remarkable people who have made their mark without nepotism and become stars without being from a famous family. So these things coexist in Bollywood. So what are your thoughts on the OTT platform that are now democratising the whole industry to a large extent?
I am greatly interested in the OTT platforms, not just in India but also in Italy. I feel they have brought a whole new level of creativity to the industry. They have given work to directors who were finding it hard to tell their stories or getting their films funded. Look at Sudhir Mishra's Serious Men, look at Sacred Games and Pataal Lok! All these wonderful shows have come up thanks to the creativity and freedom allowed by these OTT platforms. It's led to a resurgence of film everywhere. Taking films beyond the confines of a two-hour window is a huge change! I salute the OTT platforms for using some of the most creative people in the industry.
Now that your granddaughter Alaaya has entered the industry and you presented her an award recently, how do you feel?
It was such an emotional moment so filled with joy when I presented Alaaya the best debut actress for Jawani Jaaneman. She deserved it and worked very hard for it. I know how much she put in to perfect her craft, before starting her first film. I believe she will be a major actress.
One word that comes to mind after having read your book is 'passion'. How does passion relate to your personal philosophy in life and how you make choices?
Oh boy! That's a biggie. You got a big question there (laughs) I am a strange mixture of a guy who is very laid-back and passionate about certain things. Whether it's love life or social issues that concern me or the path I have chosen. So I involve myself. I throw myself head first into every situation. That's not the smartest thing to do sometimes. The fact that I have been married four times is testament to that! At the same time, I would not take away what this experience gave me. They made me the man I am today.
When I was in Italy, there was a question of "do I now rest my laurels or do I push the envelope a little more?" That was when I went to Hollywood at a time when it was very difficult for actors to get roles. So that kind of madness, you may call it passion if you like, leads me to see things through. If things don't work out, one has to move on, whether it is a relationship or a professional commitment.