201 and Beyond by VVS Laxman and R Kaushik, Westland, Rs 500; Game Changer by Shahid Afridi and Wajahat Khan, HarperCollins, Rs 500
These tell us a lot about what sort of man the player really is – gentle, aggressive, placid, plodder, educated, cultured and so on. Laxman emerges as the gentleman; Afridi as the guy who does not pull any punches. His book is written the way he plays his cricket and quite fun.
He has even clicked his tongue at the current Indian government's approach to Pakistan! Laxman has reserved his ire for Greg Chappell, the great Australian cricketer who was employed as the coach after the quiet but highly successful John Wright. Chappell was sacked by the BCCI because he treated the players so roughly, or so they complained. He was the one who got the Indian captain, Saurav Ganguly, sacked. Ganguly, in his book, has dwelt at length on the episode. Laxman merely says that he was perplexed by the sacking and tells us a few stories about his run-ins with Chappell. I don't know if Chappell has published his version.
Afridi's major bete noire is Salman Butt who was involved in the betting scandals. Afridi says it was at his instance that Butt had been made vice-captain when Afridi was captain. Then he tears into him for being an absolute cad. He says Butt had tried to get him removed as captain from all three formats of the game. Afridi's account of the scandal which saw three Pakistani cricketers banned for five years is highly informative and is the best part of the book, the other being his snide comments about Gautam Gambhir who, he says, is full of attitude for no reason whatever. He also says most Pakistani cricketers these days need to be groomed properly in social etiquette and manners instead of, as he says, just "being let out in the world." That's an unusual way of putting it.
Both have some interesting comments about their colleagues, mostly complimentary. Afridi, however, has written a lot more about team dynamics than Laxman who is sometimes altogether too goody-goody. Afridi is less restrained and tells some nice stories and, on balance, has written the better book. Neither has anything to say about umpiring which is odd. In fact I have noticed this reticence in some of the other books by cricketers published in the last few years.
Election season is over. Cricket World Cup season will be soon upon us. The first match is to be played on May 30 between hosts England and South Africa. As a result, we will soon see a small avalanche of books on cricket. Indeed, a strong trickle has already started as journalists and former players seek to cash in on the market.
Some like the prolific Indian batsman, VVS Laxman had already jumped the queue or gun, whichever you prefer. His book came out a couple of months ago. And only two weeks ago, Shahid Afridi, the great Pakistani all-rounder has published his memoirs. So have some other great thinkers of the game like Mike Brearly and Paddy Upton, the highly successful coach.
Over the last decade or so, I have read more than 50 such memoirs by Indian and foreign cricket players, coaches and umpires. Most of them, like Sachin Tendulkar's autobiography, are deadly dull. By and large the players confine themselves to on-field events and talk about the off-field stuff. They are also extremely careful in their choice of words while criticizing someone. It is all terribly goody-goody stuff. There are some exceptions, of course, but even these tend to be quite prosaic. I think the lawyers make sure that nothing is written just in case someone decides to file a suit for some imaginary grievance.
Laxman's and Afridi's books are not very different. They follow the usual pattern – family, first games of cricket, success in domestic cricket, selection to play for the country, mechanical descriptions of some memorable games, the inevitable loss of form and failures, dealings with the four big C's in their lives, namely, cricket authorities, captains, coaches, crowds, retirement and a few random thoughts about the current state of the game and its future.
This being the formula, what makes the books differ from each other is the style of writing and the anecdotes. If Laxman has the manners of a High Table don, Afridi is the rowdy undergraduate.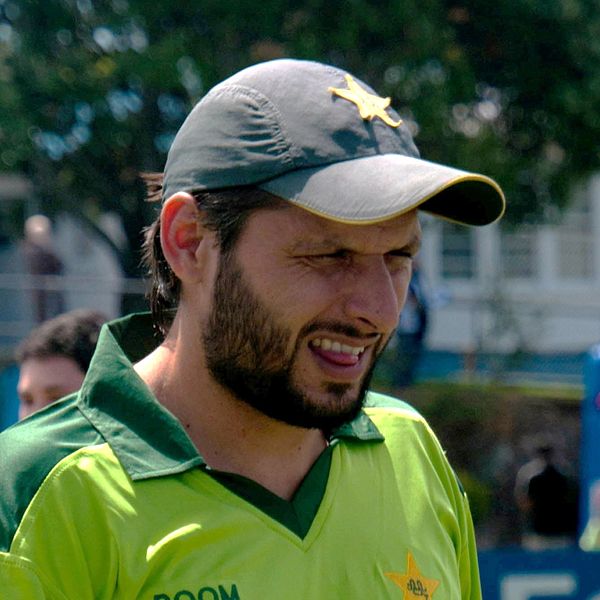 Afridi's account of the betting scandal which saw three Pakistani cricketers banned for five years is highly informative and is the best part of the book Picture credit: Wikipedia