A prodigiously long letter
It is a sweeping story, involving a great many characters and bearing witness to a century's worth of upheaval in the world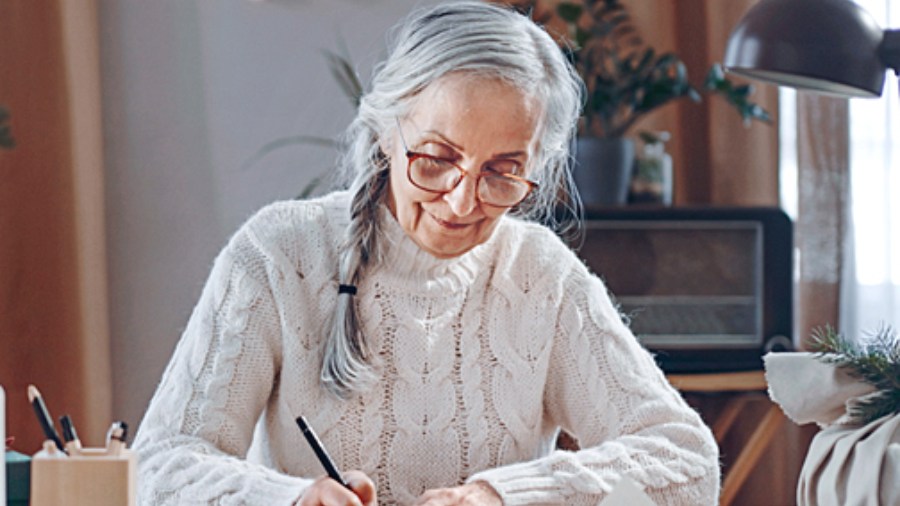 ---
Published 03.06.22, 02:45 AM
|
---
Book: Violeta
Author: Isabel Allende
Publisher: Bloomsbury
Price: Rs.599
Isabel Allende's latest novel, translated by Frances Riddle, presents us with one hundred years of thronging company, bookended by two epidemics. The eponymous protagonist, Violeta Del Valle, is born in 1920 in an unnamed South American nation and anticipates dying during the coronavirus pandemic in 2020. The connection to Allende's debut novel, The House of the Spirits (1982), is immediately apparent in the Del Valle name and the epistolary format (that one was written as a letter to Allende's centenarian grandfather when she was informed of his impending death). This novel, too, is a prodigiously long letter, which the centenarian, Violeta, writes to her grandson, Camilo. It is a sweeping story, involving a great many characters and bearing witness to a century's worth of upheaval in the world.
Violeta is born into a life of privilege, to a prosperous business family. The Spanish flu does not touch their inner circle because her father posts armed guards around the house to dissuade looters. Then the Great Depression strikes and the family must leave the city with the English governess, who is actually Irish and comes from a background of hardship and sexual abuse. The family in exile starts life anew and manages to build a couple of lucrative businesses in prefabricated housing and aviation. Señora del Valle is modelled upon Allende's mother, with the subtle but crucial addition of financial independence. In her self-assessment, one of Violeta's major talents is her ability to make money and her achievement in life is the philanthropic foundation for women that she establishes with wisely-invested profits. The foundation is similar to Allende's own organisation. Named after the daughter with whom Violeta has a fraught relationship and loses at a young age, it focuses primarily on domestic abuse. A life's worth of enduring it in her tumultuous relationship with the father of her children, the swashbuckling adventurer, Julián Bravo, does not register for Violeta until quite late in life. A life's worth of industrial activity seals her eyes against political oppression too, until she awakens to the reality of her radical leftist son being hunted by the conservative government. There is friendship, love, heartbreak, adultery, faith, cynicism, dishonesty, the mafia and the CIA, the Spanish flu epidemic, the Second World War, the Great Depression, earthquakes, anti-communist oppression, substance abuse, religion, native faith-healing and, very sketchily, the coronavirus pandemic. The book has enough material for a long-running telenovela of the kind that the women in the story are addicted to, and has about the same use for irony.
Violeta's account of her life seeks to recreate the instability and a chronology of memory in life-writing. The only organising principle seems to be a straightforward chopping of a 100-year timeline into roughly twenty-year chunks: "Exile", "Passion", "Absence" and "Rebirth". This is a fictional memoir that Violeta asserts is "worthy of a novel". Allende has acknowledged that the inspiration for the book was her mother's death and the outcome seems to be a strange hybrid of her first novel and the memoir she wrote to come to terms with her daughter's death. More than anything else, this book seems to be a therapeutic exercise. Allende's attempt at writing about her mother's death looks like an attempt to understand her own and must be read as such since without the context of the real lives, the fictional life loses all resonance.
But as Virginia Woolf said about trying to reread Victorian novels, "[f]irst, there is the boredom of it." It is remarkable how utterly banal all of Violeta's life is. Not a phrase lingers, not an image arrests. The book seems to be transcribed from a dreary interview with a bad storyteller. Perhaps this is intentional, but Violeta does not have a personality or a rich internal life. She just sounds tired. The deadpan tone that works so well with magic realism in eliciting wonder, a deeper understanding of the world, and biting satire does not transport without actually adding the literally magical to the deadly dull realm of the real. Bits of indigenous miracle-working and a few hallucinations as Violeta awaits death elicit neither wit nor wonder. The lack of polyphony in such a crowded story is faintly shocking, really. Talking about her first sexual encounter, Violeta says, "[i]t's hard to describe the contradictory emotions that flooded me in that moment, Camilo, because desire fades with time and that kind of lust seems absurd to me now, like some psychotic episode that happened to another person." A novel works because it manages to become our story as much as the characters' or the author's. In its anxiety to document a century of South American history and work through the grief of a personal loss, this book, unfortunately, remains as something that happens only to other people.