A book on the mysterious man behind our favourite roles — Irrfan Khan
Aseem Chhabra has come up with the biography of the internationally celebrated actor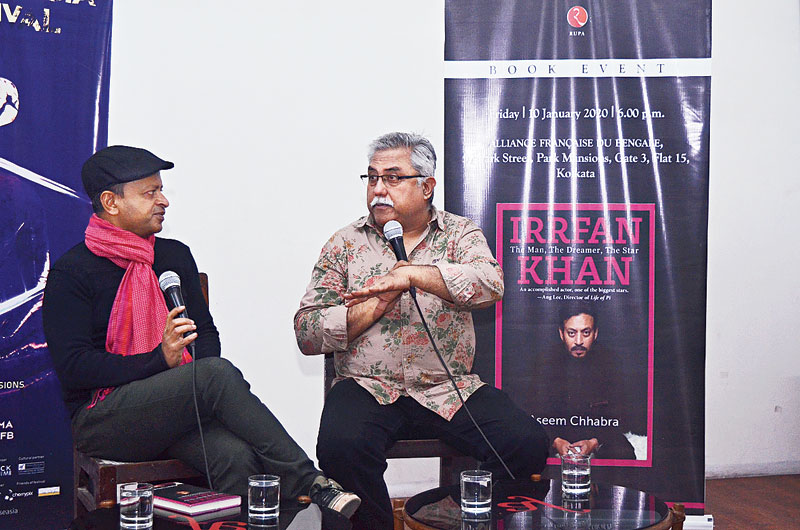 ---
---
The new generation of audiences evidently values content over star quotient and acting over socially approved "good" looks. Probably that is the reason why we have stars like Ayushmann Khurrana, Rajkumar Rao or Vicky Kaushal who became big names in the industry on the sheer force of their talent. These men come across as so real in their thoughts and interactions that knowing about their lives proves to be a treat for interested fans. Aseem Chhabra, an actor, producer and a film journalist who is known for writing the biographies of Shashi Kapoor and Priyanka Chopra, has come up with the biography of internationally celebrated actor Irrfan Khan.
It is only fair that the biography is titled appropriately to celebrate the passion of a man like Irrfan — Irrfan Khan: The Man, the Dreamer, the Star. At the launch of the book at Park Mansion last month, the author was in conversation with Sandip Roy, where he shared some unknown and interesting facts about the actor that he unearthed during his intensive research process. While sharing moments from Irrfan's life, he talks about the deliberate omission of certain films starring the actor that didn't do well critically. He did this not just to win over the actor but also because he wanted to celebrate Irrfan Khan through some of the films that the author really admired.
Actors usually tend to bring certain idiosyncrasies to the sets and upon asking about Irrfan, it was revealed that the otherwise friendly actor who would kindly go out of his way to keep things comfortable and funny, would do so only until the script was explained to him. After which, drawing Irrfan out of his shell is next to impossible as he would delve deep into the character.
Another very important fact that was highlighted about Irrfan was his ability to give completely different performances for every take of the same shot. Beside his great acting skills, he is a very generous person, even while sharing credits. Irrfan is a performer who is well aware of a film being based on multiple factors and not just the performance and hence, would ensure the contribution of the group as a whole.
The book also aims to explore the driving force behind Irrfan ending up in an industry that he was so far away from. Chhabra said that Irrfan was deeply influenced by actors like Naseeruddin Shah and Om Puri and realised that one need not succumb to the conventional standards of good looks to make it big in Bollywood. The only requirement for advancing in this school of thought was his performance, talent and skills.
The emergence of Mithun Chakraborty as a big star in Bollywood was another boost to Irrfan's confidence. Having been repeatedly told that he shared facial similarities with Chakraborty, Irrfan felt further encouraged.
Talking about 'Irfaanism', the author spoke about a very common trait of the actor, which we all have probably enjoyed yet failed to notice while we saw him on the screen. He said, "Irrfan suddenly gives his most amazing smile in the middle of a shot, and I feel that he knows that the camera loves him when he smiles!".
Irrfan, however, did not have a colourful childhood or adulthood that could instantly make his biography a bestseller! When this point was raised before the author, he said, "I feel Irrfan is colourful through his characters." We wholeheartedly agree!