Bhutan consulate general hosts event to mark the reopening of the nation's borders
Tourism will continue to be a key sector but we are focussing on high value and low volume: Chencho Tshering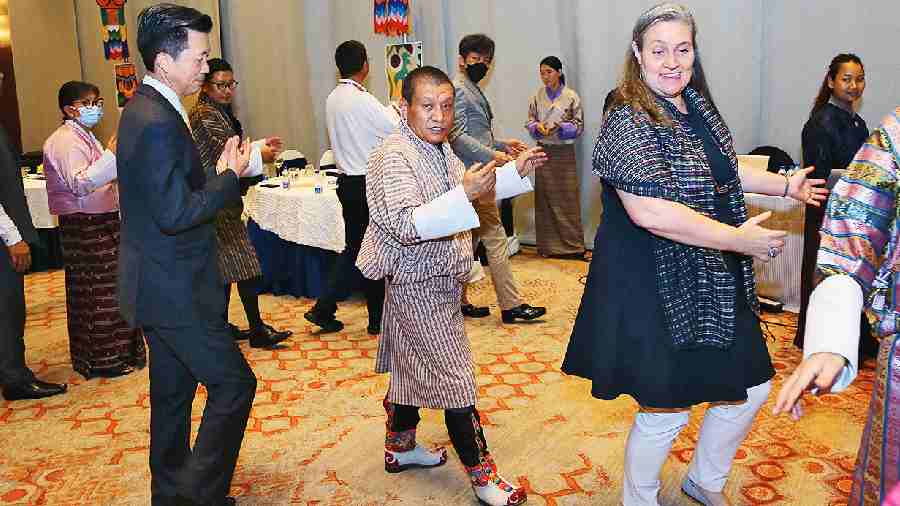 The host Chencho Tshering joins guests, including US consul general Melinda Pavek and Chinese consul general Zha Liyou, in tashi labey, a traditional dance to conclude the event
Pictures: Koushik Saha
---
Published 11.10.22, 12:32 AM
|
---
Bhutan reopened its international borders after a gap of 915 days on September 23 and the Royal Bhutanese consulate general in Calcutta hosted a reception at Hyatt Regency Kolkata to mark the occasion.
Consul general Chencho Tshering welcomed the invitees to Bhutan. "The world is on the way to recovery from the pandemic and most Bhutanese residents have got both doses of vaccine. As I speak, 93 international visitors have landed in Paro," he said.
He spoke of the new tourism policy adopted by the country. "Tourism will continue to be a key sector but we are focussing on high value and low volume." A fee of US $200 per night would be payable henceforth for international tourists, which will be used for protection of the environment.
A promotional film was screened that showcased the Himalayan kingdom's pristine environment, clear blue sky, wellness options and a range of activities from archery and dart shooting to hiking and mountain cycling.
Guests were treated to suja and dresi, traditional butter tea rice with saffron and nuts, and the programme ended with in tashi labey, a traditional dance.