Fire. Fume. Fame
Even if four years have elapsed since Tanaushree levelled charges against Nana Patekar, the actor's entry into a film that's already raised hackles is going to be a trigger point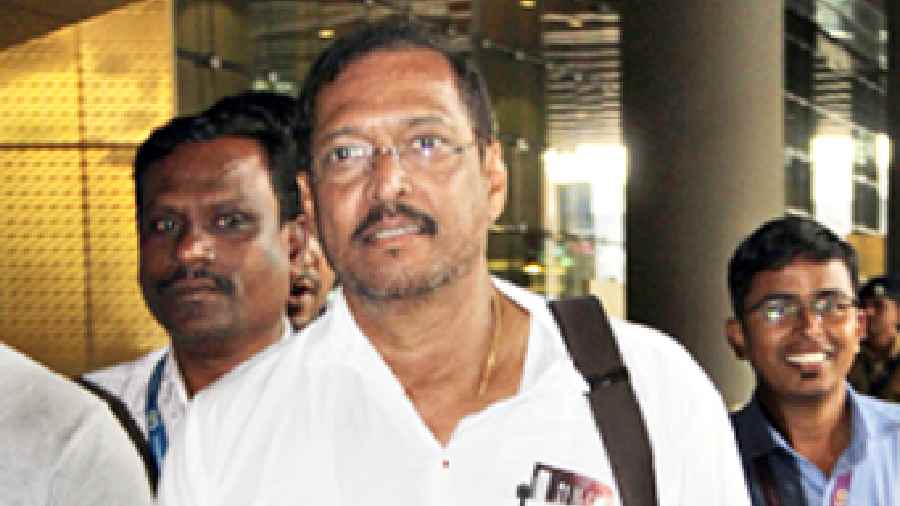 Nana will handle with ease the fireworks that will follow the announcement when he officially toplines the cast of a film that's already set off much debate.
File Picture
---
Published 20.11.22, 04:29 AM
|
---
With the sexual misdemeanours of Harry Weinstein getting another cinematic outing in the recently released She Said, and much noise drummed up by women's commissions over Sajid Khan's blasé participation in Bigg Boss, there will be a bunch of #MeToo activists working up a lather once again early next year. Because here's some hush-hush info. Nana Patekar has stepped into a film that was announced a short while ago. We're not talking about Prakash Jha's Laal Batti, a socio-political web series that has been officially confirmed as Nana's debut on OTT, but about a feature film that's poised to go on the floors. When the filmmaker's mere announcement of the subject has stirred a hornet's nest, you can imagine the angry buzz that will be heard when Nana's name is openly associated with the project.
Fire and fury have yielded no results so far but they don't deter the sporadic attempts at stopping certain men from resuming work. Although the protests against Sajid have been largely toothless since his one-year suspension by the film industry was over a long time ago, the community that fuelled Tanushree's ire, when she arrived from the US four years ago with a specific aim, is going to be stomping all over the place. Because Tanushree's charges had centred around Nana. At that time, an actor who was making a film had told me he wanted Nana for the main part but was apprehensive about the backlash from #MeToo supporters. Even if four years have elapsed since then, Nana's entry into a film that's already raised hackles is going to be a trigger point. It will at least be a talking point for a while.
Does Nana care? He wears his allegiances on his sleeve, sometimes asking tough questions to CM Eknath Shinde and deputy CM Devendra Fadnavis on a public stage, sometimes speaking up for Raj Thackeray but always doing something worthy for distressed farmers. A man who marches to his own beat, Nana will handle with ease the fireworks that will follow the announcement when he officially toplines the cast of a film that's already set off much debate.
Controversies don't really affect anybody's career. Showing spine and surviving a scandal is a child artiste of 2002. Exhumed from extinction by Vivek Agnihotri's The Tashkent Files, Shweta Basu Prasad has grown into a self-assured actress, which was evident when she spoke eloquently about her role as a sex worker in Madhur Bhandarkar's India Lockdown. Will she join the elite list of actors like Priyanka Chopra and Kangana Ranaut, who've bagged National Awards for their work in Madhur's movies? For the record, Shweta is already a National Award winner — she won the Best Child Artist award for Makdee 20 years ago. Interestingly, the Basu in her name comes from her Bengali mother and Prasad is her Bihari side.
Amidst all the commercial anguish that filmmakers currently face, Madhur has curiously come up trumps. Avijatrik, the Bengali film he produced, fetched him his fifth National Award this year and two of his Hindi films have been picked up by OTT platforms. His Babli Bouncer with Tamannah Bhatia premiered successfully on Disney+ Hotstar while India Lockdown, which had been waiting for a theatrical release for over a year, has sensibly chosen to premiere next month on Zee5. It's a lucky streak for Madhur because OTT platforms have changed their policy of picking up any and every feature film. Many a filmmaker, including Boney Kapoor who had planned to release his film on an OTT platform and make a quick buck, has been forced to first show his film in a theatre. The weak theatrical performance is then cited by platforms for offering a discounted amount to filmmakers.
In this scenario, Madhur has done extremely well. India Lockdown has already made a profit on the table.  It's worth noting that Madhur does not push his ideological beliefs into most of his films. Babli Bouncer was feminist in tone as are most of his films, and in India Lockdown, he does not shy away from documenting the varied forms of distress caused by the nationwide lockdown. Story-telling without a political agenda.
Bharathi S. Pradhan is a senior journalist and author