Smiley no more
Typically, the amiable actor and filmmaker had friends for a lifetime across the political spectrum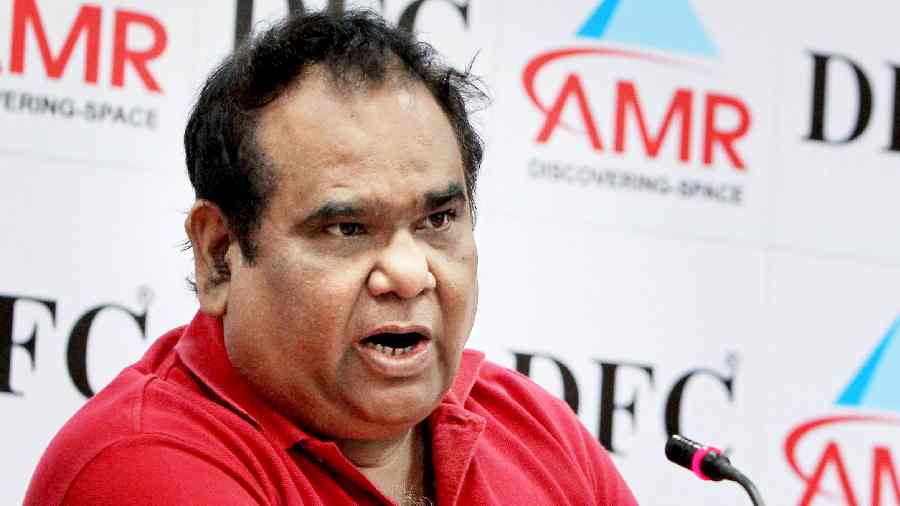 Satish Kaushik
File Picture
---
Published 12.03.23, 03:19 AM
|
---
Expired Calendar. 
That's the kind of joke Satish Kaushik would've cracked at himself. Satish Kaushik, the lovable Calendar of Mr India who passed away in Delhi on Thursday morning even before the colours of Holi could come off. One feels like adding "heh, heh" at the end of every line on him because that was the way Satish spoke. "Hello, heh, heh." "How are you, heh, heh." Like Anupam Kher, his bestie of over four decades from NSD, Satish was a gifted raconteur who'd narrate every incident from his life like it was a rollicking comedy. A jolly "heh, heh" was his full stop after every sentence.
His arranged marriage to Mumbai girl Shashi was like a dance party, every one of us on the floor all night. The only time I saw Satish really sombre was at a heartrending moment in his life — when his infant son had passed away after developing a high fever. It took him and Shashi a while to get over the tragedy though Satish never dwelt on it in public, his cheerful demeanour intact for the world. Years later, daughter Vanshika came into their life. The little girl, who lost her hero on Thursday morning, is barely 10 years old, and wife Shashi had to be sedated in Mumbai when Satish succumbed to a heart attack in Delhi.
Satish had just handed over the responsibility of writing his outspoken biography to Shantanu Dhar, a close Delhi-based friend and author, who was in negotiations with Penguin for its publication. In fact, the author was probably one of the last people Satish wished on Holi, promising that they'd soon catch up since he was in Delhi. Sadly, what Satish thought was acidity took his life a few hours later, not a word of his biography still written. It was to be aptly titled Laughing Out Aloud.
Overweight for a large part of his life, Satish had responded to testing positive for diabetes by losing nearly 20 kilos. But, like Cyrus Mistry's accident left behind a social message on safety belt precautions to be observed by passengers in the backseat, perhaps Satish's sudden death will carry forward the important warning that excess weight is never funny, weight-watching requires close monitoring, and tweaking one's lifestyle is a necessity.
Before flying to Delhi for an extended Holi celebration with a friend in Gurugram, everybody knows that Satish's last tweet was a joyful collage of pictures taken at Shabana and Javed Akhtar's Holi bash in Mumbai.
Typically, the amiable actor and filmmaker had friends for a lifetime across the political spectrum. If Shabana and Javed were like family, so was Anupam Kher. That was a Satish Kaushik speciality.
In fact, one of his last films will probably be the one he co-produced with Anupam and Ashoke Pandit, directed by Vivek Agnihotri. When Vivek's The Kashmir Files was held up during Covid-19 times, the close-knit gang of filmland buddies had taken off to Madhya Pradesh to shoot their low-budget comedy, which is now ready for release. Fittingly, it's titled The Last Show.
Om Shanti to the man who was a walking-talking Smiley.
***
Talking of political affiliations, T-Series decided to pull out of Anubhav Sinha's new film Bheed at a closed-door meeting last weekend. The production banner had already bled after Anubhav's confused film Anek on the Northeast was a commercial write-off when the director gathered an impressive cast of Rajkummar Rao, Bhumi Pednekar, Pankaj Kapur and Dia Mirza to make a film on the plight of migrants during the 2020 lockdown. But the pre-release flare-up over Anubhav drawing a parallel between the lockdown and the bloody Partition of 1947, compelled his production partners to do a rethink over continuing their association with Bheed. Wise, because T-Series has Adipurush, a Rs 600-crore adaptation of the Ramayana, around the corner. After an Adipurush teaser drew the ire of many, the makers have already had to go back and rework Saif Ali Khan's look as Ravana. This is not the time for any production house with ambitious plans to court unnecessary political controversy.
Bharathi S. Pradhan is a senior journalist and author